184. Scavenger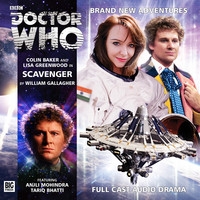 Released March 2014


Prices
| | |
| --- | --- |
| CD | US $19.86 |
| Download | US $12.99 |


Behind the Scenes
(Excerpt from Vortex issue 61 - available for DOWNLOAD now)
FROM CHICAGO TO OUTER SPACE
Star of The Sarah Jane Adventures and now this month's main range Doctor Who release, Scavenger, Anjli Mohindra has a tangent-tastic chat with Paul Spragg…
Hello Anjli. You've done a few audios for us now; have you been trying to work your way into a main range story?
I have, I have. When I met Nick [Briggs, director] in Chicago in November at the convention there, I found out that he did Big Finish and he did the Doctor Who range, and I was constantly poking him to get me involved, so I'm glad. I'm here!
What can you tell us about your character, bearing in mind any spoilers…
My character's called Jyoti Cutler, and she's the payload specialist aboard the Mandela space station. I wanted to be a film producer but I wasn't quite able to; my parents very irritatingly pushed me into the science route, so I've managed to blend the two together and I do lots of camera work with my science.
You met Nick at Chicago TARDIS, plus Lisa Greenwood (Flip). It's like a reunion today, isn't it?
It's all a bit weird, isn't it? I met Lisa for the first time there, and we got on really well. I think we're quite similar, quite chatty and it's been really nice. We wear a lot of the same clothes as well. We are basically the same person! But working together, I've been able to bring out some of that chemistry that me and Lisa have in Jyoti and Flip; we've become like a little team full of camaraderie.
How did you get into doing audio work?
When we were doing ADR [Additional Dialogue Recording, on The Sarah Jane Adventures], I always really enjoyed it and could always lip-sync really easily. I think the ADR guys used to say, 'You should probably think of doing it, for fun and for work', so I got a voiceover agent and I've done bits and pieces. I did a BBC GCSE bite-size revision book, in the style of Sarah Jane Adventures. It was all about photosynthesis, and we used the concept of wrackweed that came from Raxacoricofallapatorius – I practiced that a lot.
But now you can't stop saying it.
I really can't. I bring it out at the most awkward moments. People are like, 'What are you talking about?' or 'Bless you' or they say, 'Don't swear', because it sounds like a swear word.
How does the fandom of The Sarah Jane Adventures compare to that of audio dramas?
With The Sarah Jane Adventures, we did get a lot of proper diehard Doctor Who fans that obviously loved Lis and went on to watch Sarah Jane Adventures because of her. Interesting people; I got some teddy bears! Sometimes I'll go to the theatre in London, just to watch, and at the end there's a group of people that are trying to get all the autographs from the people that were in the show, and I've been pulled along with them and I'm like, 'I'm not in the show'. 'But you've worked with Lis, can we get an autograph?' But that hasn't happened with audio stuff yet!
What's it like working with Colin Baker?
Ah, really nice. Colin's fifty jokes a minute; he's really funny, really witty. But he's really cool, and great to learn from. I got a little bit starstruck when I first walked into the green room yesterday because he was the Doctor. He's really nice, really funny.
Which Doctor do you fancy working alongside next?
I think Sylvester McCoy; I've met him before, also at Chicago, and I think he's so, so funny. Chicago was the trip of a lifetime! I have a memory of him when we went to the Blues bar with Lisa and Nick and he was playing the trombone and the saxophone and the flute, all on his walking stick. Not many people can do that.