185. Moonflesh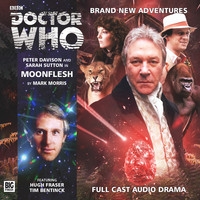 Released April 2014


Prices
| | |
| --- | --- |
| CD | US $19.86 |
| Download | US $12.99 |


Behind the Scenes
(An extract from the Peter Davison interview in Vortex issue 62 - click here for the DOWNLOAD)
THE FIFTH DOCTOR REBOOT
Peter Davison takes time to talk to Paul Spragg about the new Fifth Doctor trilogy
Hi Peter. You're down to one companion again!
Yes, I am. I like, as I think has been noted, Nyssa as a companion and she's kind of underestimated in terms of she's a very bright, intelligent companion to have around, who doesn't just stand around going, 'Help me, Doctor' – although she does fill that capacity admirably well. Although I miss having Janet [Fielding, Tegan] and Mark [Strickson, Turlough] and occasionally now Matthew [Waterhouse, Adric], it's quite nice sometimes to have one companion.
Nyssa does seem a bit more lippy than usual in these stories.
She's standing in for Janet, isn't she! That's what I'm saying; she's a little bit more of a solid companion than people give her credit for sometimes.
It also means you've got a bit more of the meat of the storyline, as recently you've been sharing the limelight with three companions.
I actually quite like that, because I'm a very lazy actor, and I like having time off! What happens, oddly, when there's only one other companion, is very often we get separated and then we go off on our own little streams and we meet back up. Also, I'm more focused on who I'm trying to find. Sometimes when there's three of us in there, you get a bit confused about who's lost and who isn't lost and…
Just hope they'll all reappear by the end?
They'll probably turn up in Amsterdam somewhere…
Interestingly, bar Erimem, you've not really had a 'Big Finish-created' companion.
No, I haven't really! It's odd isn't it? Why is that? Is it because mine keep stubbornly turning up, my original ones? It's always nice to get the occasional new character thrown in your direction, although I do like my old team.
How was the fiftieth anniversary for you?
It was very good in the end. I was slightly trepidatious about the actual fiftieth anniversary show at the ExCel, simply because I didn't think there was enough time set aside for us to come in contact with the number of fans that were there. But there was a lot of other stuff going on, so they probably didn't mind about that; we certainly did all our panels to an enormous number of people. I think generally people enjoyed it and that's really the only criteria. It's not for us to enjoy; you kind of give up your life – for a financial reward! – but you give up your life nevertheless just making sure that people who are there, who've paid a fairly large amount of money, have a nice weekend.
I was so busy, what with various conventions and also making this thing that at last, after so many months, I can talk about, the Five(ish) Doctors thing. We had to fit in days of filming on that in between people going off for conventions here and conventions there, so it wasn't easy. But it took up an enormous amount of time, and I think an enormous amount of energy, if I'm honest. I didn't quite realize how much time I was devoting to it. So it went in a sort of hazy, kaleidoscopic piece of chaos, really, for the whole year. I'd suddenly find myself in Indiana or Chicago and wouldn't quite remember how I'd got there. And all the time fielding this question, 'Were we going to be in the fiftieth anniversary special?' And of course I knew we weren't going to be in it, speaking for the majority of the classic Doctors, and we had been told not to say anything. But unfortunately, as far as fans are concerned, when you say nothing they take it as meaning a positive – because they're optimistic, I suppose. So every time we said, 'I can't tell you if we're in it or not', they just thought, 'That means you're in it'. And even when we were photographed in the course of protesting outside the BBC about our lack of inclusion in the fiftieth, I noted on the forums that still meant, 'Oh, that means they're in it because they're just trying to distract us'. So in the end, I think all of us got round to saying, 'We're not in it' in the hope that that might take people's expectations down. I didn't mind not being in it, because if I had been in it, I wouldn't have been able to make the other thing that I was working on. So from my point of view, I didn't care at all.