165. The Burning Prince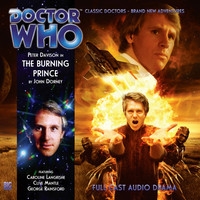 Released September 2012


Prices
| | |
| --- | --- |
| CD | US $19.33 |
| Download | US $12.99 |

Synopsis
The Drashani Empire – a galaxy-spanning civilisation, the glory of Rome set among the stars. But for decades now, the Royal Houses of Gadarel and Sorsha have been at war, each claiming the Imperial throne.
The wedding of Prince Kylo and Princess Aliona was meant to change all that – a blessed union between the Houses, a new hope for the Empire. Until Aliona's wedding galley crash-landed on the planet Sharnax – and all contact was lost.
The TARDIS lands aboard the ship carrying the fiery Kylo in search of his lost princess – but with a sabre-toothed monster roaming its corridors, the Doctor soon discovers he's not the only alien presence aboard.
Written By: John Dorney
Directed By: Ken Bentley
Cast
Peter Davison (The Doctor), Caroline Langrishe (Shira), George Rainsford (Prince Kylo), Clive Mantle (Tuvold), Dominic Rowan (Corwyn), Derek Hutchinson (Altus), Caroline Keiff (Riga), Tim Treloar (Tyron), Kirsty Besterman
SUBSCRIBERS GET MORE AT BIGFINISH.COM...
A twelve or six month subscription to the main range means you pay 30% less.
12 month CD subscription = £130
12 month download subscription = £109.
If your subscription includes a December release up to 2013, you get a free subscriber special release (December 2011's subscriber special was The Five Companions, starring Peter Davison, Sarah Sutton, William Russell, Jean Marsh, Peter Purves and Anneke Wills).
You'll be able to download, for free, at least four subscriber special audiobook Doctor Who releases a year.
You'll be able to download a free PDF of the production's script. These will appear in your account when they are made available, typically after the release date.
You'll be able to download extra behind-the-scenes audio material. This will appear in your account when it is made available.
With a 12-release subscription, you will be entitled to choose a free single-disc CD under £10.99 from any of our ranges, and you will be entitled to a discount of £5 off subscriptions to other ranges.