157. The Fourth Wall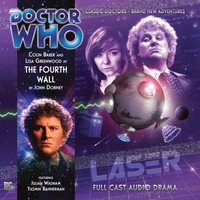 Released February 2012


Prices
| | |
| --- | --- |
| CD | US $18.87 |
| Download | US $12.99 |


Behind the Scenes
Nicholas Briggs on directing The Fourth Wall:
'John Dorney is one of our favourite Big Finish writers at the moment. That sounds like a threat to him, doesn't it? 'At the moment'. Ha, ha. I think he came up with a great script here. Doing something that has comedy in it is always a hard sell to Doctor Who fans in general, and inevitably, there will be some people who don't like this. But what John's done here is created a really disturbing story, packed with action and mystery. On the surface, it appears to be funny. There are the vain, self-important actors. The self-obsessed media tycoon. The aliens who are rubbish at conquering planets. But it's the whole clash of reality and fiction that brings to the forth all the disturbing potential in this story. One of my favourite bits is when the creator of a fictional megalomaniac has a confrontation with his creation and finds it difficult to answer his questions. It's funny and terrifying at the same time.
'We had a brilliant cast too. Julian Wadham has one of those incredible voices. Just brilliant. And Yasmin Bannerman is one of my favourite actresses. She is able to convey the subtlest of meanings with such ease. They were all great fun to work with.
'Then when we came to the post-production stage, Jamie Robertson did some really intricate work differentiating between the fictional and the real world. One thing that suddenly struck us was that, because the fictional world's incidental music is actually mentioned in the dialogue (as Flip wonders what the music is, playing in the background), we couldn't really put any in when it wasn't being mentioned. So a lot of the fictional world stuff is music-less. To compensate for this, Jamie created a completely different, more strident and hard-hitting style of music for the reality scenes. The music in the fictional world is a bit more synthesizer-based and melodramatic.
'But my best memories of doing this story are from the studio session. It's a really funny script and I laughed a lot!'
This story takes place between The Trial of a Time Lord and Time and the Rani.