We love StoriesBig Finish produce great full-cast audio drama for CD and download, featuring many popular television fantasy series.
Dark Shadows Celebrations!
15 July 2016
Collinwood reached its half-centenary last month! Discover how we celebrated fifty years of vampire, witches and werewolves and what's still to come from the iconic horror series...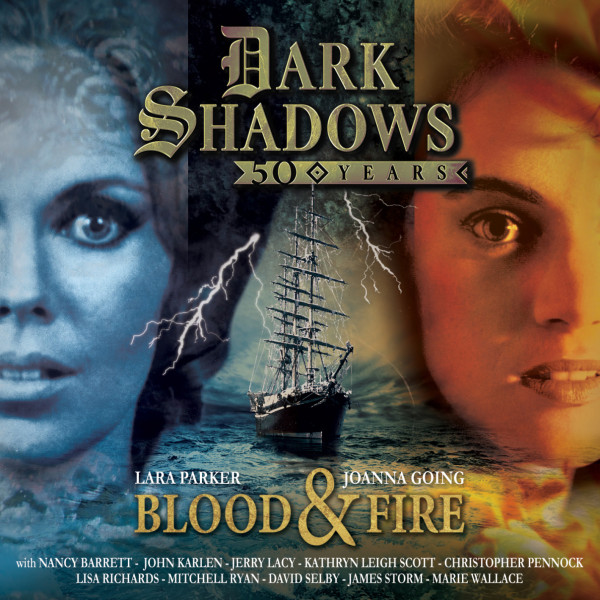 On June 27th 1966, American teenagers' afternoons were rocked by the arrival of a daring, frightening and addictive new television series, the legacy of which is still felt today. Dark Shadows combined the traditional afternoon soap-opera with vampires, werewolves and witches, providing unmissable programming for a whole generation.
Fifty years on, Big Finish is proud to have continued the saga, with a range of gripping new audio dramas, including our two recent anniversary titles. The celebrations began with Dark Shadows: Blood and Fire by Roy Gill, a full-cast journey to the origins of the Collins family:
Featuring cast members from throughout the history of the series, including Lara Parker, Joanna Going, Kathryn Leigh Scott, David Selby and Marie Wallace, this two-hour story was released to rave reviews, with Wallace McBride of The Collinsport Historical Society saying that 'Blood and Fire is as fine a way to mark the gold anniversary of Dark Shadows as any I can imagine. While the time-travelling nature of the story forces us to look momentarily backward, its eyes are always on the future.'
Danny Horn of Dark Shadows Everyday adds: 'Blood & Fire doesn't just sound like Dark Shadows, it's telling a story that Dark Shadows can tell — about money and love and terrible choices, about mistakes and murder, and most of all, about interesting people standing around in rooms, saying horrible things to each other.'
'If this is what Big Finish can do, when they really put their minds to it, then they deserve our love, and our gratitude. With Blood & Fire, they've done something that I don't think anyone else has managed, in the last 45 years. They've made more Dark Shadows.'
Released on the same day, Dark Shadows: Echoes of the Past presented four new short stories, written and performed by many well known Dark Shadows alumni.
Following the success of Echoes of the Past, Big Finish are pleased to confirm that there will be further short story collections in 2017, following December 2016's Dark Shadows: Haunting Memories. Dark Shadows co-producer Joseph Lidster confirms,
'I'm currently working with a number of writers - some returning favourites and some new - on four new collections which will be released throughout the year.'
The new collections will follow on from Dark Shadows: Bloodline, a new 13-part mini-series currently in production, following on from the events of the acclaimed Dark Shadows: Bloodlust, Episode 1 of which can be downloaded for free. Pre-orders for Bloodline will be opening soon.
Dark Shadows fanatics from across the world gathered at Tarrytown, USA for a celebratory festival, attended by Big Finish's very own David Darlington and Robert Dick, along with actor Matthew Waterhouse. A photo gallery of their adventures can be seen on the Dark Shadows – Welcome to Collinsport Facebook page, with a special podcast recorded at the event now available to download, or heard via the Big Finish SoundCloud player below
The podcast also features an exclusive preview of Dark Shadows: Haunting Memories, along with a competition to win some once-in-a-lifetime prizes!
Both Dark Shadows: Blood and Fire and Dark Shadows: Echoes of the Past are available to buy and download today for £14.99 on CD or £12.99 to download. As with the majority of Dark Shadows titles, a complimentary digital download is included with CD orders for both titles, so you don't need to wait to begin the celebrations! Listen on the move with our official Big Finish Player app, now available on iOS devices.
To explore our complete range of Dark Shadows releases, follow the link to the range page.