We love StoriesBig Finish produce great full-cast audio drama for CD and download, featuring many popular television fantasy series.
12 Days of BigFinishmas - War Doctor and Daleks
1 January 2019
On the eighth day of Bigfinishmas, Big Finish gave to me†¦ A Doctor and Dalek symphony. We have offers on stories starring the Daleks and the War Doctor, the Sixth Doctor and the Seventh Doctor, plus Dalek Empire bundles on download.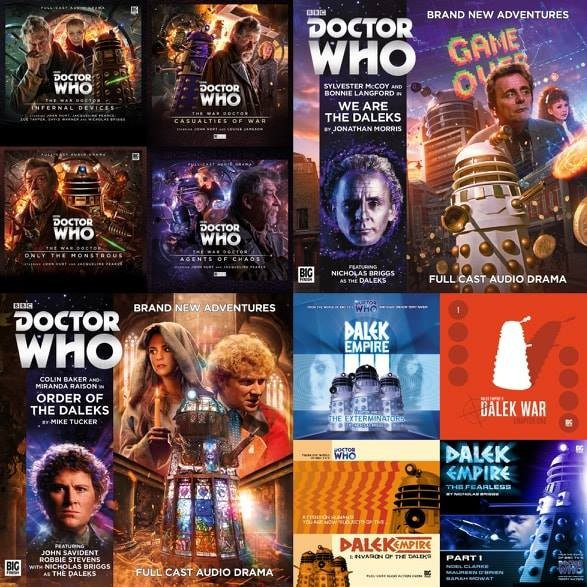 We're kicking off 2019 and our 20th anniversary year of Doctor Who on audio with a chance to catch up on some of our favourite stories.
You can get the four series of The War Doctor, starring the late John Hurt and Jacqueline Pearce. The Time War continues to ravage the cosmos and we find out why the War Doctor abandoned the title of 'Doctor'…
Only the Monstrous, Infernal Devices, Agents of Chaos and Casualties of War are each available at £18 on download.
Plus, there's the Sixth Doctor story, Order of the Daleks, starring Colin Baker as the Sixth Doctor, Miranda Raison as Constance Clarke and Stainley the Dalek (as featured on the cover) on special offer at £4.99.
And the Seventh Doctor story We are the Daleks, starring Sylvester McCoy and Bonnie Langford, is also available at download on £4.99.
Head to page https://www.bigfinish.com/offers/v/bigfinishmas18 and use offer code KRAMPUS to access these Doctor versus Daleks adventures. Order of the Daleks and We are the Daleks downloads are available at £4.99 each and The War Doctor series are £18 each on download.
This and the other Big Finishmas special offers will end at 23:59 (UK time) on 07/01/2019 so don't miss out.
And to celebrate some special guests in tonight's tv episode of Doctor Who, Resolution, you can get the complete series of Dalek Empire starring the most dangerous creatures in the universe on download at a special price for the next 48 hours.
The Daleks are conquering our galaxy.
Nothing can stop them...
And the Doctor is absent.
Step forward a brave and resourceful group of humans to battle the scourge of the galaxy.
Spanning galaxies and centuries, Dalek Empire is an epic story of war, love, deceit, betrayal and sacrifice, featuring memorable characters brought to life by an all-star cast, including David Tennant, Gareth Thomas, Maureen O'Brien and Noel Clarke.
Head to the bundles of Dalek Empire to get the full series of one, two and four at just £4.99 on download, series three at £5.99 on download, or all four series together at just £19.99.
These special offers on Dalek Empire stories end at 23:59 UK time on 03/01/2019, so don't miss out!
Don't forget, you have until 23:59 UK time on 2nd January 2019 to get our first Doctor Who release, The Sirens of Time, ABSOLUTELY FREE.
Head to page https://www.bigfinish.com/offers/v/bigfinishmas18 and use offer code KRAMPUS to access the free download on the main Bigfinishmas offer page. You will need to add it to your basket and checkout in the usual way to make sure it is added to your account and accessible via the Big Finish App.