For The Love Of StoriesBig Finish produce fantastic full-cast audio dramas for CD and download.
Benny's back - just in time for the end of the universe!
20 September 2017
Volume Four: Ruler of the Universe, the next adventure in The New Adventures of Bernice Summerfield is out today, plus Lisa tells us some True Stories in the latest Big Finish story anthology.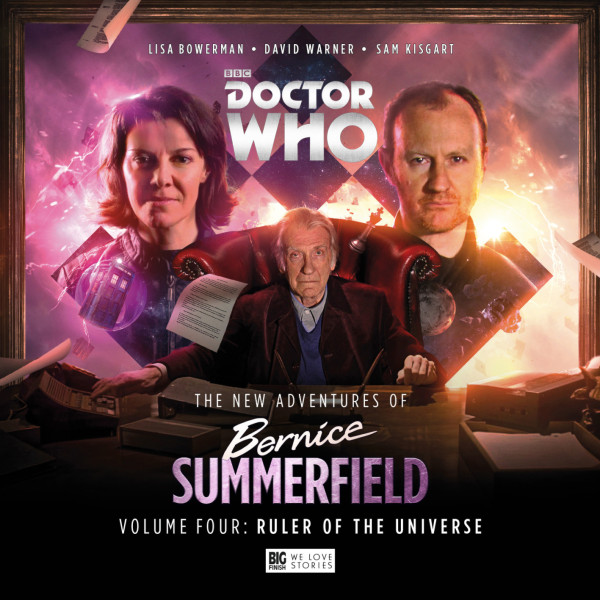 The Doctor is facing his two greatest fears… the end of the universe as we know it, and bureaucracy.
Bernice Summerfield is back with a different Doctor in her ongoing adventures. The Unbound Doctor, played by David Warner, is President of the Universe, and this very different universe is dying. With the Master, played by Sam Kisgart, also causing mischief, the universe needs Bernice Summerfield now more than ever.
For those who don't know Benny, "She's the domestic in a universe of grand designs," says creator Paul Cornell, "she's the person who puts her hand up at the important meeting to decide the future and asks who's going to empty the bins." Since her first journey with the Doctor in the Virgin New Adventures story Love and War, Bernice Summerfield has been travelling this cosmos (and several others!) and back with Big Finish.
Bernice Summerfield is still trapped in a dying universe with the wrong Doctor. Things have taken a turn for the worse – the Doctor has become President of the Universe and, it turns out, he's a controversial choice for the job. While Bernice works to unearth the mythical Apocalypse Clock, the Doctor's immersed in the murky world of politics and the dark forces that are working against him. As battlefleets fight and terrible deals are done, the peoples of the universe wonder if they've made a terrible decision. Is the Doctor up to ruling the universe? Watching from the sidelines, the Master is quick to reassure everyone that he has no ambitions in that direction. And, meanwhile, the stars are going out...
We chat with Lisa Bowerman about this latest release, the brand new Bernice Summerfield novel True Stories, and next year with 20 Years of Benny.
Big Finish (BF): Benny's back! In the Unbound universe. She's trapped and that universe is ending.
Lisa Bowerman (LB): Exactly, it's the end of the world!
BF: There's an apocalypse clock…
LB: And it's counting down! What's wonderful with this release is the Doctor, who we all think should be running the universe, is now running the universe and he's not very good at it. He's not enjoying himself at all and he's getting caught up in paperwork.
BF: Who would have thought that the ruler of the universe, and particularly the Doctor, would be involved in all the bureaucracy? The pressure is on, with more admin than ever before.
LB: Papers still have to be signed and meetings still have to be had. And there's coping with all the executive stress.
BF: And Mark… I mean Sam Kisgart is back as the Master.
LB: I know, we had to get Mark Gatiss's secret brother back in to play him. The Master is back to his wicked ways. Marvellous!
BF: It's joyous to have them all here, the same yet different interpretations. And with the end of the universe, what are the fun challenges that Benny encounters?
LB: Well managing the Doctor is a challenge and a half - what with the end of the universe and all the executive stress that comes with it for her best friend. Whether he listens to her or not, we shall see.
BF: There's a lovely moment we heard in the studio where Benny has a quick drink with the Master. Is something up between them?
LB: The Master's always had a sweet spot for Benny, and Benny is not that stupid. There's a bit of flirting in the previous volume but this time there's even more. The thing is, the Master flirts with you before he kills you, and Benny always remembers that he is going to kill you.
BF: She's always had her priorities right.
LB: The one episode that stands out for me has Annette Badland, some psychoanalysis, and a great twist. The small handed ones are so well written. And with the True Stories book – talk about variety! It's like a Bertie Bassett's All-Sorts of Benny, it's fantastic. All of them have got Benny's voice, and you recognise her in everyone. They weren't designed to read and some of the constructions are easier to read than others. There's one very sci-fi one with many tricksome names… and there are others where the character voices are larger than life.
BF: And because not all of them may be true, it allows you to be as creative in their telling.
LB: Exactly, you'll have to get to the end to find out. Xanna Eve Chown has been very clever within the format. It's been a great job from her, pulling them all together, and keeping a consistent voice throughout but still very entertaining. And with a great twist in the end, I love it. The characters are fun. The scenarios are great, there's a dark tale, a comedic tale, a ludicrous tale, a great cornucopia of stories for people to enjoy.
BF: And with 20 years of Benny next year, what are you most looking forward to Benny in the future?
LB: Every time with Benny, it often depends on who's in charge and I prefer being surprised by them. There's one big surprise coming I can't mention, but in terms of the series I'm still not sure yet. There are little nuggets of information about…
BF: But she has to survive the Unbound Universe first!
LB: I love that Benny has properly grown up and matured over the years. Her essential traits have stayed the same, but as a person… I wouldn't she's become more cynical but she's a realist, and she gets on with things. I love that occasionally that cynicism comes through, but in an entertaining form.
This new set of adventures with Benny and this very different Doctor is available now on CD at £23 or download at £20. Don't forget, all CD purchases unlock a download version of the release via the Big Finish app.
Today also sees the release of True Stories, a short story anthology of Bernice Summerfield's adventures in the Unbound Universe. Available as a hardback at £16.99, an e-book at £12.99 or on audio read by Lisa Bowerman at £9.99, make sure you pick up this fantastical collection of stories. Some of them may even be true…
And you can read the first extracts from the anthology in our interview with writer and editor Xanna Eve Chown here.