For The Love Of StoriesBig Finish produce fantastic full-cast audio dramas for CD and download.
Big Finish Books: Bernice Summerfield, Blake's 7 and the Omega Factor!
20 July 2017
Big Finish Books are back! New anthologies follow the adventures of Bernice Summerfield and Blake's 7, plus a new novel from the world of The Omega Factor...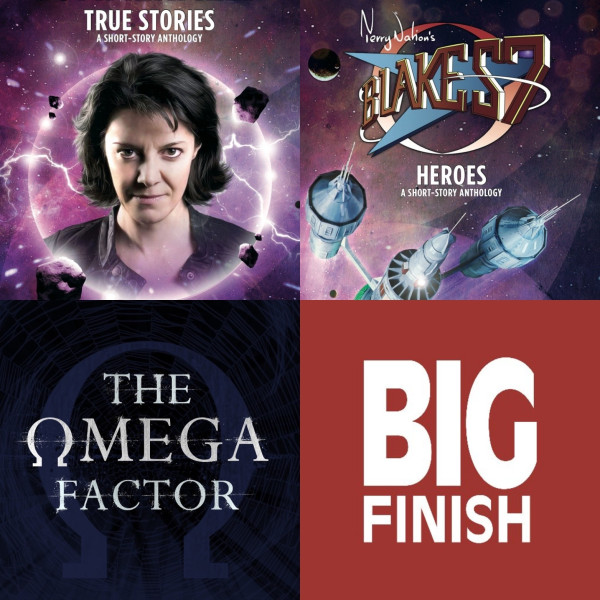 These two new Bernice Summerfield and Blake's 7 collections of stories, and The Omega Factor original novel, will arrive in September and November 2017, available as glossy, hardcover books, e-books and audiobooks, featuring short stories from a mixture of well-known writers, and new names.
Bernice Summerfield: True Stories features six stories about everyone's favourite archaeologist, with unusual digs, daring missions and more, all set in the Unbound Universe of the recent audios. The writers are Jon Blum & Rupert Booth, Xanna Eve Chown, Tim Gambrell, Matthew Griffiths, Kate Orman & Q, and Victoria Simpson.
Archaeologist, adventurer, mother, and occasional goddess, Professor Bernice Surprise Summerfield has seen and done more things in this universe than you can possibly imagine. But none of that matters right now.
Because Benny isn't in this universe anymore. Right now, she's stuck in an alternate universe (through no fault of her own) and this universe has definitely seen better days. In fact, it's rumoured to be dying.
Luckily, the President of the Universe is an old friend, and he's lent her a spaceship so she can carry on doing what she does best: righting wrongs, making mistakes, saving lives, drinking... These stories won't tell you how – or if – she makes it home. But they will tell you about some of her adventures in this unbound universe. Some of them are even true…
Blake's 7: Heroes features six stories by Trevor Baxendale, Paul Darrow, Jonathan L Howard, Una McCormack, LM Myles and Gary Russell.
A distress call is coming from a Federation research base…
A crack team is assembled to take over the Liberator…
A band called the Dangerous prepare to 'Rock the Rock Planet'…
Heroes or villains? Things are not always black and white in the dystopia ruled by the ruthless Federation. The crew of the Liberator are passionate in their opposition to the injustice and corruption of the government, but this group of convicts and outcasts aren't exactly angels themselves… Whether it's a large scale rescue mission, or a simple act of kindness, these stories explore an important question: what really makes a hero?
And if The Omega Factor audios have whet your appetite for supernatural stories and you're looking for more, get ready for a trip back in time to the Seventies! Spider's Web is Big Finish's first original Omega Factor novel, set during the time of the cult TV show, with Tom Crane and Dr Anne Reynolds investigating a series of unsettling events on behalf of - or sometimes despite - Department 7.
It is written by Iain McLaughlin, a huge Omega Factor fan... "I remember The Omega Factor airing on TV," says Iain. "I watched it because my 12-year-old self had a huge crush on Louise Jameson, a crush which shows absolutely no hint of fading, by the way."
"The music freaked me out but I loved the show. It was uncomfortable. It wasn't a cosy bit of telly. It was challenging and sometimes it just made me squirm the way really good horror should. I didn't always know what was happening but I knew it was scarier than blood and guts. This was the first time I'd really experienced a horror that messed with my head."
"It only had that one season but it stayed in my head just how creeped out the show made me feel - and how much it scared my older sister, which gave it extra points with me. When I was asked if I was interested in writing a novel for The Omega Factor, I almost bit Xanna's hand off in my eagerness."
So, what's it all about? "I knew that I wanted to do something unsettling," says Iain. "I wanted to do something that could only really be an Omega Factor story and a story that had to be Anne and Tom. I wanted something that really took us back to the late 70s when there were no mobile phones or emails. Things weren't instant. I wanted Tom to do some real journalism, too. From that, I came up with something that would send Tom and Anne to opposite ends of the country but keep them on the same investigation; something that was, at its heart, deeply nasty. I like deeply nasty."
Spider's Web and Bernice Summerfield: True Stories will be out in September 2017 as hardbacks, eBooks and audiobooks, while Blake's 7: Heroes will be out in November in all three formats. Hardback versions of each will be available at £16.99, or as Ebooks at £12.99, or you can pre-order audiobook versions at £9.99, or get all three in an audiobook bundle for £24.99!
Watch this space for more information on the audiobook versions!
*** STOP PRESS 21-7-17 ***
Although originally slated above for a September 2017 release, The Omega Factor - Spider's Web will now be a February 2018 release. Apologies for any confusion.