We love StoriesBig Finish produce great full-cast audio drama for CD and download, featuring many popular television fantasy series.
Big Finish Originals - now on Audible!
30 August 2018
If you listen to audiobooks on Audible (as well as from Big Finish, of course!) you'll now be able to find the first wave of our Big Finish Originals. ATA Girl, Cicero and Jeremiah Bourne in Time could now be yours for a credit each.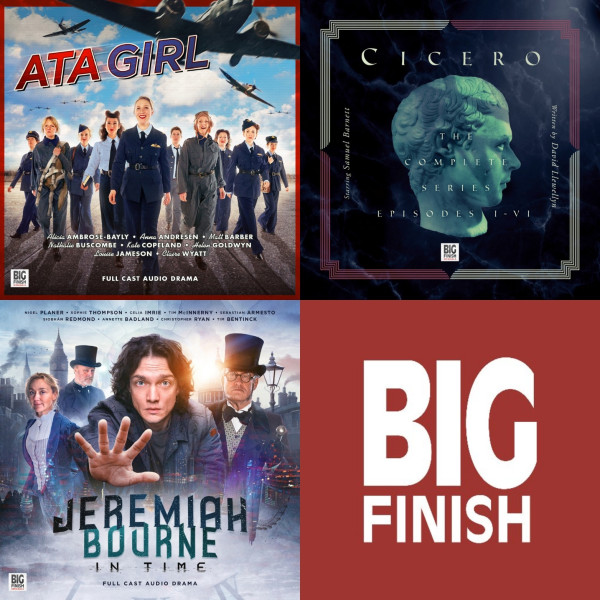 ATA Girl, created by Louise Jameson and directed by Helen Goldwyn, was the first release in our Big Finish Originals range. The forgotten heroines of World War Two were finally given a voice in this new series – and you can now find it on Audible.
ATA Girl is a drama inspired by the real women of the Air Transport Auxiliary during WWII. From the UK and beyond, a hundred and sixty eight female pilots, alongside the men, transported a vast range of aircraft from the factories to the squadrons, sometimes flying in perilous weather conditions and without radios or instrument instruction.
One in ten ATA pilots died.
Told as a series of reminiscences from (fictitious) former pilot Amelia Curtis, the stories aim to honour these unsung heroes of WWII, whose shared passion for flying contributed so much to the war effort and who represented one of the first examples of 'equality in the work place' for women in the UK.
Cicero, the second release in the Big Finish Originals range, is a full series following on from the pilot released in February 2017. Starring Samuel Barnett, the brothers Cicero return for several more legal cases in Ancient Rome…
Rome, 80BC. An age of bloody civil war and dictatorship is at an end.
In its turbulent aftermath, an ambitious young lawyer, Marcus Tullius Cicero, is beginning to make a name for himself. But does he have what it takes, and can this new era of peace and prosperity truly last?
The Roman world is on the brink of revolution. The age of Caesar is drawing near. And Cicero will have to do everything he can to survive the storm.
Jeremiah Bourne in Time, the latest release of the Big Finish Originals, is a time-travel comedy written by The Young Ones' Nigel Planer and will be released on Audible tomorrow.
Jeremiah Bourne is a boy with a remarkable gift. He can travel in time. Not by using a time machine, or stepping through a dimensional portal. It just happens to him, as though by accident. One minute he's in the present day, the next, he's a hundred years in the past, standing in the London of 1910.
"Good stories have always been at the heart of Big Finish – and I hope our listeners will agree that we have created new and exciting series which will truly be original in our Big Finish Originals range," says Jason Haigh-Ellery, Big Finish chairman and executive producer.
Of course, if you're not a member of Audible, you can always get the Big Finish Originals here. ATA Girl is available from Big Finish for £20 on download, the complete series of Cicero is available at £25 on download and Jeremiah Bourne in Time is available today at £17 on download, rising in price from tomorrow – so move fast!
You can get all of the Big Finish Originals – including the three series above plus Shilling & Sixpence Investigate starring David Warner and Celia Imrie, Blind Terror: The Gods of Frost starring Eve Myles, and next years' releases Transference and The Human Frontier – together in a bundle at £130 on download (rising to £135 from tomorrow).
Due to production issues, there has been a minor delay in two of the releases of next year's Big Finish Originals. Transference will be delayed until August 2019 and The Human Frontier will complete the Big Finish Originals range in November 2019.
Coming out this September in the Big Finish Originals, Shilling & Sixpence Investigate finds Desmund Shilling (David Warner) and Lavinia Sixpence (Celia Imrie) attempting to solve a murder, but the truth will come to light…
February 1939. Desmund Shilling arrives in Morlington Hill, deep in the heart of Cornwall, having been given the post of Head of English at Morlington School for Girls by the hearty headmistress Lavinia Sixpence.
Not far away, at Boothby Hall, Inspector Cribbage (Nigel Fairs) and Sergeant Salt (Max Day) are investigating the horrific murder of Lord Pluck (Samuel Clemens) – who is to blame? His grieving widow, Lady Penelope (Abi Harris)? His impetuous son, Viscount Robert (Matthew Waterhouse)? The no-nonsense cook (Rebecca Crinnion) or the handsome young school caretaker Joseph (Radley Mason)?
Miss Sixpence and Mr Shilling mount their own investigation, and very soon, horrible truths come to light…