We love StoriesBig Finish produce great full-cast audio drama for CD and download, featuring many popular television fantasy series.
Big Finish Originals on Audible
30 November 2018
If you listen to audiobooks on Audible (as well as from Big Finish, of course!) you'll now be able to find more of our Big Finish Originals on the site. Why not try Blind Terror or Shilling & Sixpence Investigate for only a credit each?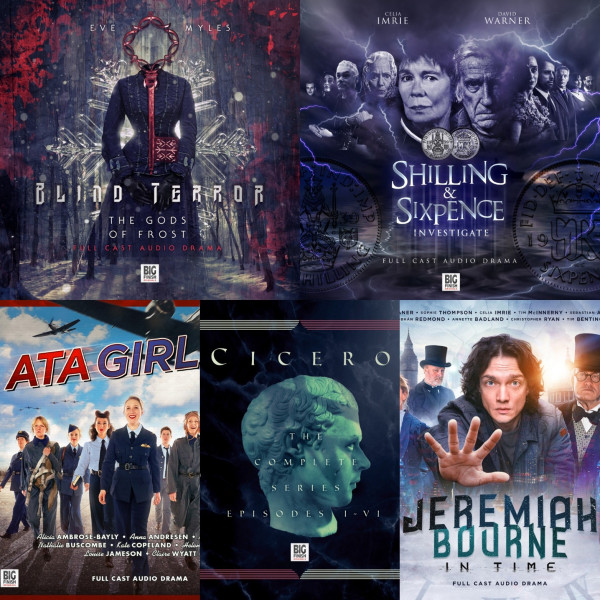 Two more of our Big Finish Originals are now available on Audible. Just in time for a cold winter, Blind Terror – The Gods of Frost stars Eve Myles in a chilling horror series written by Guy Adams and directed and produced by Scott Handcock.
Blind Terror – The Gods of Frost has been nominated for the BBC Audio Drama Awards 2019 in the Best Podcast or Online Audio Drama category.
Following the death of her husband, Kathryn Ellis becomes the new housekeeper at Hodder Hall, keen to embark on a bright new future… only, her past won't let her go just yet, and the ghosts that stalk the village threaten to cut her future short.†¨
†¨Comprising of six half-hour episodes and produced by the team behind The Confessions of Dorian Gray, Blind Terror is a series that shouldn't be missed.
Also for a classic murder-mystery treat with a stellar cast including David Warner and Celia Imrie, why not try Shilling & Sixpence Investigate?
February 1939.
Desmund Shilling arrives in Morlington Hill, deep in the heart of Cornwall, having been given the post of Head of English at Morlington School for Girls by the hearty headmistress Lavinia Sixpence.†¨†¨
Not far away, at Boothby Hall, Inspector Cribbage and Sergeant Salt are investigating the horrific murder of Lord Pluck – who is to blame? His grieving widow, Lady Penelope? His impetuous son, Viscount Robert? The no-nonsense cook or the handsome young school caretaker Joseph?†¨†¨
Miss Sixpence and Mr Shilling mount their own investigation, and very soon, horrible truths come to light…
Based on Nigel Fairs's murder mystery serial that has been running for over 21 years (with new episodes performed every month in country houses, steam trains, jailhouses, castles and restaurants throughout the UK), Shilling & Sixpence Investigate takes place in a sometimes quirky, sometimes dark world where nobody is quite whom they seem.†¨
Jason Haigh-Ellery, Big Finish chairman and executive producer, tells us about the range: "Good stories have always been at the heart of Big Finish – and I hope our listeners will agree that we have created new and exciting series which will truly be original in our Big Finish Originals."
As well as on Audible, you can, of course, get the Big Finish Originals here. Five series are currently available including ATA Girl, based on true stories of World War Two female fighter pilots; Cicero, starring Samuel Barnett solving legal cases in Ancient Rome; and Jeremiah Bourne in Time, the time-travel comedy written by The Young Ones' Nigel Planer.
You can get all of the Big Finish Originals individually, or save money in an Originals bundle. All seven series (which includes pre-orders for both next year's Transference and The Human Frontier) are available now at just £140.