We love StoriesBig Finish produce great full-cast audio drama for CD and download, featuring many popular television fantasy series.
12 Days of Big Finishmas #8 - Frankenstein and Treasure Island
1 January 2018
To kick off the New Year, try a horror classic celebrating a 200 year legacy, and the most famous pirate tale of all, for just £2.99 each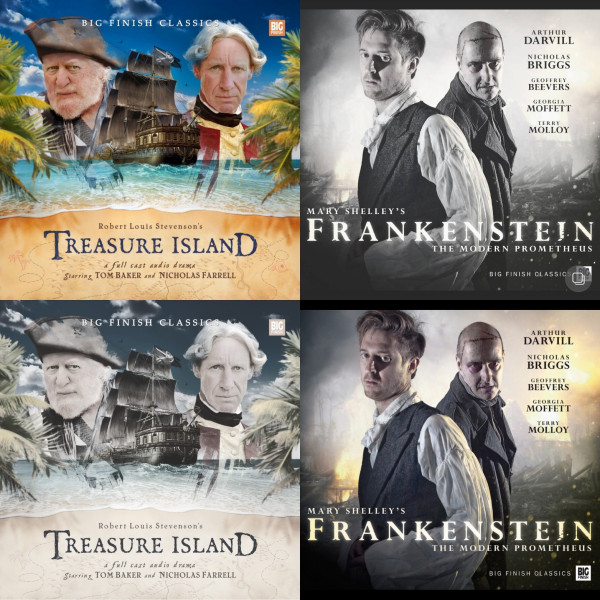 It has been 200 years since Mary Shelley rocked the gothic genre with her tale of The Modern Prometheus. To celebrate this great tale, you can get Big Finish's adaptation of Frankenstein, starring Arthur Darvill and Nicholas Briggs, for £2.99 on download.
When the crew of the Oceanus rescued a man close to death, its captain could barely have guessed at the incredible story that man would come to share. This is the story of Victor Frankenstein: a man obsessed with discovering the secret of life and cheating death; a man who brings to life to a body built from corpses; and a man who rejects this would-be child…
Soon, Victor and his creature are entangled in a dangerous game of cat and mouse across Europe. But who is truly the monster?
Head to page https://www.bigfinish.com/offers/v/bigfinishmas17 and enter code PLUMPUDDING to access this special offer.
And shiver me timbers! Get one of Big Finish's first original dramas at a bargain price.
When young Jim Hawkins unexpectedly inherits a treasure map, he little knows what adventures await him. Pursued by pirates, betrayed by friends and beset by skulduggery, Jim must brave high seas and low cunning before he reaches the shores of Treasure Island.
His fellow treasure-hunters include the inflexible Captain Smollett, the indefatigable Doctor Livesey and the irrepressible Squire Trelawney. And then there's the ship's cook: a seafaring man with one leg who goes by the name of Long John Silver…
Alongside Tom Baker is a cast including Nicholas Farrell, Tony Millan, Gareth Armstrong, Edward Holtom, Tony Haygarth, Nicholas Briggs, Nicholas Pegg and Barnaby Edwards.
Big Finish's Treasure Island brings the Robert Louis Stevenson classic to full-cast audiobook life. And today you can get it at £2.99 on download. Head to page https://www.bigfinish.com/offers/v/bigfinishmas17 and enter code PLUMPUDDING to access this special offer.
And for fans of Tom Baker as the Fourth Doctor, download the The Listeners title for January. The Auntie Matter has Tom co-starring with Mary Tamm as Romana I, the Doctor's first Time Lady companion.
England in the 1920s.
Whilst K9 is off in the TARDIS leading the Black Guardian on a wild goose chase, the Doctor and Romana are enjoying a leisurely lifestyle as the Lord and Lady of a London townhouse. But trouble never stays away from them for long, and before they know it a chance discovery of alien technology leads them deep into the heart of the English countryside where a malign presence lurks.
As the Doctor dodges deadly butlers and ferocious gamekeepers, Romana is faced with a malevolent Aunt and an even deadlier peril – marriage.
You can get this tale on download at £2.99 for the whole of January.