For The Love Of StoriesBig Finish produce fantastic full-cast audio dramas for CD and download.
13 December 2022
Everyone at Big Finish was very saddened to learn of the death of writer Chris Boucher, an influential creative who worked on many sci-fi shows of the 1970s and 1980s.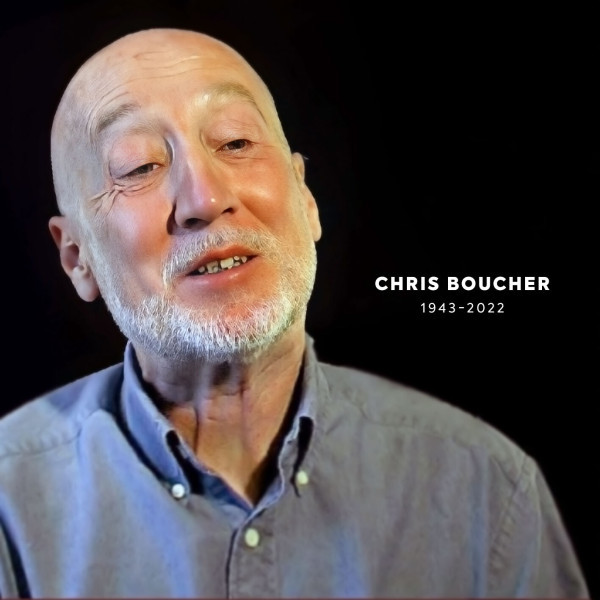 Chris Boucher, who has passed away at the age of 79, made a huge contribution to classic British televison, and subsequently to the work of Big Finish.
Having been commissioned to write for Doctor Who by his friend Robert Holmes, Boucher's first script, The Face of Evil, introduced the popular, long-serving character of Leela. His only other two stories, The Robots of Death and Image of the Fendahl (both for Tom Baker's Fourth Doctor) left a similarly lasting impression on fans of the series.
At Holmes's recommendation, he then went on to script edit Terry Nation's Blake's 7 for four years, as well as writing nine episodes himself (including the series' infamous final episode, Blake). In 1987, he created the near-future sci-fi crime drama, Star Cops, which ran for just one series on television but has continued on audio since 2017.
Here, some Big Finish regulars remember his work and influence.
Big Finish producer, David Richardson: "I never met Chris Boucher, but he's been with me for most of my life. As a science fiction fan and TV viewer, he created and wrote some of my favourite things. Coming in to Doctor Who as a new writer for its fourteenth season, he was considered great enough to write new companion Leela's first story – and her second, and her sixth. All three remain among my favourite Doctor Whos to this day.
"As script editor on Blake's 7, he boldly drove the series forwards when Terry Nation took a back seat – I can still remember being wowed when watching his first script, Shadow. So different, and imaginative and adult.
"And then there's Star Cops – by the time that came along I was working at the BBC myself and saw most of it being made on the studio floor. What a brilliant concept, which now lives on on audio at Big Finish. As do many of Chris's creations – thanks to his generosity, his ideas live on in our Doctor Who audios, Blake's 7 and Star Cops.
"In two days' time we start recording the final series of The Robots - the characters and story arc inspired by Chris's work. But he didn't just tell stories, he didn't just create characters – he created whole story worlds. He was one of the titans of British television science fiction."
Andrew Smith, writer and script editor on Big Finish's Star Cops audio dramas: "At the time I heard the very sad and shocking news of Chris's death, it added extra poignancy that I'd re-watched part one of The Robots of Death with Chris's commentary just the day before. I clearly remember watching it on broadcast at fourteen years of age, and being utterly gripped by it. It remains the Doctor Who story I've watched more than any other.
Peter Anghelides, who has recently taken the reins as producer of Big Finish's The Worlds of Blake's 7 series: "I was very sad to hear that Chris Boucher has died. What a contribution he made to UK TV science fiction – on telly and in spin-offs.
"He was also a hugely important part of my professional writing life, too. Not just with characters and concepts for Big Finish, but right back to the early 1980s when he sent a long, handwritten reply on BBC notepaper about a story I sent him about Blake's 7, full of insight and encouragement. I'm so glad I thanked him for that when I finally met him."
Big Finish Founder, Chairman and Executive Producer Jason Haigh-Ellery:
"I was always a fan of Chris's work. For Doctor Who his creation of Leela was a fantastic piece of character writing and Robots of Death is an undoubted classic, in which Chris created a world so vivid and unique that many books and audios have returned to it, including Big Finish's The Robots.
"His contribution to Blake's 7 was immense, helping Terry Nation to hone his scripts and going on to write some of the best episodes of the series, including City at the Edge of the World and Rumours of Death (where he so brilliantly fleshed out Avon's backstory).
"Chris had been ill for some time and I enjoyed an ongoing email exchange with him for some years. We would discuss everything from what he thought of Big Finish's new Star Cops adventures; he once wrote 'To quote Young Mr Grace "You've all done very well!'" which made me chortle, through to what we would recommend next to watch during lockdown.
"We had different tastes, so I think the recommendations broadened both our viewing habits at a difficult time. He recommended The Sinner to me, which I really enjoyed and was always pushing me to watch Justified – which I will now put on top of my list. He didn't like my recommendation of Snowpiercer, but enjoyed Rake the writing for which he was very excited about.
"His wife Lyn was his rock for many years and all at Big Finish send her and Chris's family our condolences at the passing of a wonderful writer and a lovely man."
The final tribute comes from writer Simon Guerrier, who followed in Chris's footsteps by writing the first script for Big Finish's audio series, The Liberator Chronicles: "When I wrote The Turing Test an age ago, my colleague Robert Dick insisted I watch an interview with Chris Boucher – the one where he says he always wrote Avon with two motives, so you can never be sure if he's a behaving as a hero or villain. 'Yeah, yeah,' I thought.
"But I tried writing my one like that, and – blimey – it is hard. Every line, every response, every bloody thing that happens, has to work two ways. There's never enough time to write stuff anyway. What a pig of an imposition.
"And then… then I got one scene to work. And it really worked. The whole story came to life. And I realised I had to stick it out and make all of the rest of it zing like that.
"Anyway. He made that work for 52 consecutive episodes of Blake's 7. It's dead tricky and fiddly, but the result absolutely zings. RIP Chris Boucher – and thank you."