We love StoriesBig Finish produce great full-cast audio drama for CD and download, featuring many popular television fantasy series.
Coming soon - new Blake's 7 written by Paul Darrow
10 September 2020
Paul Darrow's final novel in the Blake's 7 Lucifer series will be released as an audiobook in March 2021, read by his friend and colleague Stephen Greif.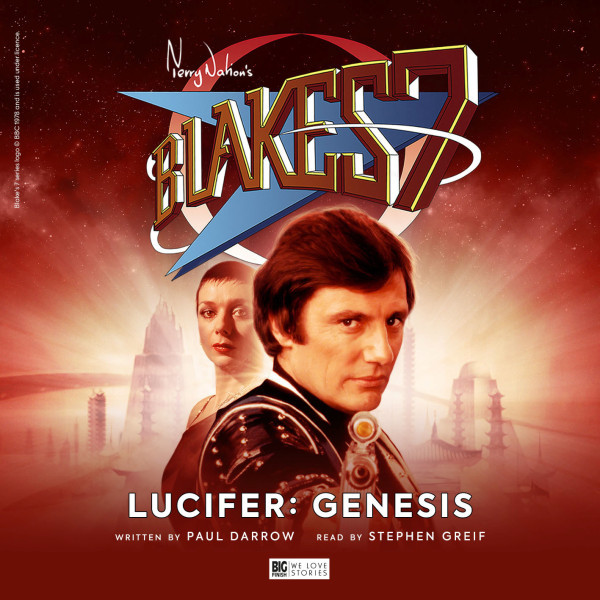 From 1978 to 1981, the late Paul Darrow portrayed morally ambiguous anti-hero Kerr Avon in four seasons of Terry Nation's sci-fi space opera, Blake's 7 (which premieres today, 10 September 2020, on UK TV streaming service BritBox). In the years that followed, Darrow also wrote a number of novels which continued and developed the story of the character.
Lucifer Genesis is a compelling and vivid reimagining of Avon's life, starting long before the events of the TV series, following his journey from the starship Liberator to the space freighter Scorpio, and leading us into the bleak future of a post-Federation world.
Lucifer Genesis, originally published as a novel and eBook in 2015, is now available to pre-order as a digital download, exclusively HERE!
Powerful, intelligent, ruthless...
Servalan as a child, learning early about power and how to get it...
Avon as a young man, finding ways to beat the system...
Two sides of a coin, two lives on a collision course...
The events on the Liberator are only a part of their story. Now it's time to find out how it started – and how it ends.
Stephen Greif (Blake's 7's Travis) narrates this, the third book in the Lucifer trilogy.
He said: "It's always special revisiting Blake's 7 and reading a book written by Paul and intended for himself to have narrated, is very special indeed. I've been getting a strong sense of Paul's imagination and preparation. I can see him constructing the sentences and phrases and getting great satisfaction from its transfer from his mind to the typed page.
"Paul and Avon were made for each other - and often became inseparable. The character gave Paully a centre, and meaning to his career and life, and made him very happy. Amen to that."
Producer Xanna Eve Chown added: "I adored working on the Lucifer trilogy with Paul. I think that these books give a real insight into the way his mind worked. He had such enthusiasm for them, and obviously loved writing them, and he always wrote such polite, charming emails - even when he was disagreeing with my suggested edits! I was particularly honoured that he named a character for me - Xian. He was always putting in little references and jokes for people he knew, which was so lovely."
Blake's 7: Lucifer Genesis is now available to pre-order as a digital download, exclusively HERE, for just £9.99.