For The Love Of StoriesBig Finish produce fantastic full-cast audio dramas for CD and download.
14 January 2017
The reaction to B7 Media's Dan Dare Volume 1 has been fantastic - hear what the critics have to say: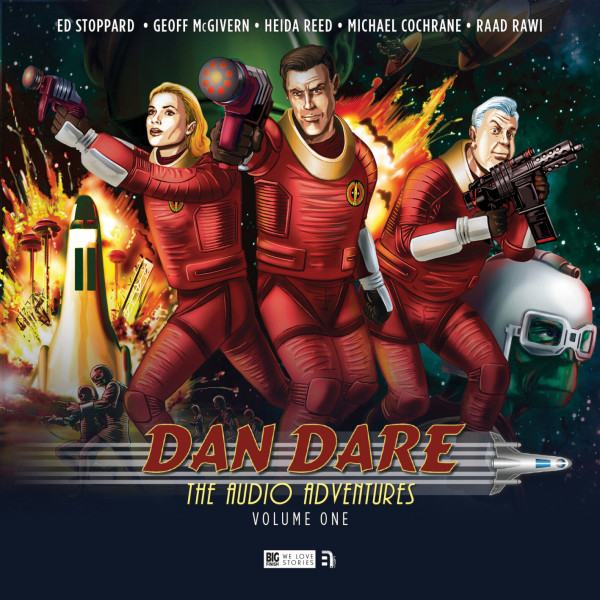 Released in December, Dan Dare - Volume 1 stars Ed Stoppard, Geoff McGivern, Heida Reed and Raad Rawi in a brand new audio version of the classic British Sci-Fi comic-strip character:
Edition Online summed up the first volume: "Dan Dare: The Audio Adventures is bright, optimistic, heroic and pacey, and it still manages to say that tyranny is worth opposing, wherever you find it. What's more, it maintains a lack of modern day cynicism and presents it as something laudable, even in a year when cynicism would be the easier, arguably more audience-friendly route to take. In short, it's a ripping adventure yarn updated for the 21st century, and there's not a bally thing wrong with that!"
Comics website Down The Tubes felt fans would like the new audio adventures: "For one thing, the characterization of Dan Dare himself, played by Ed Stoppard, is spot on... Nine spaceships out of ten for this first entry in the series."
Sci-Fi Pulse agrees, "Ed Stoppard rocked in what could have been the thankless titular role... In an age rife with unhinged antiheroes, I'm glad he made the superb effort. I'm truly over the grim and gritty existential crises that drive current entertainment. Stoppard's Dare just got on with things. Thank you very much!"
As Mass Movement also notes, "And speaking of the cast, Ed Stoppard's Dan Dare and Geoff McGivern's Digby and their fractious relationship that evolves from one of cold distrust to mutual appreciation would have stolen the show if it wasn't for Raad Rawi's planet chewing turn as the narcissistic and megalomaniacal Mekon."
"There are plenty of aliens and the largest of all is the Mekon played with pure unemotional evil by Raad Rawi," comments Starburst Magazine. "This rounds off a great collection of stories and by the end of the set April's release of the second set seems a long way wait. The cast makes their characters live from the first scenes and the music rounds off a sterling production."
Sci-Fi Bulletin sums up this first volume: "This is a slick, streamlined trilogy of stories that takes one of the all-time greats, puts him in a newly kitted out and streamlined world and lets him and his colleagues soar."
Until the end of January, Dan Dare - Volume 1 remains at the frozen pre-release price of £20 on Download and £25 for the four-disc CD set. Volume 2 of this thrilling adventure series follows in April and can be pre-ordered at present for the same price.
For those yet to hear this exciting new take on a classic character, the opening of Dan Dare - Voyager to Venus is available as a free download here.