We love StoriesBig Finish produce great full-cast audio drama for CD and download, featuring many popular television fantasy series.
Download Latest Update @21.04
10 November 2012
Big Finish Productions would like to apologize for the temporary problems that have prevented some of our loyal customers from being able to download Doctor Who: Dark Eyes and other releases. As of 21.04 today November 10th 2012, the news is as follows... Problems experienced by our server company in adding extra bandwidth have finally been overcome, but to ease demand, The Shadow Heart and The Return of the Rocket Men have been temporarily made unavailable.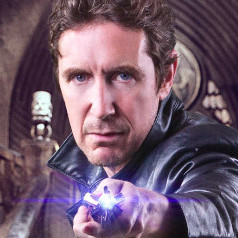 LATEST UPDATE
We are cautiously optimistic that the problems our server company were experiencing in implementing an increase in bandwidth have now been overcome. Our support team are reporting increased speeds and our testing shows the website seems to be responding at normal speed now.
As previously reported, Doctor Who: The Shadow Heart and Doctor Who: The Return of the Rocket Men still remain unavailable, as a precautionary measure to ease demand until we can be sure the solution implemented is working.
Nicholas Briggs: 'It's been a long day of frustrations for everyone... For our customers and for all of us at Big Finish. We'll be continuing to monitor the situation. I'd like to thank all of you who have shown such patience and support for us throughout this trying time. For those few of you who expressed your anger and frustration, I'd just like to say that I sincerely believe you were entitled to do so and I totally understand your point of view. We will be doing our level best to make sure this doesn't happen again. We'll be keeping you informed of all developments on this front. My heartfelt thanks to you all and to our support team, in particular Ed Hughes and Kris Griffin, who worked so hard to put this right.'
Previously in this news thread...
This month's main range release, Doctor Who: The Shadow Heart and this month's Companion Chronicles release, The Return of the Rocket Men have been temporarily made unavailable. This has been done to ease demand on the server. They now show as being released on 30th November. However, this release date will be brought forward in the next few days. We will keep you updated with further information.
Nicholas Briggs: 'We have obtained extra bandwidth on our server, but there has been a delay in this being implemented, caused by a systems problem with the server company. This problem, we hope and trust, will be fixed as soon as is possible. Once again, huge apologies to our loyal customers who are having an extremely frustrating time today. We will be doing our very best in the coming days and weeks to make sure that we learn from today's problems and implement changes to make sure that they do no happen again.'
Previously in this news thread...
Unprecedented, high demand for Doctor Who: Dark Eyes has caused today's difficulties.
Nicholas Briggs: 'We're very sorry to have let our loyal customers down like this. Our bandwidth provisions are normally far more than adequate for our download needs. Unfortunately, because of a last-minute decision to release Dark Eyes earlier than expected, we put extra stress on our considerable bandwidth. This caused our website operating speeds to slow down to a snail's pace. But the site didn't crash, which is why the emergency notification procedures weren't activated. We are putting measures in place to make sure this doesn't happen in the future. In the meantime, we would ask customers to be patient and to stop downloading if the download time seems excessively long. It's best to come back and try later. We will continue to update you with any further developments from our support team.'