For The Love Of StoriesBig Finish produce fantastic full-cast audio dramas for CD and download.
Dark Shadows: 50th Anniversary Titles Released!
27 June 2016
Available today - two special releases celebrating a half century of vampires, werewolves and witches in the town of Collinsport...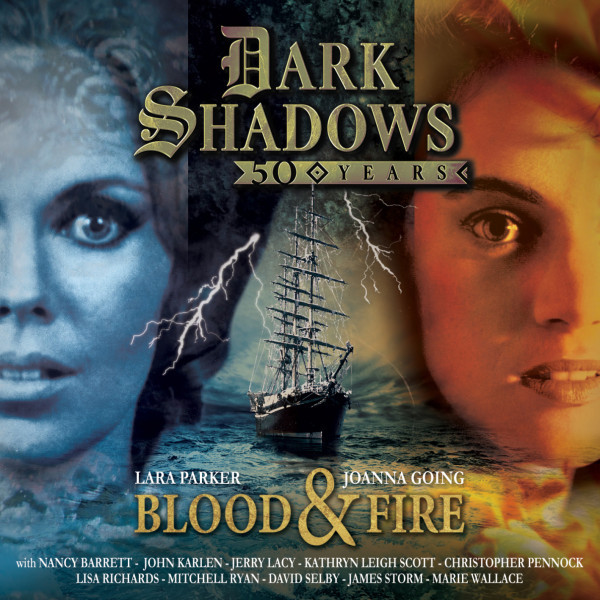 On June 27th 1966, American teenagers' afternoons were rocked by the arrival of a daring, frightening and addictive new television series, the legacy of which is still felt today. Dark Shadows combined the traditional afternoon soap-opera with vampires, werewolves and witches, providing unmissable programming for a whole generation.
Dark Shadows brought to life the saga of the Collins Family, a wealthy clan of aristocrats cursed by supernatural powers. From their ancestral home of Collinwood, the family plotted against each other, with the innocent (and not so innocent) citizens of Collinsport caught in the crossfire. Before long, the family's ancestors also made their way to the house; including vampire Barnabas Collins (Jonathan Frid), the immortal werewolf Quentin Collins (David Selby) and the love-spurned witch Angelique (Lara Parker). Battles were raged in the past and future, in parallel timelines and distant dimensions; and audiences were hooked.
A half-century later, Big Finish is delighted to be celebrating this iconic series with two new releases, featuring actors from across all 1,225 episodes of the original series and from throughout ten years of Big Finish audio dramas.
The party begins with Dark Shadows: Blood and Fire, a terrifying two-disc full cast drama that takes listeners back to the very origins of Collinsport...
"Some are born with magic, some acquire magic, and others have magic thrust upon them..."
The year is 1767. Young widow Laura Murdoch Stockbridge is to marry Joshua Collins, heir to the Collins fortune. Meanwhile, Joshua's sister Abigail is in love with disreputable sailor Abraham Harkaway.
But the course of true love never did run smooth… especially when the witch Angélique Bouchard is around.
For Angélique has been sent back in time. And she has one mission…
To destroy the Collins family forever.
Big Finish proudly presents Lara Parker, Kathryn Leigh Scott, Mitchell Ryan, Joanna Going, Andrew Collins, Daisy Tormé, James Storm, Lisa Richards, Christopher Pennock, Marie Wallace, Nancy Barrett, David Selby, Matthew Waterhouse, Jerry Lacy, John Karlen, Ursula Burton, Alexandra Donnachie, Scott Haran, Walles Hamonde, Daniel Collard, Michael Shon and Natalie Britton in Dark Shadows: Blood and Fire by Roy Gill, available to buy and download now for £14.99 on CD or £12.99 to download.
Our second release features four new Collinwood tales performed by some of the series' most iconic stars. Dark Shadows: Echoes of the Past contains the following stories or horror, romance and intrigue:
Trask The Exorcist written and performed by Jerry Lacy
A tired and hungry Reverend Trask is summoned to perform an exorcism. But when he meets Penelope Bascomb he will face the Devil's greatest weapon... temptation.
The Missing Reel by Ian Farrington, performed by David Selby
Los Angeles, 1958. The world is changing – but then again, it always does. Only people with short lives assume things stay the same. When you're immortal like Quentin Collins, you realize that it all moves at a lightning pace...
Lunar Tides by Philip Meeks, performed by Kathryn Leigh Scott
Maggie Evans knows everything. She knows what Barnabas has done and has banished him from the town. But who will help her when a mysterious mist descends on the town and the people of Collinsport start falling ill?
Confession by Paul Phipps, performed by Lara Parker
The witch Angelique sits alone in her cottage, writing a confession. But what is she confessing to? And why can't she stop writing?
This new double-disc release is available to buy and download now for £14.99 on CD or £12.99 to download. As with the majority of Dark Shadows titles, a complimentary digital download is included with CD orders for both titles, so you don't need to wait to begin the celebrations! Listen on the move with our official Big Finish Player app, now available on iOS devices.
Congratulations from all of us at Big Finish to the cast and crew of Dark Shadows on their first fifty years of fantastic storytelling.
The saga of Collinsport continues later this year with the release of Dark Shadows: Haunted Memories, a second collection of short stories and Dark Shadows Bloodline, a new thirteen-part mini-series. More details will be coming soon...