For The Love Of StoriesBig Finish produce fantastic full-cast audio dramas for CD and download.
Doctor Who: 1963 - The Assassination Games Released
15 November 2013
We're delighted to announce that today sees the release of our main range anniversary story: Doctor Who: 1963: The Assassination Games, starring Sylvester McCoy, Sophie Aldred and Counter-Measures!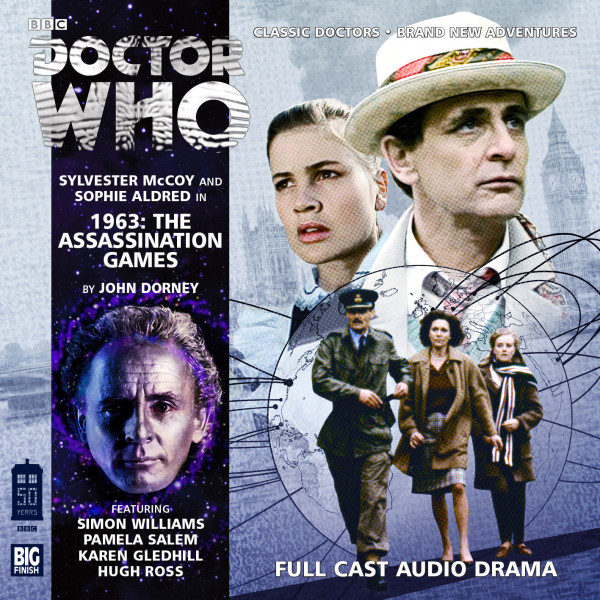 Doctor Who Magazine readers have had the opportunity to taste test this little beauty earlier in the week, but now it's available to all subscribers and those who pre-ordered!
Doctor Who: 1963: The Assassination Games is the final part of our trilogy of tales set in the year of Doctor Who's birth, and it stars Sylvester McCoy as the Seventh Doctor (seen on TV between 1987 and 1996) and Sophie Aldred as Ace (1988-1989). And what better way to celebrate fifty years of Doctor Who than to revisit the twenty-fifth anniversary! Yes, the team now known as Counter-Measures, first introduced in 1988 TV classic Remembrance of the Daleks, are back!
London. The end of November, 1963. A time of change. The old guard are being swept away by the white heat of technology. Political scandals are the talk of the town. Britain tries to maintain its international role; fanatics assassinate charismatic politicians and Group Captain Ian Gilmore is trying to get his fledgling Counter-Measures unit off the ground.
When his life is saved by a familiar umbrella-bearing figure, he knows something terrible is going on. Whilst Rachel investigates an enigmatic millionaire and Allison goes undercover in an extremist organisation, Gilmore discovers a sinister plot with roots a century old.
The Doctor and Ace are back in town. A new dawn is coming. It's time for everyone… to see the Light.
Doctor Who: 1963: The Assassination Games is available for download now, and CDs are en route.