For The Love Of StoriesBig Finish produce fantastic full-cast audio dramas for CD and download.
Doctor Who: All-Consuming Fire - Coming Soon
20 August 2015
The game's afoot! The cast and cover for our upcoming Novel Adaptation has been revealed...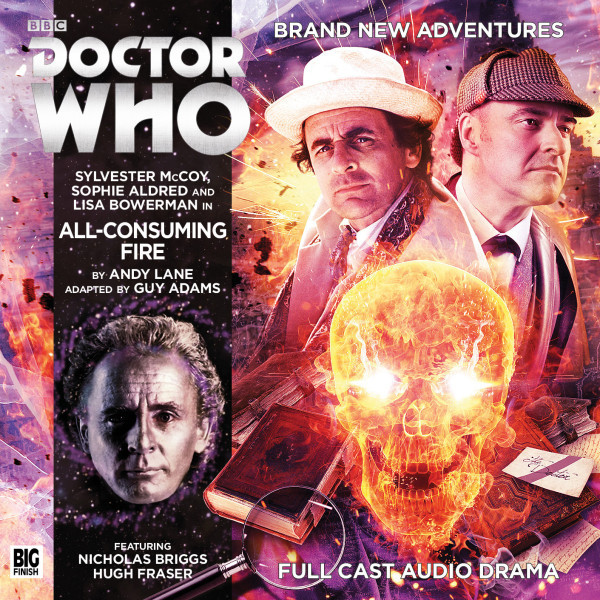 Coming in December, Doctor Who: All-Consuming Fire continues Big Finish's run of special adaptations of the Virgin New Adventures, first published in the early 1990s.
The new release features two Big Finish champions, as the Seventh Doctor (Sylvester McCoy) teams up with the legendary Sherlock Holmes – once again portrayed by Nicholas Briggs.
The two heroes will unite to investigate a sinister intelligence lurking on the streets of 1887 London, aided by their faithful companions Ace (Sophie Aldred), Bernice Summerfield (Lisa Bowerman) and Doctor John Watson (Richard Earl).
The team behind the adaptation are themselves experts in all things Holmesian. Original novel author Andy Lane is the creator of the incredibly popular Young Sherlock Holmes series of books, while script adapter Guy Adams has authored two supernatural-themed Holmes novels for Titan Books – a series producer Cavan Scott will be adding to in 2016 with The Patchwork Devil.
'Ever since we first started producing the novel adaptations, fans have been clamoring for an adaptation of Andy's All-Consuming Fire, one of the most popular New Adventures of them all," says Cavan. "As both a Doctor Who and Sherlock Holmes fan myself, I can see why. The most-devious Time Lord of them all teaming up with the Great Detective? Bernice Summerfield flirting with Doctor Watson? Ace battling Lovecraftian monsters? Yes, please!
'Holmes and the Doctor work so well together, although, of course, the Doctor completely bamboozles Sherlock. Finally, Holmes meets someone he can't read, from the alien mud on his shoes to the unbelievable worlds he inhabits.'
Co-starring in the adaptation is Hugh Fraser (Edge of Darkness, Poirot, Sharpe) as Sherringford Holmes – the long-lost elder brother of the Great Detective. Other featured artists include Anthony May, Aaron Neil, Samantha Béart and Michael Griffiths.
'Having worked with Sylvester's Doctor on Doctor Who: The New Adventures of Bernice Summerfield, and Nicholas's Sherlock on The Confessions of Dorian Gray,' says director Scott Handcock, ' it's been a real thrill to be part of their crossover adventure, and the dynamic they share as performers is a joy to listen to. Plus I finally get to work with the wonderful Richard Earl as Doctor Watson!
'Of course, it's also been an enormous joy to work with Hugh Fraser, who's no stranger to sleuthing, as Holmes's eldest brother, and Anthony May provides a suitably villainous baron. Throw in Aaron Neil, Michael Griffiths, and Vienna's Samantha Béart, and it's an ensemble with real edge and energy.'
Doctor Who: All-Consuming Fire will be released in December, alongside Doctor Who: Theatre of War. You can pre-order both of these titles today. Three further adaptations will follow in 2016 and you can order all five stories as part of a specially discounted bundle.
Our six previous Novel Adaptations are still available to order now, including Doctor Who: Love and War, in which the Doctor and Ace first meet Bernice Summerfield and Doctor Who: Damaged Goods, our critically acclaimed adaptation of the novel by Russell T Davies.
Both Sherlock Holmes and Dr Watson will return in 2016 in The Sacrifice of Sherlock Holmes, a new boxset of four adventures. You can find out more about the new collection and our previous Sherlock Holmes releases on the range page here.