For The Love Of StoriesBig Finish produce fantastic full-cast audio dramas for CD and download.
Doctor Who: Doom Coalition - Coming October 2015
28 March 2015
The Eighth Doctor's next adventure is unveiled; the Doom Coalition is coming!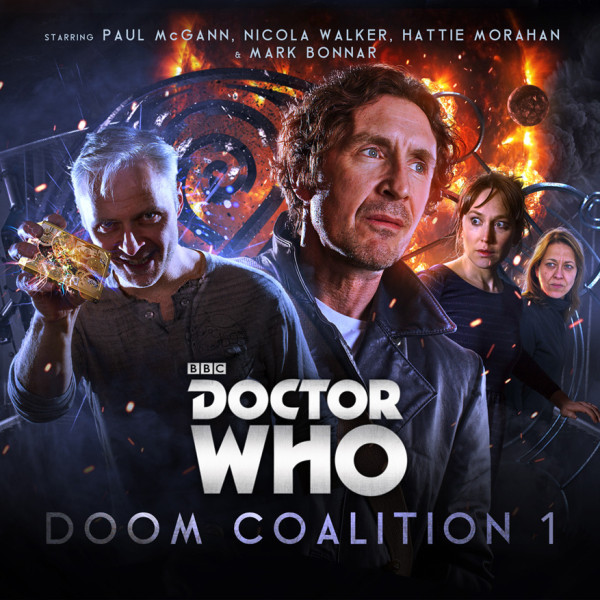 "I couldn't help noticing. Just then… Another personality emerged. Was that Seven? Ten?"
In October 2015 the Eighth Doctor (Paul McGann) and his companion Liv Chenka (Nicola Walker) will head into a brand new era of Doctor Who, as the TARDIS is recalled to Gallifrey by the Time Lords. And they will be battling a new foe known only as The Eleven…
Doctor Who: Doom Coalition is an epic saga that will span four box sets (a total of sixteen episodes) forming one breathtaking inter-connecting saga that will push the Doctor's bravery and resourcefulness to its limits.
"The overall story of Doom Coalition was devised by myself and Ken Bentley over the course of many walks to the studio," says producer David Richardson, "Our framework has been fleshed out by a fantastic team of writers, and realised by a brilliant cast – and I can't wait for the roller-coaster to begin in October!"
"Doom Coalition is unlike anything we've attempted before," says director Ken Bentley. "It's on a scale that we hope will satisfy loyal listeners. It's also a new, completely stand-alone adventure, making it a great place to start if you're listening to Doctor Who on audio for the very first time."
The first box set will see a new addition to the TARDIS team when gifted philologist Helen Sinclair steps aboard in the second episode.
"Helen is from 1963," explains David. "She was, in part, inspired by Doctor Who's first producer Verity Lambert – she's a driven, career-minded woman in a male-dominated profession. And she's a head-strong and capable companion in the mould of Barbara Wright, Sarah Jane Smith and Tegan Jovanka."
Helen is played by Hattie Morahan, whose many leading credits include Bodies, Eternal Law, The Bletchley Circle and the upcoming film Mr Holmes.
"Hattie had been on our radar for some time and we'd been waiting for the right role to come along. When we were recording Dark Eyes 4 Hattie's name came up during conversation and Paul got very enthusiastic, telling us how much he'd like to work with her. The pieces just fell into place. It was the most effortless casting ever!"
Doom Coalition's first episode also introduces a brand new villain – albeit one that the Doctor has been batting throughout his lives… The Eleven is a Time Lord who retains each one of his personalities every time he regenerates; now in his Eleventh incarnation, he is an insane sociopath. Captured by the Seventh Doctor and placed in confinement on Gallifrey, the Eleven has been contained for many years. But now he has escaped…
The Eleven is played by Mark Bonnar, who was recently seen in Channel 4's
Catastrophe, and won critical acclaim in The Line of Duty. His other leading credits include Shetland, Psychoville and Paradox.
The first volume's stellar cast also includes Robert Bathurst (Downton Abbey, Toast of London, Blandings), Caroline Langrishe (Dominick Hide, Lovejoy, Judge John Deed), Ramon Tikaram (Stella, Jupiter Ascending, Game of Thrones), David Yelland (Chariots of Fire, Poirot), John Woodvine (Doctor Who: The Armageddon Factor), Harry Myers (Bernice Summerfield), Esther Hall (Queer as Folk, Spooks, Rome) and Matthew Cottle (Game On, Citizen Khan).
Doctor Who: Doom Coalition 1 is released in October 2015. The remaining three volumes will follow across 2016 and into 2017 and can be bought as a collected Bundle.
The last adventure for the Eighth Doctor was the Doctor Who - Dark Eyes saga. Dark Eyes 4 was released in March, and from 1st April goes to a full-release price of £40 on CD and £35 on Download. However, the full Dark Eyes bundle will stay at £80 for all four series!