We love StoriesBig Finish produce great full-cast audio drama for CD and download, featuring many popular television fantasy series.
Doctor Who - Iron Bright out now
19 June 2018
The Sixth Doctor meets his match in one of the greatest figures of the Industrial Revolution - can they uncover the secret behind the †˜haunted' Thames tunnel together? Doctor Who Main Range story, Iron Bright - a historical tale with a twist - is released today.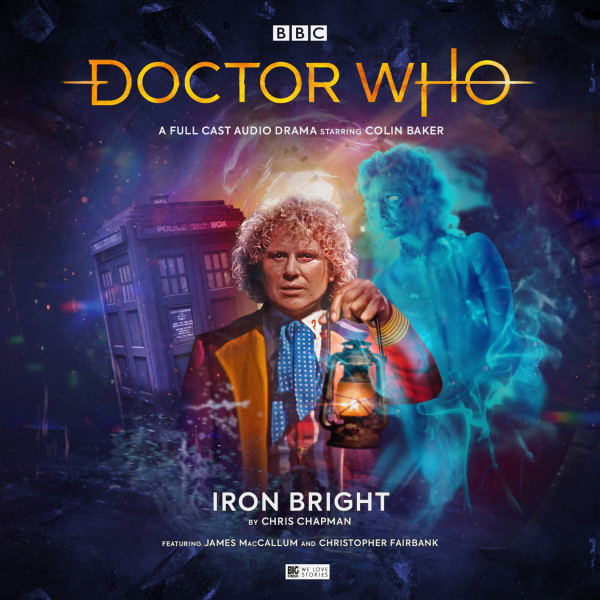 Doctor Who – Iron Bright is out now.
It's London, 1828, and the father-and-son team of Marc and Isambard Kingdom Brunel are masterminding a dangerous project – the digging of the Thames Tunnel. There's just one problem…
The Brunels' tunnel is haunted. Every night, a spectral blue lady walks the excavation. Now, the 22-year-old Isambard, eager to step out of his famous father's shadow, finds himself dealing with not only the supposed supernatural, but a second unexpected guest – a colourful trespasser who calls himself the 'Doctor'.
Isambard would like to know a great deal more about this strange man and his mysterious blue box…
Writer Chris Chapman tells us more, "I'd recently moved to Bristol, and you can't move round here for references to that engineer extraordinaire, Isambard Kingdom Brunel. As well as his glorious Suspension Bridge, he's got museums, streets, even sandwich shops named after him! So I thought he might be a fascinating historical figure to throw into Doctor Who - taking my lead from the Russell T Davies era 'celebrity historicals'. " You can read more in the Behind The Scenes of this release.
Iron Bright is available now at £14.99 on CD or £12.99 on download. All CD purchases unlock a download option via the Big Finish app and the Big Finish website.
Or you can save money by getting a subscription to the Doctor Who Main Range. When you subscribe you'll get 30% off the price, free specially recorded Short Trips stories, PDFs of the scripts, and extended downloadable extras. You can subscribe for either 6 or 12 releases.
Coming out next month in the Doctor Who Main Range the Sixth Doctor is 'united' with UNIT (the new UNIT team that the Fifth Doctor encountered in The Helliax Rift in April), and together they'll have to defeat the Cybermen in one of their most fiendish plots to date…
Answering a call from UNIT, the Doctor arrives in London to find the streets deserted apart from looters in possession of a valuable commodity – water.
Britain is suffering an extreme and bizarre drought. The cause is suspected to be extra-terrestrial. The discovery of a signal being transmitted into space, and of a spacecraft whose crew are desiccated corpses, provides a possible answer. But the true enemy is an old foe of the Doctor's.
The Cybermen have been patient, setting their plans in place over a number of years. As the final stage is implemented, in the darkest hour, the Doctor must identify who among his allies he can trust.