For The Love Of StoriesBig Finish produce fantastic full-cast audio dramas for CD and download.
Doctor Who – Once and Future begins!
3 May 2023
The Doctor Who audio event of the diamond anniversary year starts today with the release of Once and Future: Past Lives, starring Tom Baker and featuring a galaxy of guest stars.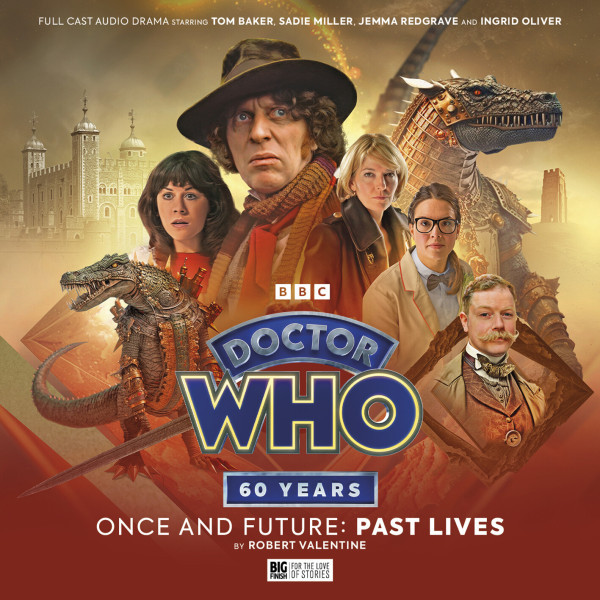 The Time War. The Doctor has been injured and brought to a Time Lord field hospital. His body glows with energy, but this is no regeneration into a future form – instead, the Doctor's past faces begin to appear as he flits haphazardly between incarnations...
Staggering to his TARDIS, the Doctor sets out to solve the mystery of his 'degeneration'. Who has done this to him? How? And why? From the Earth to the stars, across an array of familiar times and places, he follows clues to retrace his steps, encountering old friends and enemies along the way. Tumbling through his lives, the Doctor must stop his degeneration before he loses himself completely...
Doctor Who – Once and Future: Past Lives, by Robert Valentine, is now available as a single-disc collector's edition CD (+download for just £10.99), or digital download only (for just £8.99), exclusively here.
This full-cast audio adventure is the first of an epic eight-part series. Doctor Who fans worldwide can pre-order all eight Once and Future stories for just £72 (on collector's edition CD and download) or £60 (download only).
A special edition series bundle, which contains extended behind-the-scenes extras and music suites for each story, is also available to purchase for just £62 (as a digital download only).
Writer Robert Valentine said: "It's incredibly exciting to be kicking off the 60th-anniversary celebration for Big Finish. And in the wider context of this being Doctor Who's diamond jubilee, the party begins here!
"We find the Doctor in the most chaotic situation imaginable. He's been blasted by some sort of degeneration weapon. Meanwhile, the Meddling Monk has a price on his head, Sarah Jane Smith gets kidnapped, and Kate Stewart and Osgood are being menaced by a belligerent alien race with plans to relive their glory days.
"In this adventure, you'll get to revisit one or two familiar locations from the Doctor's past and a lot of old faces."
Script Editor Matt Fitton added: "This is a full-on celebration of 60 years of Doctor Who, throwing together friends, companions, enemies, different Doctors and paying tribute to some degree to every single era of the show.
"It's lovely to make these connections, and of course we have classic UNIT represented in Sarah Jane tying in with modern UNIT. That's always fun to do!
"We're only at the beginning of the adventure so we're just starting to figure out what's going on. There are many more secrets and mysteries to be uncovered..."
Doctor Who – Once and Future: Past Lives stars Tom Baker as the Fourth Doctor (with special appearances by Stephen Noonan, Michael Troughton, Tim Treloar, Peter Davison, Colin Baker and Sylvester McCoy as the Doctor's other incarnations), Sadie Miller as Sarah Jane Smith, Rufus Hound as the Meddling Monk, Jemma Redgrave as Kate Lethbridge-Stewart, and Ingrid Oliver as Petronella Osgood.
All the above prices include the special pre-order discount and are subject to change after general release.
Please note that Big Finish is currently operating a digital-first release schedule. The mailout of collector's edition CDs will be delayed, but all purchases of this release unlock a digital copy that can be immediately downloaded or played on the Big Finish app from the release date.