For The Love Of StoriesBig Finish produce fantastic full-cast audio dramas for CD and download.
Doctor Who's Rory returns
30 December 2021
After guarding his wife-to-be in Roman times, nurse, reluctant time traveller and surprised immortal Rory Williams returns to the country of his birth.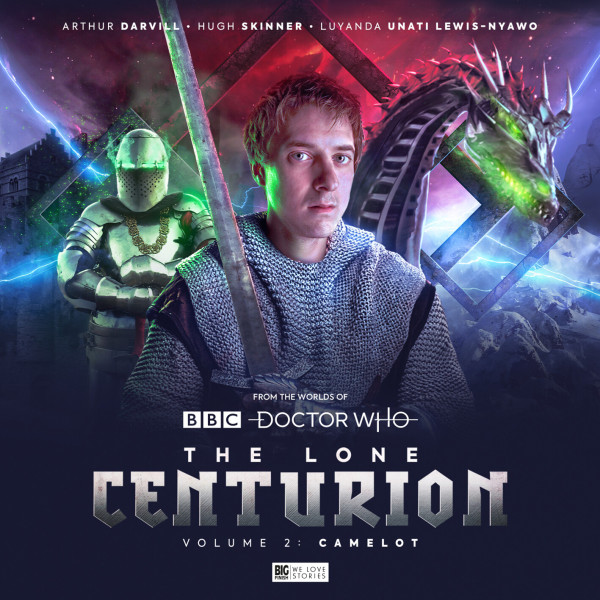 Arthur Darvill stars in a brand new set of full cast audio adventures from Big Finish Productions, due for release in February 2022.
Legend tells of the Lone Centurion – a mysterious figure dressed as a Roman soldier who stood guard over the Pandorica, warning off those who would attempt to open it; a constant warrior whose story appeared in the folk history of a dozen civilisations.
Swapping the gladius of the Colosseum for another sword entirely, Rory arrives at Excalibur's home: Camelot! As he continues to guard the tomb of his fiancée, Amy Pond, Rory finds that life with King Arthur and Merlin isn't as magical as he might have expected.
The Lone Centurion – Volume Two: Camelot is now available to pre-order as a collector's edition CD (at £19.99) or digital download (at £16.99), exclusively here
The three exciting adventures in this box set are as follows:
The Once and Future Nurse by Alfie Shaw
Camelot is in trouble. Lancelot is wounded and Merlin warns that dark times are ahead. The wizard's convinced the solution lies in the mythical Pandorica. Meanwhile, Lancelot owes his life to a humble servant named Rory.
The Glowing Warrior by Tim Foley 
Arise Sir Rory! Every new knight must embark upon a quest, and soon Sir Rory (and his noble squire Lancelot) head out to solve the mystery of the Glowing Knight and save a damsel in distress. But are they walking into a trap?
The Last King of Camelot by Kate Thorman
Camelot is under attack. Arthur and Guinevere have fled and Merlin's direst prophecies have come true. Can Rory prevail before the kingdom falls?
Producer Scott Handcock said: "When script editor James Goss and I first started discussing ideas for The Lone Centurion, we thrashed around a number of settings and time periods just to get a sense of how much mileage the format might have.
"Fortunately, with it being an alternative timeline, we came up with plenty of different options, each with a distinct flavour, and Camelot was one of them. Obviously, we know that Arthurian legend has a strong place in Doctor Who lore (not least due to the 1989 TV episode Battlefield), but this was an opportunity to explore a different side to those stories.
"The Once and Future Nurse is a lovely script from Alfie Shaw that introduces us to our characters and the wider world of Camelot. It's a nice contrast to Rory's adventures in Rome as well. There, he was treated almost as some divine figure, whereas here he's little more than a peasant, biding his time, keeping as low a profile as possible, and trying to keep the Pandorica hidden.
"The set's second episode – The Glowing Warrior – is an all-out farce from Tim Foley, as Rory has to accompany the legendary Sir Lancelot on a quest to save the kingdom. The adventure then concludes with Kate Thorman's The Last King of Camelot… where events take a significantly more serious turn."
The Lone Centurion – Volume Two: Camelot is now available to pre-order as a collector's edition CD (at £19.99) or digital download (at £16.99), exclusively from the Big Finish website.
Volume One: Rome was released in April 2021. Big Finish listeners can save money by ordering both volumes together in a bundle for £38 on CD or £33 on download.
All the above prices include the special pre-order discount and are subject to change after general release.
Big Finish is currently operating a digital-first release schedule. The mail-out of collector's edition CDs may be delayed due to factors beyond our control, but all purchases of this release unlock a digital copy that can be immediately downloaded or played on the Big Finish app from the release date.