For The Love Of StoriesBig Finish produce fantastic full-cast audio dramas for CD and download.
Doctor Who's Sarah Sutton joins the cast of Timeslip
13 February 2020
In May 2020, the year of the series' 50th anniversary, Timeslip returns, along with its original leads, Spencer Banks and Cheryl Burfield, in two brand new feature-length audio adventures.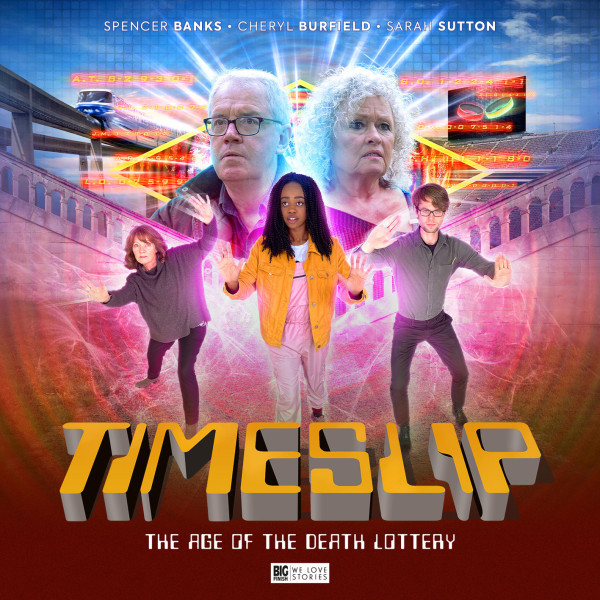 Joining the cast of the first Timeslip story, The Age of the Death Lottery, is Sarah Sutton, familiar to Big Finish and Doctor Who fans as Nyssa of Traken, who travelled with the Fifth Doctor. In Timeslip, she plays Charlotte Trent, a biology and life sciences lecturer who is also an expert in world overpopulation.
Both Timeslip releases are available for pre-order now at £19.99 each as a collector's edition CD box set or £16.99 each on download from the Big Finish website.
Decades after their childhood experiences passing through a mysterious time barrier that could transmit people into the past and the future, two adults - Simon and Liz - encounter two youths from the 1980s, Neil and Jade... and realise the barrier is open again.
Following them through the barrier in search of a missing friend, they find themselves many years into the future, when overpopulation has brought the Earth to its knees. So a radical reform has been undertaken - a mass culling of parts of the population known as the Death Lottery. Not everyone supports this idea. Rebels known as refusers battle the government and the sinister Enforcement Bureau - and Liz discovers that her old friend Charlotte may be responsible for the whole thing.
Producer David Richardson said: "Sarah was our first and only choice to play Charlotte. I've worked with her on Doctor Who many times. and I know there's so much more to her than playing the much-loved Nyssa. When she stepped into the studio to play Charlotte, Sarah blew us all away - there are so many levels and nuances to explore in this complex individual. Her place in our Timeslip stories, in the present, and the future, and maybe even the past, brings many surprises..."
Actor Sarah Sutton added: "The younger Charlotte Trent is full of puppyish enthusiasm. Super-confident, and she thinks she has the answer to most things. She's great to play. I do like her and I do admire her for being so smart. I seem to play quite smart people, which is great because I'm not a very smart person myself.
"In the future, she's become this person that she doesn't recognise. But I think you can see how she gets from one place to the next. She would disagree, but I think there's enough there to know exactly how the older Charlotte Trent would come about. She's a slightly more resigned, hard person."
Also joining the cast of this box set are Big Finish newcomers Amanda Shodeko as Jade Okafor and Orlando Gibbs as Neil Riley.
Both Timeslip releases are available for pre-order now at £19.99 each as a collector's edition CD box set or £16.99 each on download from the Big Finish website. Both volumes will remain at this price until general release when they will be available for £24.99 on CD or £19.99 on download.
Timeslip: The Age of the Death Lottery, starring Spencer Banks, Cheryl Burfield and Sarah Sutton can also be purchased as a bundle together with volume 2, Timeslip: The War that Never Was at the price of £38 as a collector's edition CD box set and £33 on download.

Get the bundle deal here. All CD purchases from the Big Finish website automaticallly unlock a download exclusive from the Big Finish app and website.