We love StoriesBig Finish produce great full-cast audio drama for CD and download, featuring many popular television fantasy series.
Doctor Who – The Grey Man of the Mountain out now!
8 December 2020
It's a chilling Christmas Eve, and the Seventh Doctor and Ace are on the hunt for an abominable snowman, in this full-cast audio drama from Big Finish Productions.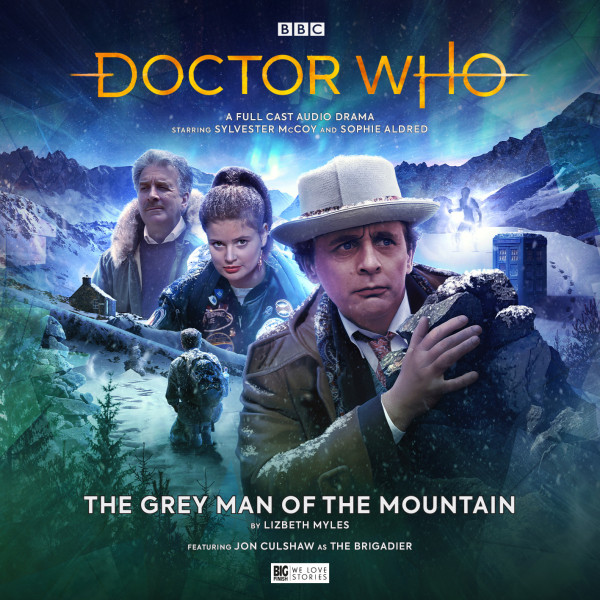 December's second release in the Doctor Who Monthly Adventures range is a fitting one. Sylvester McCoy and Sophie Aldred star as the Seventh Doctor and Ace in a creepy, atmospheric adventure set in the remote, snowy landscape of the Scottish highlands.
The TARDIS team joins a search party in a daring rescue mission to find a missing man on the mountain of Ben MacDui. Folklore speaks of a ghost that haunts the peak. But not everything is as it seems and it might just take an old friend to solve the mystery.
octor Who – The Grey Man of the Mountain is now available to own as a collector's edition boxset (on CD at £14.99) and as a digital download (at £12.99) HERE!
Something haunts the peak of Ben MacDui. Something with heavy footsteps, striking terror in the hearts of those who sense it.
With climbers going missing, retired Brigadier Lethbridge-Stewart visits Scotland to investigate. But when some old friends join his ascent, he worries that they will make things even more dangerous.
As the snows blow in, and mists surround them, the Doctor, Ace and the Brigadier will face the Grey Man of the Mountain…
Actor Jon Culshaw, playing Brigadier Lethbridge-Stewart, said: "It's a story very much with the mood and feeling of the Seventh Doctor and Ace's era. It's wonderful that it is set in Scotland and has this real, wintry, Christmassy vibe with spooky feelings and intrigue. It will be perfect to listen to on a dark, foggy, Christmas evening.
"And it was wonderful to have the Brigadier back in Scotland. There was a feeling that he was on home territory, playing a home game. It's such a fabulous era for the Brigadier, around the time of Battlefield. He's retired but his sense of duty is as strong as it has ever been, and it will never, ever leave him. He really gets into the centre of the action – he wants to help, to lead and support. He will face the danger so others around him don't have to."
Writer Lizbeth Myles added: "I always try to set stories in Scotland. But this is the first time the Scottish pitch got the thumbs up.
"The Doctor and the Brig are really easy with each other, there's an implicit trust and understanding between them. I wanted to have that, and for a tension between them to have escalated due to the Brig feeling like he didn't really need the Doctor to be there, that's he's got the knowledge and experience to handle alien threats without him. And that he can do it without blowing things up."
Doctor Who – The Grey Man of the Mountain is now available to own as a collector's edition boxset (on CD at £14.99) and as a digital download (at £12.99) HERE!
Further to the recent announcement regarding the relaunch of Doctor Who audio drama ranges at Big Finish, listeners keen to complete their collection of Monthly Adventures should read the following:
a 3-release CD / download subscription is now available, starting from #271, #272 or #273, which should enable the majority of subscribers to extend their subscription to the end of the range. Three-release subscriptions are priced at £32.50 for collector's edition CDs and £27.50 for downloads.