For The Love Of StoriesBig Finish produce fantastic full-cast audio dramas for CD and download.
Doctor Who - The Lovecraft Invasion is out now!
30 July 2020
Starring Colin Baker, Miranda Raison and Lisa Greewood, the latest Doctor Who Monthly Adventure is now available to own as a collector's edition CD or download.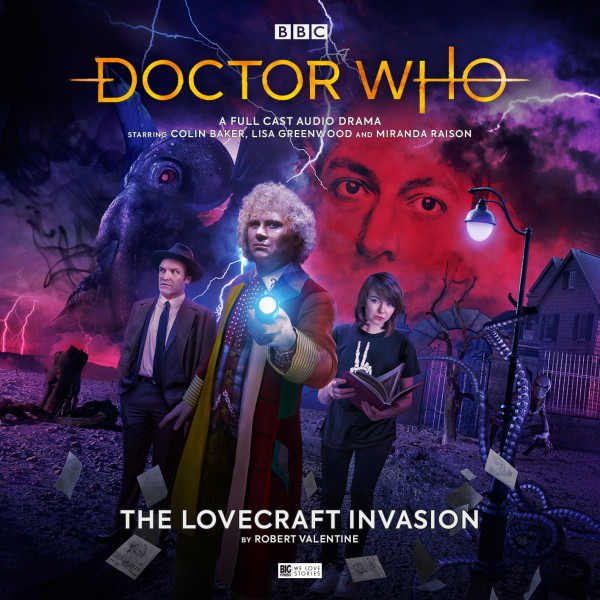 Following a short delay in production, June's release is finally here. The Lovecraft Invasion, a brand-new, full-cast audio drama for the Sixth Doctor, Constance and Flip, written by Robert Valentine, is released today.
Landing in Rhode Island in the 1930s, the TARDIS trio are flung head-first into adventure as they encounter Calypso Jonze, a half-human, multiracial, pansexual, transgender bounty-hunter in the middle of a job gone very, very wrong.
And, when a Somnifax invasion threatens to make their human host's nightmares a reality, the fevered imaginings of weird fiction writer H.P. Lovecraft (Alan Marriott) pose an increasingly tangible problem.
Doctor Who: The Lovecraft Invasion is now available to own as a collector's edition CD or digital download HERE from just £12.99!
The Doctor, Constance and Flip join forces with 51st century bounty hunter, Calypso Jonze, to hunt down the Somnifax: a weaponised mind-parasite capable of turning its host's nightmares into physical reality. Chasing it through the time vortex to Providence, Rhode Island in 1937, they arrive too late to stop it from latching onto a local author of weird fiction... Howard Phillips Lovecraft.
With time running out before Lovecraft's monstrous pantheon breaks free and destroys the world, the Doctor must enter Lovecraft's mind to fight the psychic invader from within. Can he and Flip overcome the eldritch horrors of the Cthulhu Mythos? And will Constance and Calypso survive babysitting the infamously xenophobic Old Gentleman of Providence himself?
Actor Colin Baker said: "I was dimly aware of H.P. Lovecraft because, for some reason, we had some of his books in my home when I was a child. I remember reading them but I don't remember much detail. I was fascinated by them but, for a young boy, they were a bit too literary, I suppose. I remember they were odd. "When I read the script, I was delighted that we were doing a story which gets into the realms of questioning reality. What reality are we in? A bit like the Matrix.
"The first question I asked was, 'Does this come after a story we haven't seen yet?' I like drama when you're not given all the information, even at the very end. In real life, you never get all the answers."
Actor Lisa Greenwood agreed: "I quite like the idea of starting half way through. It gets you to the story a lot quicker. And it creates such a punch, and a bang. That's exciting. We've not done many of these kind of stories before, so it makes a change, starting on that high energy and carrying it on throughout.
"Flip and the Doctor have a real father/daughter relationship, but they're also best friends. They've got real banter."
Doctor Who: The Lovecraft Invasion is now available to own as a collector's edition CD or digital download HERE from just £12.99. All CD purchases unlock a download option via the Big Finish app and the Big Finish website.
Big Finish listeners can save money by getting a subscription to Doctor Who: The Monthly Adventures . Subscribers get 30% off the price, free specially recorded Short Trips stories, PDFs of the scripts, and extended downloadable extras. Subscription lengths are available for either 6 or 12 releases and can be retrospective. Subscribe HERE!
Big Finish listeners keen to complete their collection of Doctor Who: The Monthly Adventures should read the following:
a 3-release CD / download subscription is now available, starting from #271, #272 or #273, which should enable the majority of subscribers to extend their subscription to the end of the range. Three-release subscriptions are priced at £32.50 for collector's edition CDs and £27.50 for downloads.

any existing subscribers who find themselves unable to purchase #274 or #275 via a combination of the 12/6/3-release options should contact sales@bigfinish.com, who will be able to process their orders offline.
Please note that Big Finish has now re-opened its warehouse and commenced the shipping of back orders. The mailout of collector's edition CDs will still be delayed, but all purchases of these CD titles unlock a digital copy that can be downloaded or played on the Big Finish app immediately upon release.