We love StoriesBig Finish produce great full-cast audio drama for CD and download, featuring many popular television fantasy series.
10 May 2017
Today there are new covers and new info on other Big Finish Doctor Who stories coming soon...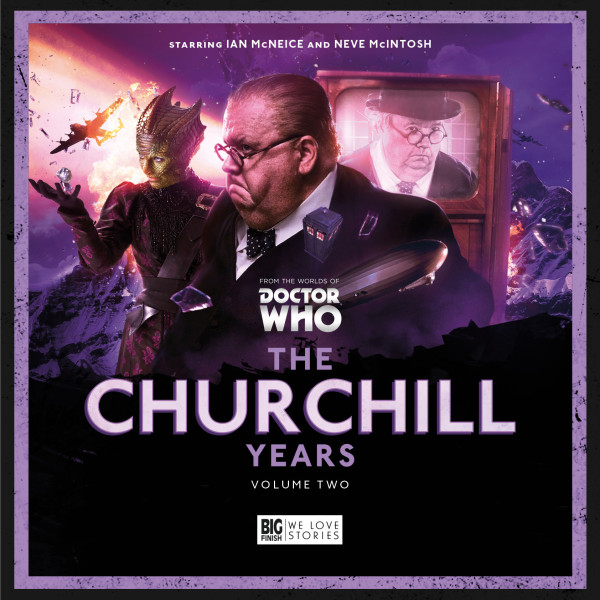 The cover for next February's Doctor Who - The Churchill Years Volume 2 is now online. The artwork by designer Tom Webster includes Neve McIntosh's Silurian detective Madame Vastra, who joins Ian McNeice as British Prime Minister - and the Doctor's friend - Winston Spencer Churchill.
More details on the set can be found here, including links to pre-order either on its own (for £20 on Download, £23 on CD), or as part of a New Series bundle which includes The Diary of River Song Series 2 and Doctor Who - Classic Doctors New Monsters Volume 2 for just £60 on either format. Check out all of our Doctor Who New Series titles here.
Late last week the trailer for this month's UNIT - Assembled went online, and for those yet to hear it, just click below.
Follow this link for the story page, including options to pre-order just this set or special savings bundles of our UNIT - The New Series releases starting from just £80.
The cover for August's Doctor Who - The Third Doctor Adventures Volume 3 is also now online, with Tom Webster's imagery depicting the Doctor's arch foes who feature in the set's first adventure, The Conquest of Far by Nicholas Briggs. The set's other story was recently confirmed as Storm of the Horofax by original series writer Andrew Smith.
We also have story news on a couple of upcoming releases from our main range of Doctor Who adventures, including Doctor Who - The High Price of Parking by John Dorney which is released in July and stars Sylvester McCoy, Bonnie Langford, Sophie Aldred and Gabrielle Glaister (Blackadder):
The planet Dashrah is a world of exceptional beauty. Historical ruins; colourful skies; swirling sunsets…
Unsurprisingly, it's a major tourist trap. So if you want to visit Dashrah, first you'll have to visit Parking, the artificial planetoid that Galactic Heritage built next door. Parking, as its name implies, is a spaceship park. A huge spaceship park. A huge, enormous spaceship park.
When the TARDIS materialises in Parking's Northern Hemisphere, the Doctor, Ace and Mel envisage a quick shuttle trip to the surface of Dashrah. But they've reckoned without the superzealous Wardens, and their robotic servitors… the sect of the Free Parkers, who wage war against the Wardens… the spontaneously combusting spaceships… and the terrifying secret that lies at the lowest of Parking's lower levels.
and August's Doctor Who - The Blood Furnace in which Sylvester McCoy, Sophie Aldred and Bonnie Langford are joined by Julie Graham (Survivors, Benidorm, Bonekickers):
The TARDIS brings the Doctor, Ace and Mel to a recently reopened shipyard in Merseyside. It's 1991, the hardest of times – but now they're shipbuilding once again, thanks to the yard's new owners, the Dark Alloy Corporation. A miracle of job creation – but is it too good to be true?
While the Doctor and Ace go in search of an alien assassin at loose in the yard, Stuart Dale, discoverer of the near-magical Dark Alloy material, has an extraordinary proposition to make to his old college friend, Mel.
But who is the Corporation's mysterious client? Who does she really represent? And what's the secret of the Blood Furnace? Seeking answers, the Doctor and friends are about to find themselves in very deep water…
Both of these stories can be bought individually on Download (or on CD which unlocks an exclusive digital version for Big Finish Listeners) or as part of six- or 12-story subscriptions with special Big Finish exclusives, for prices starting as low as £54.
And we leave you with the trailer for July's Doctor Who - The Fourth Doctor Adventures: The Movellan Grave. The entire run of Tom Baker's sixth series of Big Finish adventures as the Doctor can be Subscribed to, as can the recently announced Series 7 and Series 8 in their exciting box-set formats...