For The Love Of StoriesBig Finish produce fantastic full-cast audio dramas for CD and download.
16 May 2018
Four new adventures with the Fourth Doctor and Leela are out today. In the second and concluding box set of the seventh series of The Fourth Doctor Adventures, the Doctor meets a terrifying old foe†¦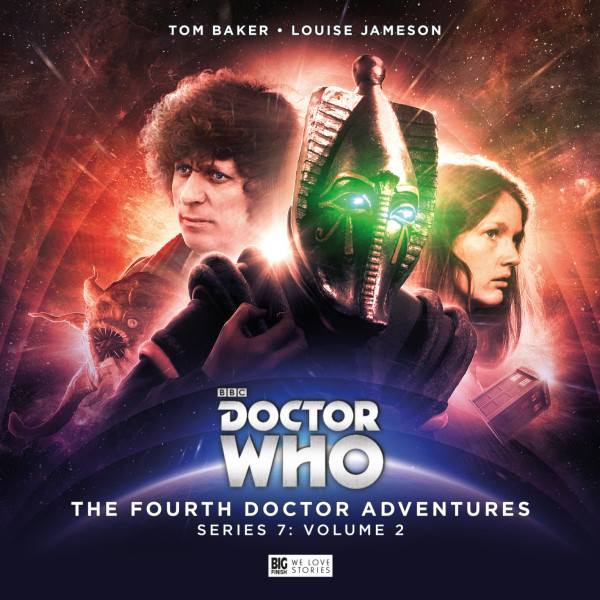 The Fourth Doctor Adventures Series 7: Volume 2 is out now.
7.5 The Shadow of London by Justin Richards
The TARDIS materialises in the backstreets of London in the 1940s. Whilst K9 entertains himself in the time ship's library, the Doctor takes Leela for a walk in the streets.†¨Something strange is happening in the city. Traitors are running wild... and nothing and no-one are quite as they seem.
7.6 The Bad Penny by Dan Starkey
When turbulence in time takes the TARDIS off course, the Doctor and Leela find themselves visiting a hotel in the middle of a temporal paradox and a terrible plan.†¨Because that's the thing about the Cross-Keys hotel.†¨You can check in... but you can never leave.
7.7 Kill the Doctor! by Guy Adams
The TARDIS crew arrive on the planet Drummond, an Earth colony in the far future where everybody uses handheld computers from morning to night. Rania Chuma is the mastermind behind Rene.net, the datastream network that tells you everything you need to know. Anyone who's anyone uses Rene.net.†¨But ever since Rania was young she's heard a voice in her head. That voice is the key to Rene.net's success. And it's a voice the Doctor might find familiar.
7.8 The Age of Sutekh by Guy Adams
The world has changed. And the evil Osiran Sutekh is returning. A brutal battle is ready to begin. And if the Doctor and his friends fail, everyone in the galaxy will perish.
David Richardson, producer, tells us about making this seventh series, released this year: "While we're very keen to make stories with the Fourth Doctor as fans remember him, we're also stepping out into new territories too. We've been making The Fourth Doctor Adventures for a few years now, so it was time to shake things up a little while still holding on to all the elements that made them such a success in the first place."
The Fourth Doctor Adventures – Series 7: Volume 2 is available now, on CD at £25 or on download at £20. Don't forget that all CD purchases unlock a download option on the Big Finish website or the Big Finish app. All of these Fourth Doctor tales will also be available for purchase individually after release on download at £8.99 each.
Or you can save money with a subscription: get Series 7: Volumes 1 and 2 together at £45 on CD or £40 on download.
And don't forget the Fourth Doctor is getting a new companion in Series 8 – and she is set to make a huge impression on his life… Welcome Ann Kelso (played by Jane Slavin), a police officer in 1978 who, during the course of the strangest investigation of her career, happens upon an old battered Police Box and its eccentric occupant…
More information on Series 8, due to be released in January 2019, can be found here –> https://www.bigfinish.com/news/v/a-new-companion-for-the-fourth-doctor