We love StoriesBig Finish produce great full-cast audio drama for CD and download, featuring many popular television fantasy series.
FREE Churchill Years full cast audio drama to download
30 November 2020
Ian McNeice and Emily Atack star in The Oncoming Storm, a complete hour-long audio adventure from the first volume of The Churchill Years.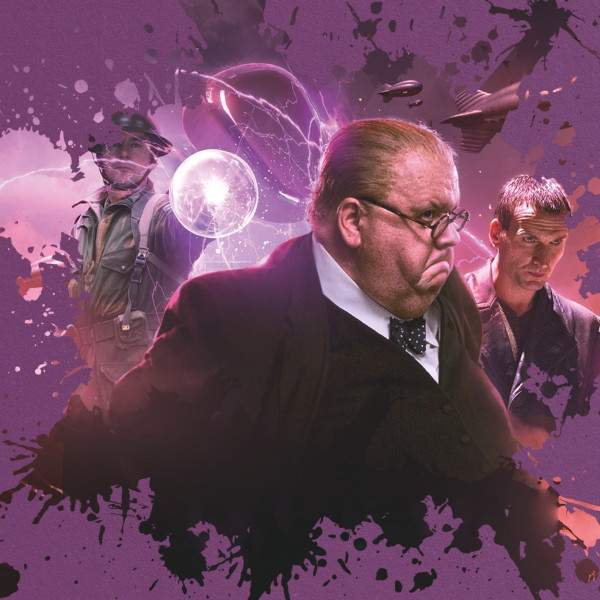 First Lord of the Admiralty, British Prime Minister during the Second World War, and close friend of several incarnations of the Doctor, Winston Churchill was born 146 years ago today.
When Churchill encountered the Eleventh Doctor in Doctor Who: Victory of the Daleks, in 2010, we learned that this wasn't the first time the pair had met from hints of several other encounters between them. Over two volumes, Big Finish's series The Churchill Years has filled in some of the back story.
During the UK-wide lockdown earlier this year as a result of the coronavirus pandemic, Big Finish began a series of weekly free downloadable audio dramas – or #lockdownloads. This week's free title is:
The Churchill Years - The Oncoming Storm, by Phil Mulryne
Ian McNeice (who has appeared in a number of Doctor Who adventures on TV) and Emily Atack (familiar to many as star of The Inbetweeners, and Celebrity Juice) star as Churchill and his secretary Hetty in this complete, hour-long audio adventure.
Late 1939. Britain faces the might of Germany. Winston Churchill serves as First Lord of the Admiralty. But Churchill soon finds himself facing a more immediate threat than the looming Nazi menace.
A 'Stone' with the most mysterious properties is discovered in the Thames' sands, and soon oddly spoken soldiers are creeping round London ruthlessly trying to acquire it. Who are they?
Can Churchill and his new secretary Hetty Warner defeat them? And what about the man in the battered leather jacket that Hetty meets? Churchill feels sure they can rely on the Doctor to help them! Except that this Doctor seems to want to stay hidden in the shadows...
Listeners can download this story FREE from now until 23:59 (UK time) 06 December 2020 HERE!
Director Ken Bentley said: "The thrill about getting Churchill into the studio was, for me, about the storytelling world. One of the fascinating things about Big Finish (and Doctor Who itself) is the broad range of storytelling worlds the plays inhabit. Unusually the period in which Churchill lived isn't a world we've visited often, so it felt fresh and exciting to explore."
Producer David Richardson added: "I'm fiercely proud of this series – I think the scripts are top notch, Ian does a superb job, the tone is really engrossing and the stories are very rich. It's one of my favourites and I think people are going to love it."
Emily Atack added: "I was a little bit nervous when I first walked in, not really knowing what to expect. But I've really taken to it. It's been such a lovely job. It's a really meaty character. I've enjoyed it."
Praise for The Churchill Years - The Oncoming Storm:
"The Oncoming Storm is an engaging introduction to the style and feel of 'The Churchill Years'. It feels right at home alongside the style of New Who stories but brings something new in centring the story around Churchill." (Blogtor Who)
"... intoxicating, rip roaring... Exquisitely written and featuring a perfect blend of pace and plot... a scene-stealing, star performance by Ian McNeice... Tally ho!" (Mass Movement)
"Overall, The Churchill Years was a brilliant surprise... The quality of the story writing was superb... the performances were incredibly solid, most particularly from Ian McNeice who is still the go-to man for playing a credible Churchill. If there are many more of these kinds of adventures to come, then Churchill can KBO through Big Finish for as long as he wants. 9/10." (Starburst)
Plus, for one week only, Big Finish listeners can get up to 70% OFF the collector's edition CD box sets and downloads of The Churchill Years Volumes 1 and 2 at the Weekly Deals page. Please note that these releases will be going out of print once the current stock has been sold.
Additional Doctor Who stories featuring Ian McNeice as Winston Churchill (including Ravenous 1, The Third Doctor Adventures Volume 6, and Subterfuge) are also discounted in this sale.
All the above offers end at 23:59 (UK time) on 06 December 2020.
Further free stories will be released over the next few weeks. (We're keeping each free title a surprise until we release it, so keep checking back every Monday.)