For The Love Of StoriesBig Finish produce fantastic full-cast audio dramas for CD and download.
23 October 2018
A new series of Torchwood, God Among Us 1, starts today. Following on from series 5, Aliens Among Us, there are questions to answer. Who survived in the aftermath? Is Cardiff still invaded by the Sorvix? And does a god really walk among us?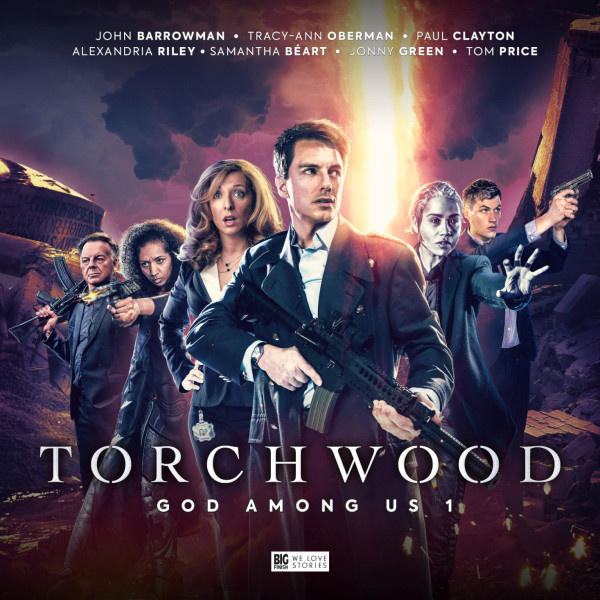 Torchwood series six starts today with God Among Us 1 out now.
When a god comes to Cardiff, the world goes to Hell.
6.1 Future Pain by James Goss
While Yvonne Hartman is asserting her authority as the new leader of Torchwood, Jack Harkness is hunting an alien god in the sewers – but what's he really hiding from?
6.2 The Man Who Destroyed Torchwood by Guy Adams
Brent Hayden. To some he's the darling of the alt-right, to others he's a far-left crusader. A lot of people watch his videos, hang off his every word. And Brent's come to Cardiff, because he's going to expose Torchwood.
Don't forget to Like and Subscribe.
6.3 See No Evil by John Dorney
Cardiff goes blind. There's a hunter out there in the darkness. With no escape, and the screaming getting louder, Jack Harkness and Yvonne Hartman each set out to save the city in their own ways.
6.4 Night Watch by Tim Foley
The Black Sun has come through the Rift. When it visits, sleep comes with it. Orr is the guardian, appointed to watch over the city while it slumbers. What will they find as they wander the streets?
Who are the lost souls, trapped with their demons? Who are the ones fighting even sleep? Who are the broken meeting their dreams?
In September's issue of Vortex magazine, producer James Goss revealed what's to come: "Scott and I started working towards the end of series six from the middle of series five. Scott asked me, 'What were the Sorvix running away from?' And we agreed that they'd run away from their religion. And... now it's found them." You can read more in Vortex magazine here.
Torchwood: God Among Us 1 is available now at £25 on download or £28 on CD. God Among Us 2 will follow in February 2019, and God Among Us 3 will complete the season in June 2019. Both of these can be pre-ordered individually at £25 on download or £28 on CD.
Or why not save money in a specially-priced Torchwood series 6 bundle at £60 on download or £75 on CD – all three parts will be available after their release. Each CD purchase unlocks a download exclusive on the Big Finish website and the Big Finish app.
And don't forget we have a full year of the Torchwood monthly range starting in March 2019, with more details coming VERY soon! Make sure to place your pre-orders now…