For The Love Of StoriesBig Finish produce fantastic full-cast audio dramas for CD and download.
God is Coming in Torchwood Series 6
26 June 2018
Torchwood is returning but is the team ready for its greatest threat to date†¦? They'll be fighting an alien god in the fiery start to series 6 of Torchwood - God Among Us.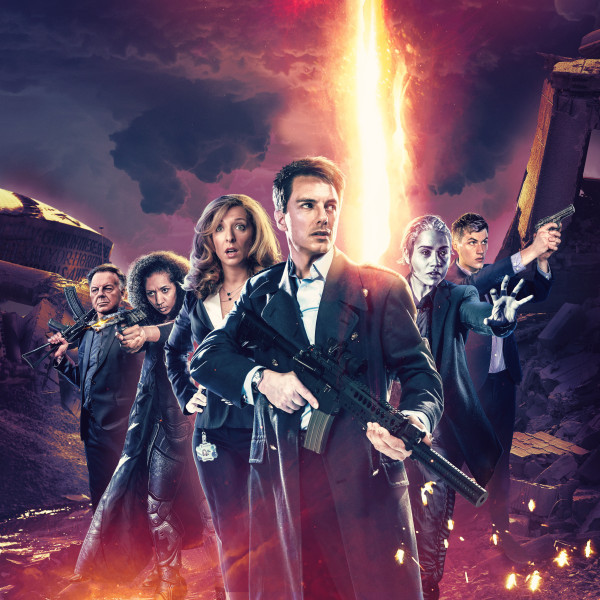 Torchwood, the cult television show created by Russell T Davies, ran from 2006–2011 as a spin-off from Doctor Who, with Big Finish continuing their adventures on audio.
In Series 5 - Aliens Among Us, Torchwood returned to Cardiff. The team dealt with an alien occupation, terrorists, and the surprising resurrection of Yvonne Hartman. This year they face an alien god.
Series 6 - God Among Us kicks off a few days after the Aliens Among Us finale, but not everyone has made it out alive...
John Barrowman returns as Captain Jack Harkness, joined by Tracy-Ann Oberman as Yvonne Hartman, Paul Clayton as Mr Colchester, Alexandria Riley as Ng, Samantha Béart as Orr, Jonny Green as Tyler Steele and Tom Price as Sergeant Andy Davison. Leading the Sorvix is Rachel Atkins returning as Ro-Jedda.
Four new episodes of the sixth series of Torchwood will be available from October 2018.
When a God comes to Cardiff, the world goes to Hell.
6.1 Future Pain by James Goss
6.2 The Man Who Destroyed Torchwood by Guy Adams
6.3 See No Evil by John Dorney
6.4 Night Watch by Tim Foley
Producer of the series and episode one writer, James Goss, tells us more about the return of the Torchwood team: "We had such a great reaction to Series 5, it's been a delight getting the cast back together to do more. Now things are established the stories are more standalone, seeing Torchwood face some tough challenges – a plague of sleep, a city that goes blind, organising a funeral, and then there's an alien god to deal with!"
John Barrowman shared in the studio his thoughts on Torchwood and Series 6, "They are really great stories in Series 6, they really move the narrative forward. I find all over the world, from Puerto Rico to Paris, from London to Pensacola Florida to South America, there are huge Torchwood fans and the audience is always growing."
Executive producer, Jason Haigh-Ellery, adds: "Torchwood quickly became one of my favourite audio series from Big Finish, the work James and director Scott Handcock have done with the wonderful guidance of Russell T Davies has made the adventures of Captain Jack and his team compulsive listening. I can't wait for series six to be released!"
Torchwood Series 6 Part 1 kicks off this next set of adventures in October 2018. Part 2 will follow in February 2019, and part 3 will complete the season in June 2019.
All three parts can be pre-ordered today individually for £25 on download or £28 on CD, or you can save money in a specially-priced Torchwood series 6 bundle with all three parts at £60 on download or £75 on CD.
And to celebrate the return of Torchwood (or to catch up if you missed the captivating Series 5), you can pick up Series 5 this week, available at its pre-order price of £28 on CD or £25 on download each, or as a series 5 bundle at £75 on CD or £60 on download. Only available at this reduced price until 23:59 (UK time) on Tuesday 2nd July 2018.
And you can pick up the reunion of the original Torchwood team in Believe, which goes up in price at the end of the month. Don't miss out!