For The Love Of StoriesBig Finish produce fantastic full-cast audio dramas for CD and download.
Have You Heard...? Iris Wildthyme
23 June 2016
Audio Adventures in Gin and Tonic! We do our best to make sense of Auntie Iris, in our complete guide to the Trans-Temporal Adventuress!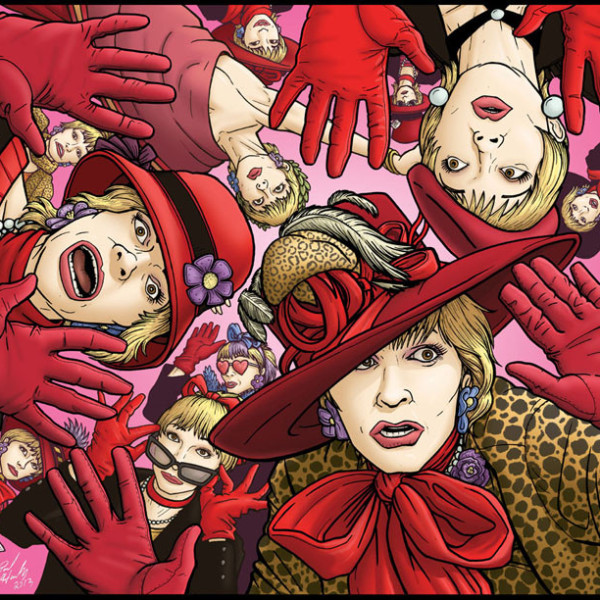 Iris Wildthyme is a trans-temporal adventuress. A bizarre entity from origins much debated, she rattles around the multiverse in her trans-temporal omnibus on a mission to have a good time; and usually ends up saving a few planets in the process!
Introduced by Paul Magrs in his Phoenix Court series of novels, Iris soon smashed her way into the Doctor Who universe with an appearance in the BBC's Short Trips anthology. After featuring in a variety of Doctor Who novels, Big Finish producer Gary Russell invited Paul to bring the beloved old reprobate to Big Finish. True to form, it took Iris a few false starts to arrive – with the first series originally due to debut in 2001 – but she eventually materialised for an encounter with the Fifth Doctor (Peter Davison) in Doctor Who: Excelis Dawns. But which actress would be able to bring Iris' madcap tenancies to life?
'Gary rang me up,' recalled Paul, 'and said: "Er, Iris is quite mad, isn't she?" And then he said only Katy Manning could do justice to the character, and he was right."
Best known to Doctor Who fans for portraying Third Doctor companion Jo Grant. Katy took an immediate shine to Iris, her first ever role for Big Finish.
'Iris is such an extraordinary and wonderful character to play, as she just goes for it.' says Katy. 'She's really fun, she has a daft side, she can be terribly selfish. She's got multiple personalities – just like me!'
'I started to think, "what voice should I use? Help!" and Gary said, "Just do it!" So we went into the studio, I gave it a go, and Iris was born. I decided to throw every sort of Northern accent in there. Fans will ask me where Iris is from, but there's a bit of Birmingham, some Yorkshire – it could be anywhere between Birmingham or Bradford! But now, of course, it's become accepted that she's this extraordinary character and her accent is just part of it.'
Across her Big Finish adventures, Iris has enjoyed the company of several special companions; including the dashing Captain Turner (Geoffrey Breton and Hugh Skinner) and even Jo Grant herself! But her debut series introduced perhaps her most infamous ally: Panda (David Benson), the sentient ten-inch tall teddy bear of Iris' friend Tom (Ortis Deley).
'The part of Panda immediately leapt off the page at me and I heard his voice at once,' reminisced David. 'His fruitiness, bombast, petulance and self-pity, apart from being very like me, reminded me of the great cartoonist and broadcaster Gerald Hoffnung. His speech to Oxford Union in 1958 is one of the funniest things you will ever hear and you will notice at once the resemblance to Panda!'
'I adore working with the lovely David as Panda.' enthuses Katy. 'The thing I like about the way their friendship is done is that it's never sickly sweet little moments. There's a nice little line here and there that shows how much they care for each other, and it's not a one-dimensional thing, which it could very easily be. They argue, just like real friends do.'
Iris and Panda, along with Tom, teamed up for their first series of two adventures in 2005, with Iris also calling in on the Sixth Doctor (Colin Baker) in Doctor Who: The Wormery, and enjoying a night out with Bernice Summerfield (Lisa Bowerman) in Bernice Summerfield: The Plague Herds of Excelis.
But Iris' next visit to our dimension would need to wait until the Homo Superior made way for her. Big Finish producers Mark Wright and Cavan Scott were due to take over production of The Tomorrow People in 2007; until the licence was withdrawn. In search of a new project, the pair began work on a new series of adventures for Iris; one that would gently parody Doctor Who stories.
'I came up with the idea of the spoofing of the Doctor Who decades quite early on,' said Cavan. 'As a character, Iris is really unique, but there were a few threads hanging from the first series – so we just glossed over them in one sentence!'
Debuting with the slogan 'She's back – and it's about gin!' Iris and Panda blasted back into action in Iris Wildthyme: The Sound of Fear (with Tom having left to marry someone he'd said only a few words to in a previous adventure). Naturally taking place in a base under siege, the travellers went on to revisit Iris' Seventies career as MIAOW's scientific advisor in Iris Wildthyme: The Land of Wonder; encountered potential future incarnation Hilary (Dan Hogarth) in Iris Wildthyme: The Two Irises and tried to visit San Francisco on New Year's Eve 1999 in Iris Wildthyme: The Panda Invasion. They even enjoyed their very own Christmas special in Iris Wildthyme: The Claws of Santa.
Unusually for the time, Series 2 of Iris Wildthyme was released as both a monthly range and a box-set containing all four releases. The popularity of the box-set format saw the style adopted by many of Big Finish's other ranges, and was shared by 2012's Series 3 and 2013's Series 4, again produced by Mark and Cavan. The two sets followed a loose story arc, with a mysterious stranger hunting down Iris and featured cameos from several Big Finish alumni, including Sophie Aldred, Ayesha Antoine, Bernard Holley and Simon Fisher-Becker.
Iris also found the time to meet up with doppelgänger Jo Grant for two Doctor Who – Companion Chronicles adventures, both written by her creator Paul Magrs. But her biggest adventure yet came with a starring role in The Worlds of Big Finish – where her trans-temporal omnibus proved to be just to thing to tie her fellow heroes' stories together. The crossover proved to be the catalyst for a whole new run of adventures in Iris Wildthyme: Wildthyme Reloaded.
'The Worlds of Big Finish proved to us that there were still places to go with Iris,' said Paul. 'A new companion means a new dynamic, and the half-hour format allows for her adventures to be even bigger and bolder than ever before! Her exploits are as bonkers as ever, but full of heart, and mark an exciting new era for Iris!'
The new series saw Iris take on extraterrestrial werewolves, ancient oracles, haunted planets and even the dreaded Scorchies! The set was produced by Scott Handcock, who had been with Iris since the very beginning and even appearing in a range of roles in Series 2.
'Wildthyme Reloaded is very different from previous Iris series,' said Scott. 'The joy of Iris is she's existed in so many formats. She's appeared alongside the good Doctor in books and audios, had her own series of novels and short stories, not to mention Big Finish's audio adventures. She's travelled all over the multiverse with all manner of different people and this was just an opportunity to showcase her in a whole new light!'
Iris has now once again slipped off into the time vortex – but as history has proved, you never know quite where she will appear next.
'I feel very privileged to play Iris,' concludes Katy. 'I love her, she's delicious! When I get into the studio, she just takes over! She inhabits my body and I'm gone! She reminds me of why I love acting – there's no vestiges of me at all.
'You need to hear Iris to fully understand her – and once you 'get' her, you'll find her warm, funny and wonderful. We have great guest actors and great stories – she's got to be heard!'
All of Iris Wildthyme's adventures are available at special offer prices until noon Friday June 24th. Click here to explore the offers.