For The Love Of StoriesBig Finish produce fantastic full-cast audio dramas for CD and download.
India Fisher performs Doctor Who - These Stolen Hours
28 August 2020
Charley's back! India Fisher reprises the Edwardian Adventuress for another Short Trip, this time with the Sixth Doctor.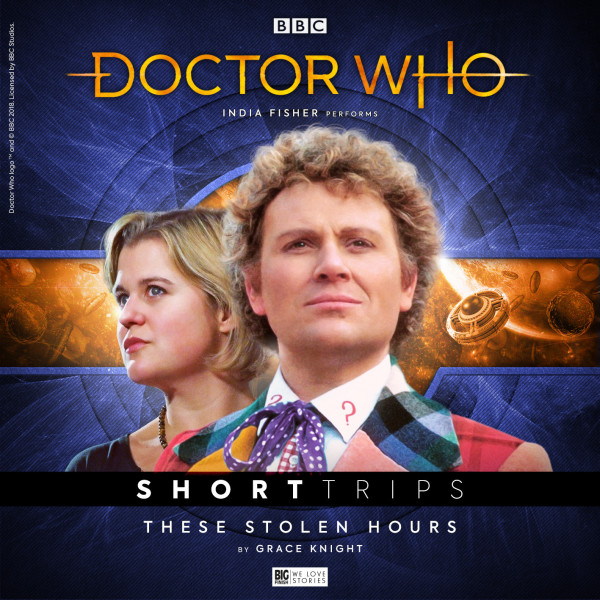 "Just one more adventure, I thought to myself. I can give it up any time I like."

This month's release in the Doctor Who – Short Trips range reunites Charlotte Pollard with the Doctor, although this story is being told many thousands of years after they parted.

Doctor Who – Short Trips: These Stolen Hours is now available to download exclusively HERE for just £2.99.

Charley knows all too well how precious memories can be. She remembers her travels with the Doctor, her Doctor. She remembers watching him die.

A time disturbance leads the Doctor and Charley to a remote research station. Unable to form memories, the crew believe someone is doing their work while they sleep. The truth, however, is far more insidious.
Doctor Who – Short Trips are short stories, many written by some of Doctor Who's most popular authors from the worlds of television, print, comics and audio, and read by a host of favourite Big Finish actors.

Writer Grace Knight said: "For me, the most striking thing about Charley's relationship with the Sixth Doctor is that it's so bittersweet. After all, her Doctor is the Eighth, and they had years of adventures and fun and loved each other very much, and then as far as she knew, he died. And just as she was grieving for him, up popped his former self – not quite the person she loved, but a whole lot better than nothing.

"In the adventures Charley and the Sixth Doctor have together all of this is kept very much in the subtext. And that makes sense. Charley is all id. She lives completely in the present and isn't one for soul searching, really. But I wanted to know what would happen if she were forced to stop and reflect. This is Doctor Who though so, of course, there are monsters and mysteries, and running around, and a transparent space station shaped like a double helix. But at its heart, this is a story about Charley and the best friend she lost."

Producer Alfie Shaw added: "Charley has a very interesting relationship with the Doctor, travelling with two very different incarnations in the wrong chronological order. Grace has picked up the themes and challenges inherent in that set-up, and run with it to create a heartbreaking tale that touches on lots of elements from Charley's travels across time and space. It's a beautiful story, read perfectly by the wonderful India Fisher."

Doctor Who – Short Trips: These Stolen Hours is now available to download exclusively HERE for just £2.99.

Big Finish listeners can save money with a bundle of the Short Trips range and get the 12 stories from series 10 for just £30 – that's a whole year's worth of adventures, including the already-released stories, Decline of the Ancient Mariner (read by Mark Reynolds), The Infinite Today (read by Katy Manning), Deleted Scenes (read by Frazer Hines), Dead Woman Walking (read by Sophie Aldred), Regeneration Impossible (read by Jacob Dudman), Out of the Deep (read by Peter Purves,) and Downward Spiral (read by Sarah Sutton).