We love StoriesBig Finish produce great full-cast audio drama for CD and download, featuring many popular television fantasy series.
24 January 2019
Do you want to save money on some of our recent stories? Yes? Then make sure you pick up our recent box sets at their bargain pre-order prices! Plus there are many other special offers currently ongoing at Big Finish.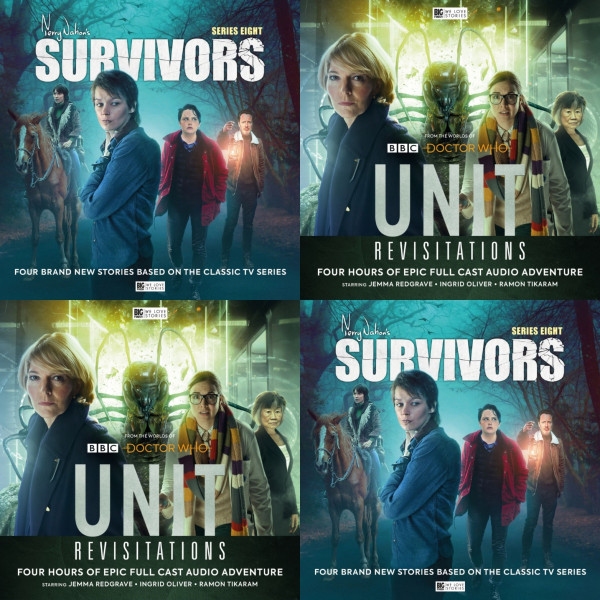 Available at its pre-order price until February, UNIT Revisitations sees the return of even more galactic threats to Earth with the Wirrn invading, Captain Chin Lee back from TV episode The Mind of Evil, and a new invasion force. Pick up this thrilling box set now!
Over the years, UNIT has faced hundreds of extra-terrestrial threats. The Black Archive holds relics of many such encounters, and UNIT's files are filled with reports of strange and dangerous aliens.†¨
†¨And sometimes, they come back.
Plus, there's the latest series from the world of Survivors. Will Abby be reunited with her long lost son Peter in Series Eight? Don't miss out on this acclaimed continuation of Terry Nation's dystopian TV series from the 1970s.
The world has ended. The 'Death' pandemic crossed continents, sparing only a fraction of the global population. The survivors are now trying to pick up the pieces and rebuild society – to create a new future.
But with no cities, no laws, no technology, everyone must start over. And the worst of human nature has survived along with the best...
Four new battles for survival, from the world of Terry Nation's cult-classic series.
And for fans of Blake's 7 there are three titles on discount from the new Big Finish Book Club. Head to URL https://www.bigfinish.com/offers/v/bookclub and use access code STORIES to unlock these special offer prices. Then why not head over to sign up to our new Facebook group, The Big Finish Book Club.
In this new Facebook page we will be posting talking points to kick things off, and then at the end of the month we will host a discussion session and have good (virtual) natter! We're hoping to be able to involve some of our writers in future sessions, and you'll be able to post your questions for them about any plot points which have got you baffled. Just like a traditional book club but designed to involve our listeners all over the globe.
For EVEN MORE BARGAINS, the Big Finish warehouse is bulging with releases from the last 20 years and it's time to make some room. Grab some CD bargains from the worlds of Blake's 7, Pathfinder, Graceless, Sherlock Holmes – and more – whilst stocks last.
https://www.bigfinish.com/offers/v/bfwarehouse19 and use access code BARGAIN to access these special warehouse prices.
But don't delay! Once these CD releases are gone, they're gone and will only be available on download (unless otherwise stated). These offers are available until 23:59 UK time on 28th January 2019.