We love StoriesBig Finish produce great full-cast audio drama for CD and download, featuring many popular television fantasy series.
Listeners Title - The Wrong Doctors
1 August 2018
Are you missing some classic Sixth Doctor? Well this August you can get The Wrong Doctors for the whole of the month at just £2.99 on download. Plus, Bonnie Langford will be returning for more new adventures...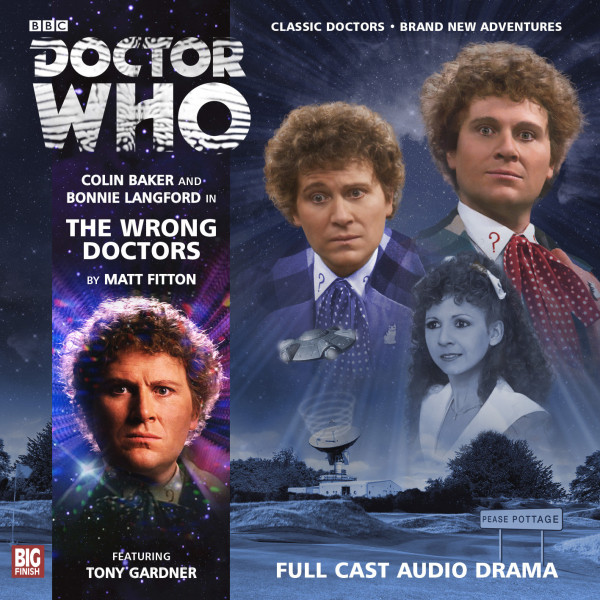 Get Doctor Who: The Wrong Doctors on download for just £2.99. The Sixth Doctor sets course for his own destiny, and nothing can stop him. Except, perhaps, himself…
With Evelyn gone, the Doctor sets course for his destiny... in the form of his first meeting with Miss Melanie Bush, a computer programmer from the village of Pease Pottage, currently busy rehearsing with the local Amateur Dramatic Society – and blissfully unaware that her future is on its way, in his TARDIS.†¨†¨
Make that two TARDISes. Because at that very moment, a slightly younger Doctor is flying into Pease Pottage, too – returning his future companion Melanie Bush to her rightful place and time, after they were flung together during the course of his Time Lord trial.†¨†¨
Time travel is a complicated business – the iguanadon terrorising Pease Pottage being a case in point. But how much more complicated could things possibly become, if the wrong Doctor were to bump into the wrong Mel?
Colin Baker tells us about the other Doctor and more about recording this tale back in 2013, "In this one I'm playing the post-regeneration Doctor – the brash version of old Sixie – and the more mellow, blue-costumed Doctor, who is the Doctor that I had in mind when we started doing it back in 1983 that we would evolve to, but never got the chance to do so. So it's quite nice in a way. It certainly puts me on the spot because I've got to prove there's a difference!
"I've got the same vocal equipment but hopefully there's a difference inside the old brain pan which will come winging through, especially in scenes where I'm talking to myself. He's still a bit in your face, old Sixie, and he's still a bit mock-boastful, whereas immediately post-regeneration he was very boastful. So it's just a question of degree really."
You can find out more about Bonnie's adventures with the Sixth Doctor in an interview in January's 2013 edition of Vortex magazine, available for free.
Melanie Bush will also be travelling with the Seventh Doctor this month accompanied by Ace in three new adventures in the Doctor Who Main Range, starting with Red Planets by the brilliant Uma McCormack.
London, 2017. Except... it isn't. Berlin, 1961. But it isn't that either. Not really. Not in the timeline the Doctor knows. Something is very wrong.
While Ace tries to save the life of a wounded British spy, Mel and the Doctor must get to grips with the modern day socialist Republic of Mokoshia. For Mel it feels strangely familiar and 'right', which makes the Doctor feel even more uneasy.
Soon, a message from a dark and blood-soaked distant future is on its way... but the Doctor will have to act fast to stop this timeline becoming reality.
And with Ace stranded in an alternate 1961, will saving Earth end her existence?