We love StoriesBig Finish produce great full-cast audio drama for CD and download, featuring many popular television fantasy series.
16 March 2019
Have you heard the brilliant new release starring the marvellous machiavellian Missy yet? Today we round up the latest reviews of Missy Series One, a brand new audio drama series from Big Finish, with stories you and the universe have been dying to hear...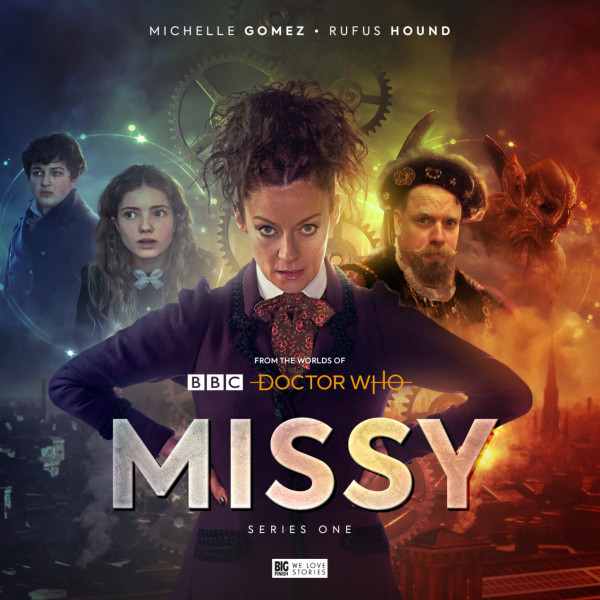 Missy returned to the world of Doctor Who in two Big Finish audios this year, first in The Diary of River Song Series Five, and then just one month later in her own series, Missy. Played by the fantastic Michelle Gomez, Missy is TARDIS-less and Doctor free – and it's time to discover just what the most stylish incarnation of the Master gets away with when unsupervised...
Missy... alone, unleashed and unfettered. What does she get up to when the Doctor isn't around?
Well, Missy has a plan. And to carry it out, she's going to have to break some rules. And people. And planets.
Look out universe, Missy is on a mission. And nobody is going to stop her…
One month after the release of Missy Series One, and the reviews are in! Consisting of four very different adventures, Blogtor Who examines the first story, A Spoonful of Mayhem.
"Writer Roy Gill has a fantastic handle on the character, letting her go completely insane, something that Michelle Gomez seems to relish. In a plan that sees Missy travelling across London to find a number of magical and alien creatures, the script gives Gomez time to settle into the audio format once again and find her feet as Missy.
"Gill seems to really understand that Missy was a conflicted character. Although she had her nasty side, she also demonstrated a conscience towards the end, something which comes out to play towards the end of this particular story. You really feel that the only reason she does what she does at the end is because she fears the repercussions if she doesn't. It's a glorious conundrum to hear Missy having to wrestle with and Gomez rises to the challenge brilliantly.
"A Spoonful of Mayhem is a great way to kick things off, with a strong cast and a great script, Michelle Gomez really gets to shine. There are plenty of funny moments balanced with darker moments for her character and a rather nice conundrum for her to face."
Listeners were also looking forward to episode two, Divorced, Beheaded, Regenerated written by John Dorney, where Missy meets the Meddling Monk (Rufus Hound).
Indie Mac User says: "Missy meeting the Monk is one of those moments you listen to Big Finish for. Hound has always been amazing in the role, but pair him up with Missy and you're into pure gold territory. They play off each other like a dream; each trying to top the other in character and as wonderful actors. It's a nice way as well of showing how unique the Monk's motives are. He is self serving and amoral, but not evil like Missy. If people need to die for his ends, so be it, but he doesn't actively want that. But both of them together is wonderful chaos. They also explore a little of an interrupted history of one of Henry's wives, Catherine Parr (Maggie Service).
"This is just a delight all the way through. It's not hard to come up with a good story for these two central characters, but Dorney's script elevates it."
For those who like a non-linear story with plenty of twists and turns, then look no further than the third story of the set, The Broken Clock by Nev Fountain.
The Digital Fix gives it a glowing appraisal: "Nev Fountain does something brilliant with this story, telling a murder mystery in the style of an American true crime documentary, full of re-enactments with actors and dramatic narration – but with the added chaos of Missy being involved. Nev Fountain fully embraces the metafictional element that was hinted at in the previous two episodes, ripping apart the normal order of the true crime documentary genre.
"When Missy arrives on the scene as DI Missy Masters from Scotland Yard, all conventional notions of storytelling and chronology go out the window. She cuts into the narration with her own stuff to say, undermines the expectations of other detectives and even tells one of them in advance that they will die (and not of her hand). Her flippant disregard for storytelling conventions is the story's real highlight."
And Doctor Who Watch praises the development of Missy throughout the box set, coming up to the spectacular finale, The Belly of the Beast by Jonathan Morris: "I've mentioned before how Missy becomes steadily more openly villainous across this box set, and that's especially true of the final episode. With slavery, monsters, and a huge body count, The Belly of the Beast features Missy at her most villainous yet.
"Missy is gloriously evil in this episode. Jonathan Morris pulls absolutely no punches with this episode. She's still both fun and funny, but she's also absolutely cold-blooded and ruthless.
"This isn't surprising, as Jonathan Morris has written for the Master a few times before. Not just with Missy in last month's The Diary of River Song: Series Five, but also on his own with Mastermind. He knows how to make the Master work as a villain protagonist. How to make us strangely root for the character, even when they're doing terrible things."
Listeners may be surprised to learn that Michelle Gomez was a continent away from the production team for the whole of the project.
Who Review comments: "I was amazed to learn in the Behind the Scenes feature that Michelle Gomez was not actually present for the recording of any of these stories. That this was completely undetectable in the final product is a testament to both Ken Bentley's fabulous directing skills and Michelle Gomez's ability to act so effectively on her own.
"Praise should also go to Beth Chalmers, who read in for both Michelle Gomez (when the rest of the cast recorded) and for the rest of the cast (when Michelle Gomez recorded).
"What a great team effort this box set is!
"(Also, I absolutely love Joe Kraemer's theme for this series)."
Missy Series One is available now at £23 on CD or £20 on download. It will remain at this price until general release at the end of April when it will be available for £35 on CD or £30 on download.