For The Love Of StoriesBig Finish produce fantastic full-cast audio dramas for CD and download.
Missy's back to battle UNIT
26 May 2023
The Vulpreen have conquered the Earth, and Kate Stewart leads the human resistance in an effort to reclaim the planet, in UNIT – Nemesis: Masters of Time, due for release in July 2023.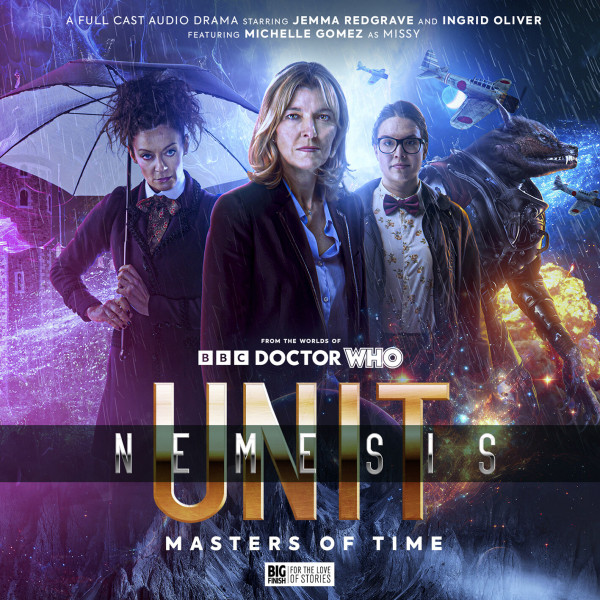 It's been almost two years since the series began but the cataclysmic conclusion to the UNIT – Nemesis saga is now only months away.
This final full-cast audio drama box set, Masters of Time, stars Jemma Redgrave as Kate Stewart, Ingrid Oliver as Petronella Osgood and promises – or should that be threatens? – the return of Michelle Gomez as Missy.
As if the alien Vulpreen weren't enough, what remains of UNIT faces another formidable adversary. The mercurial Time Lord Missy is on the side of the Vulpreen, helping and encouraging them in their ambition to become the rulers not just of Earth, but of all Space and Time.
UNIT – Nemesis: Masters of Time is now available to pre-order for just £24.99 (collector's edition CD box set + download) or £19.99 (download only) exclusively here. A bundle purchase, containing all four volumes in the UNIT – Nemesis series, can be pre-ordered for just £88 (collector's edition CD box set + download) or £79 (download only).
The four final adventures in this box set are as follows:
One Way or Another by John Dorney
Kate leads an attack on a Vulpreen prison camp, unaware that UNIT friends are being held there. As paths converge, Kate and Osgood have different perspectives on the attack, and specific dangers to overcome.
Traitors' Gate by Sarah Grochala
Osgood is a prisoner in the Tower of London, which is now a Vulpreen base. To rescue her friend, Kate must devise a plan to raid her former headquarters.
Inside the Tower, the Vulpreen are determined to access the Black Archive and the hugely dangerous alien technology it contains. How long can Osgood keep them out?
The Destiny Labyrinth by Alison Winter
The UNIT team find themselves traveling through various epochs in Earth's history. The only guide they have is working for the enemy, and the Vulpreen are hot on their heels. Help comes from a new friend, a young healer who already has a curious relationship with time.
True Nemesis by Andrew Smith
Under Missy's guiding hand, the Vulpreen are ready to strike out, to establish themselves as the new Masters of Time.
UNIT's confrontation with Missy in the depths of Portugal's Douro Valley will decide the fate of not just the Earth but the whole Universe.
Producer Heather Challands said: "We've got a race against time from John Dorney, a covert mission in a familiar place from Sarah Grochala, a high-stakes time-travelling feast from Alison Winter, before UNIT and their nemesis come face to face in Andrew's finale.
"After putting the Earth in danger so many times during this journey, it was rather wonderful to finally figure out how Kate, Osgood and UNIT were going to try and save it! I'm so proud of the cast, the crew, and the amount of Christmas chocolates we got through during our recording."
The guest cast includes Christopher Naylor (as Harry Sullivan), Eleanor Crooks (as Naomi Cross), Alisdair Simpson (as Varliss, the Vulpreen leader), James Joyce (as Josh Carter), and Chris Lew Kum Hoi (as LT. Jimmy Tan).
All the above prices include the special pre-order discount and are subject to change after general release.
Big Finish is currently operating a digital-first release schedule. The mail-out of collector's edition CDs may be delayed due to factors beyond our control, but all purchases of this release unlock a digital copy that can be immediately downloaded or played on the Big Finish app from the release date.