For The Love Of StoriesBig Finish produce fantastic full-cast audio dramas for CD and download.
New Behind-the-Scenes Stars!
21 November 2022
The Big Finish team has three new members. Two are taking the director's chair and one is a writer making a big impact! Meet them below...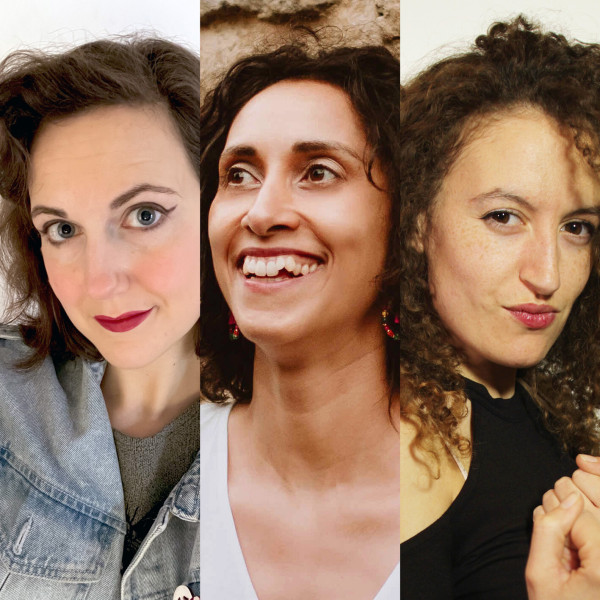 First up, Bethany Weimers is an Oxford-based audio producer and singer-songwriter who recently debuted at Big Finish as the director of The Seventh Doctor Adventures: Sullivan and Cross – AWOL.
Bethany Weimers, said: "My first time directing for Big Finish and I get to direct Sylvester McCoy?! I'm still pinching myself. Honestly, the whole thing has been a great experience. From the moment I read the scripts I was captivated, so it was an honour to help bring the stories to life with the cast and all-important behind-the-scenes team.
"So far, my experience of working for Big Finish has been, in a word - fun! I love imaginative storytelling, creating audio, and working with actors in the studio so it was always going to be a winner for me. It sounds like a cliché but a lot of the time it hasn't felt like work because I've been enjoying it so much. Plus, everyone has been so lovely, incredibly helpful and very welcoming. The thing that's made it extra special is this underlying feeling that in one way or another everyone involved is just really happy to be there. Working with Big Finish has this buzz of excitement about it."
Georgia Cook is an illustrator and writer from London. She has written for publications such as Baffling Magazine, Luna Station Quarterly, and Vastarien: A Literary Journal. She also writes and narrates for various horror anthology podcasts.
At Big Finish, Georgia has written a Seventh Doctor short story for the Doctor Who – Interlude range titled The Haunting of Bryck Place. Most recently, for The Doctor Chronicles – The Eleventh Doctor: Geronimo!, she delivered an exciting historical audio drama.
Georgia Cook said: "After being a huge fan of the revival series of Doctor Who when it first aired, and then the classic series later on in life, getting to expand on my fandom as an adult is a real joy. I'm living younger Georgia's dream job!
"My favourite thing about working with Big Finish is the sheer scope of places and points in history one can explore. That's the joy of a time travel narrative! It's a writer's playground, excellently navigated in Geronimo! by our producer Alfie Shaw, who makes sure everything ties together so perfectly."
Ajjaz Awad trained as an actor at RADA and ALRA and during her training, she was awarded the Laurence Olivier Bursary. Since graduating, she has worked on stage, screen and audio. At Big Finish, Ajjaz has acted in numerous audio plays - most notably recreating the First Doctor's companion Katarina - and recently, she's turned to directing in a top-secret project!
Ajjaz Awad said: "Big Finish was my first real audio drama experience in a professional capacity. Everyone was really friendly and I immediately felt like I'd been welcomed into a big family. I also probably don't need to mention that I was stuffed with amazing food from the famous Big Finish buffet. The process was always fun and the directors were encouraging. Over the years Big Finish has been continually supportive in developing my skills in audio and giving me bigger and more challenging parts that I wouldn't get the chance to play on screen or stage. And now, directing!
"I feel like as a performer or professional in any form, you should never think of yourself as trained, as that can take out the opportunity to develop and become something you never imagined before. Directing felt like a natural choice, as I wanted to understand theatre from the other side of the window. As a result, I feel as though it's helped me understand the role of an actor more and what is needed from them when considering the wider production.
"As a general approach, I thought about how I'd been directed by other Doctor Who directors in the past e.g., Ken Bentley and Lisa Bowerman, and took from them an attitude and style appropriate for audio. I trusted the actor to play and do what they felt was right and then just made little tweaks on cadence and speed etc. And also remembering to have fun! It's still early days, so I'm excited to see where this new venture leads."