For The Love Of StoriesBig Finish produce fantastic full-cast audio dramas for CD and download.
New companion for the Fourth Doctor
29 October 2018
Welcome to Rhianne Starbuck, who will be playing Sharon alongside the Fourth Doctor in the Comic Strip Adaptations, due for release March 2019. The popular character has returned for this new retelling of Doctor Who, we interview Rhianne today.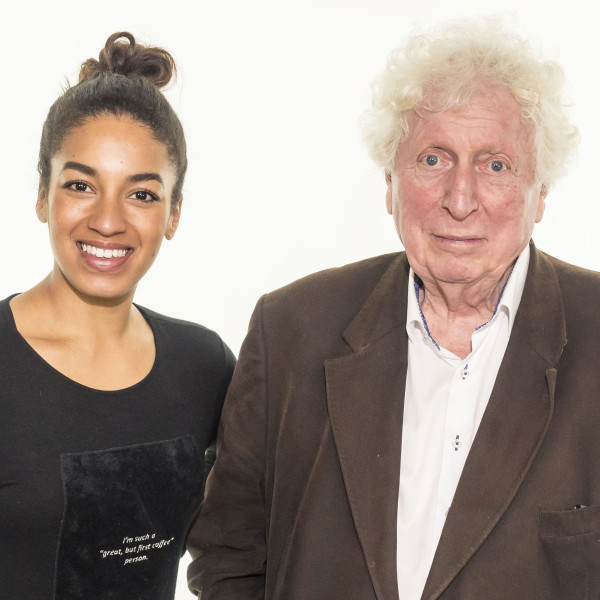 Alan Barnes told us more about the Star Beast, coming March 2019, "A few people had asked about the Comic Strips coming back over the years. I was very keen. I was an original reader of Doctor Who Weekly and they're utterly fantastic. The Star Beast is so modern".
We chatted to Rhianne about recording with Tom Baker, coming into the world of Doctor Who, creating a new companion, and, of course, the Big Finish lunches!
Big Finish (BF): Well, welcome to the new companion for the Fourth Doctor! It's very exciting as 2019 sees two new companions for the Fourth Doctor, for the first time at Big Finish.
Rhianne Starbuck (RS): It's exciting it's finally coming out for me! I don't know how long these things take to turn around (the original recording was back in October 2017). I hadn't heard in a while and then when you all said it was out in March next year, I was thoroughly excited!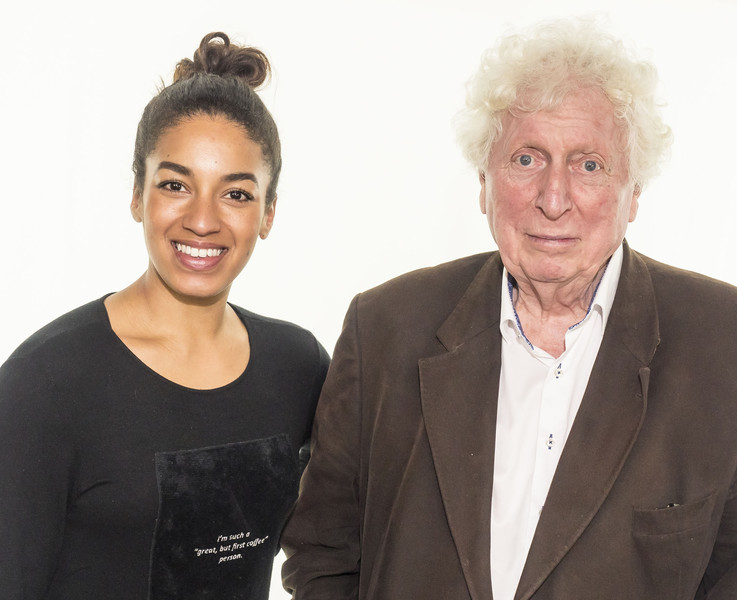 BF: Because Tom loves recording so much, sometimes we're recording one year ahead, sometimes it's five years!
RS: Yes, Nick mentioned that it could have been a while… I hope Tom travels back to our storyline, because I really enjoyed working with him.
BF: How was recording for Big Finish?
RS: Well, at the time I had just moved into my new house, we were decorating and we had no heating. The plumber had abandoned us, and we had no heating and no hot water, so I was thrilled to escape for a few days! It's one of the first voiceover works I've done, and everyone was so lovely. The cast were brilliant, Nick Briggs was amazing, and it was so much fun. We didn't stop laughing - laughter all day long, even through the breaks. The atmosphere was electric.
BF: It's a really lovely day, recording with Tom isn't it?
RS: A tiny little studio in the middle of nowhere, and I used to live in Guildford so it was lovely to be back. Such a nice drive down. I drove through a massive park, a beautiful part of the world. And the food for lunch was amazing!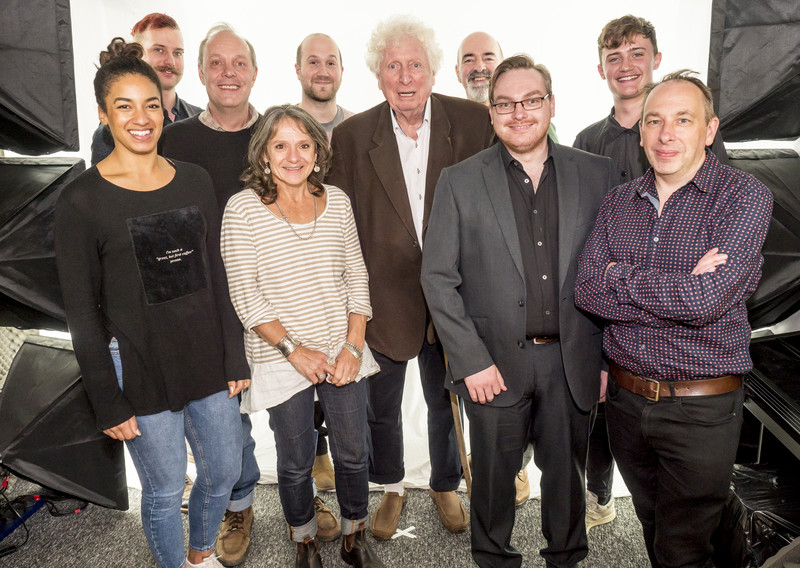 BF: And Tom of course… is Tom. How was your experience meeting him?
RS: He was very polite, introduced himself to everyone. When you work with someone with that great reputation, sometimes you can feel daunted or wonder what they would be like. But he made you feel comfortable and was very welcoming. I remember at lunchtime, he was constantly telling stories and jokes, everyone was mesmerised listening to him.
BF: And he's a very generous performer…
RS: In his brain, it's like he hasn't aged. Almost 40 years younger! He's very young at heart. He was constantly looking at the script, he'd clearly done a lot of preparation beforehand, and he would come in some days, and he would say "I was reading this, I thought we could do this at this time, constantly talking with Nick, bouncing ideas around. He was very involved in the process. And very professional. The whole experience was very playful.
The way I would describe it to others would be that you're like a big kid, you get to play with different voices, different things, you can be aliens on a massive trip, or on a huge adventures… it does take you back. There's such a playful, light-heartedness about it all. And it works well with the actors.
BF: And you get to play a brand new character, Sharon. What's she like? Because this story is her meeting the Doctor and ending up in this crazy situation…
RS: She didn't really have a father figure, she was skeptical about the Doctor at first, she had many trust issues. She's even quite nasty and cold to him in the beginning, but in the end (spoiler alert) she ends up travelling with him…
In terms of character she's kind of my dream character to play, she's very similar to my life story. I never had the father figure growing up, she's northern, she's mixed race, just like myself. And a really fun character to play.
BF: Sounds like a perfect fit!
RS: And she's very strong willed. If she wanted to do something, she did it. There's no telling her what to do, which again… same as me! *laughs*
BF: And it's perfect for that zaniness of the Fourth Doctor… he almost needs someone to lay down the law and ground him.
RS: Definitely! We did have many scenes together, but it felt like there was more to come from both of them. And it would be wonderful to work with him again.
BF: They sound like a perfect mix.
RS: You get a real sense of the pair of them in audio. In television work, quite often you're in and out. There's not much scope for acting. Little of it is about the character. It was really nice to bring more to the character, and you have time to play around with it more. With Big Finish you get a sense of time with the characters. And the team are so open to suggestions about creating the character. Plus when you have Tom and such other talented actors, there's a lot of trust in the performers. It was really lovely to be given the time and trust to create the story.
BF: So would you prefer audio over television work?
RS: With audio I really got to flesh out a three dimensional person, even without seeing them! With television they are so many other factors that contribute to the character, the makeup, setting, continuity, even the angle of the shot, so it comes down to the delivery of the line. When the visual is taken away, you have to work a little harder to portray that person.
BF: So the story is based on a comic, how did you feel about it once you read the script?
RS: I had been given a heads up, that it was based on a comic. My uncle is a Doctor Who fan and instantly remembered it. The more you talk about it, some people instantly recognize the story and Sharon. Because I wasn't familiar with Doctor Who before, when you meet people and get introduced into the whole world, it was really inspiring, seeing people who are so passionate about it. Plus, someone brought a copy of it to the studio! We did get to see parts of the story, and to see how much of it has changed. I had no idea what Sharon looked like, then later in the day we saw what she looked like. It was surreal… but when you have the visual taken away, that's when your brain and your imagination kicks in, that's the beauty of it.
BF: We're so glad you managed to avoid any spoilers and influencers before you built the character.
RS: And I wouldn't have it any other way. I'm sure many people will be huge fans of her before, but I'm glad it turned out that way. For Sharon, it's a whole new world for her, and I think the truth in Sharon is there. I was learning as Sharon was learning. It was brilliant.
Alongside meeting Sharon in the Star Beast, we find the Fourth Doctor encountering the Iron Legion, an army of robotic Roman legionnaires, and in the Star Beast, the Fourth Doctor encounters one of the deadliest and most adorable villains ever – Beep the Meep!
These two new adventures are adapted from the comic strip by Pat Mills and Dave Gibbons that featured in Doctor Who Magazine (back when it was named Doctor Who Weekly).
Doctor Who: The Comic Strip Adaptations will be released in March 2019 comprising of:
1. Doctor Who and the Iron Legion adapted by Alan Barnes
2. Doctor Who and the Star Beast adapted by Alan Barnes
These two epic stories will be released in March 2019 as a 5-disc CD box set for £23 or on download at £20 from www.bigfinish.com.
Or you can get this set together as a pre-order bundle with the Seventh Doctor: The New Adventures, at £45 on CD or £40 on download.
Plus, for week four of the 11th TV series of Doctor Who starring the Thirteenth Doctor, we're exploring stories from the era of the bohemian Fourth Doctor, Tom Baker. Big Finish was delighted when Tom Baker decided to return to the role of the Doctor in 2012, and he hasn't stopped since!
Head to page https://www.bigfinish.com/offers/v/regenerate and use access code DOCTOR13 to get these special offers.