For The Love Of StoriesBig Finish produce fantastic full-cast audio dramas for CD and download.
New Series 5 of Torchwood: Aliens Among Us!
6 May 2017
Torchwood is back for a brand new series with Torchwood: Aliens Among Us...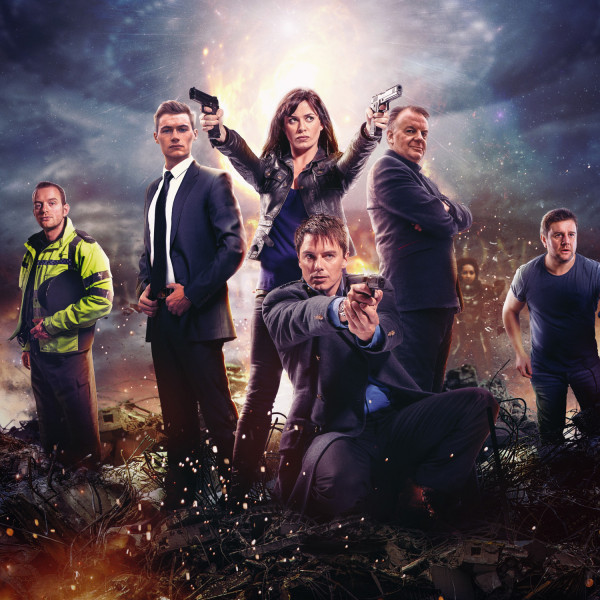 As exclusively revealed at today's DWAS Capitol II convention (also running tomorrow), Big Finish are happy to announce that Torchwood is back for a brand new series with Torchwood: Aliens Among Us.
Following the events of Miracle Day, the Torchwood team is reunited, and Captain Jack, Gwen and Rhys are joined by new characters co-created and overseen by Russell T Davies.
Starring John Barrowman, Kai Owen, Tom Price, Paul Clayton, Alexandria Riley, Sam Béart, Jonny Green and, of course, Eve Myles, Torchwood: Aliens Among Us continues the TV series that fans love worldwide.
In this series, Captain Jack and Gwen Cooper have restarted Torchwood in Cardiff, home of the original Torchwood Three. But it's in a very different Cardiff. Something terrible's happened to the city. With every day getting darker, will Torchwood need to adopt a whole new approach?
Producer of Torchwood Season 5, James Goss, brought us up to speed on the new Torchwood team, Russell T Davies' approval and more details
"Russell's been wonderfully involved in the continuation of Torchwood. We came up with some characters and ideas and he very kindly, very politely said 'Marvellous, but no. Howabout...?'. And that's what lead to Jack and Gwen being joined by Mr Colchester (Paul Clayton), Ng (Alexandria Riley), Tyler (Jonny Green) and the enigmatic Orr (Sam Béart). Who are they? What part do they have to play in the future of Torchwood? And can they save Cardiff from an invasion that's already been lost?"
"This is an ambitious series for Big Finish - an entire season of Torchwood! There are some great scripts by some new writers, but there are also some familiar old faces - of course Rhys and Andy are in it, but there'll be a few other surprises, including an appearance by someone who just has to be, has to be dead..."
This new series of Torchwood will be released in three boxsets, the first being out in August. Torchwood Series 5.2 will follow in October and 5.3 will complete the season in the new year.
The episode titles for Series 5.1 (out in August) are :-
EPISODE 1: Changes Everything
EPISODE 2: Aliens & Sex & Chips & Gravy
EPISODE 3: Orr by Juno Dawson (who recently wrote Torchwood's The Dollhouse)
EPISODE 4: Superiority Complex by AK Benedict (writer of Torchwood's The Victorian Age and Outbreak)

All three sets can be pre-ordered today individually for £25 on Download or £28 on CD, with specially-priced Torchwood - Series 5: Aliens Among Us bundles collecting all three for £60 and £75 respectively.
The 21st Century is when everything changes. Are you ready?