We love StoriesBig Finish produce great full-cast audio drama for CD and download, featuring many popular television fantasy series.
Out Now: Pathfinder - Crown of Fangs
28 June 2017
Is it the end of Korvosa? Find out in Pathfinder!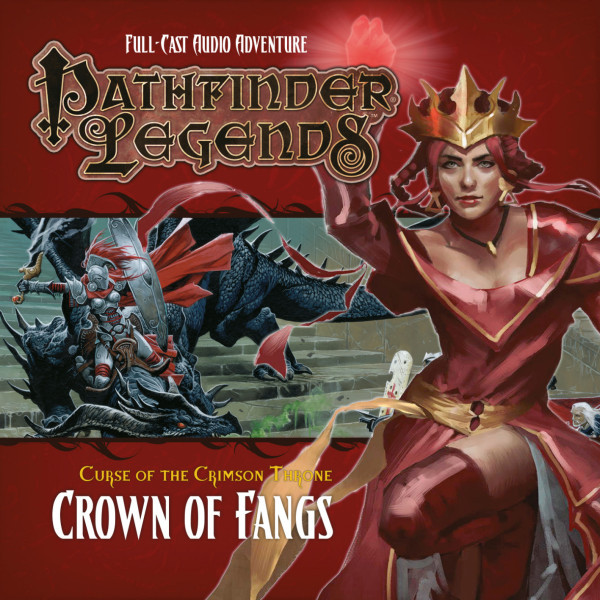 Released today is the latest (and last in series 3!) of the Pathfinder stories, Pathfinder Legends - Curse of the Crimson Throne - Crown of Fangs. This release is written by David Bryher, based on a story by Tito Leati, and directed, produced and script edited by John Ainsworth.
Korvosa withers in the grip of a mad monarch! Beaten down by riots, disease, and the ironclad enforcers of a cruel despot, the people shudder in their homes and pray for saviors. The time has come to rise up against the crazed Queen Ileosa Arabasti and put an end to her vicious rule.
Yet within the walls of Castle Korvosa waits an army of soldiers, bodyguards, and diabolical monstrosities - to say nothing of the seemingly invincible queen herself. Can Valeros, Merisiel, Ezren and Harsk put an end to the tyrant's reign? Or will an ancient evil claim Korvosa once and for all?
We chatted with Director and Producer of this series, John Ainsworth, to get the scoop in the climax to a gripping series.
John, with series three of Pathfinder, how have you found the studio and working with the cast this time? "I have loved producing and directing the 'Pathfinder Legends' adventures. The regular cast members have become a proper family of friends which has resulted in them giving some outstanding performances. Although we are relaxed and have a lot of fun in the studio, the Pathfinder scripts are some of the most demanding audio dramas that I have worked on, with a lot of physical action scenes, so we do work hard as well."
How have the stories changed since the series' conception? "The characters have definitely evolved and their relationships with each other have become more complex and subtle."
Any changes or problems you've had in the journey from its birth to this release, marking the end of series 3? "Other than trying to cram so much story into the available running time! It's often a challenge making a fairly small number of actors sound like a cast of thousands."
And what makes this latest release unmissable in Pathfinder: Legends? " 'Crown of Fangs' is the culmination of the ongoing storyline of the third series, and this includes the final confrontation with the big bad villain, Queen Illeosa, played so wonderfully by the amazing Kate Brown. Several other characters from previous episodes make a return, so it's a bit of a reunion. We always try to make the final adventure even bigger and more epic than the preceding episodes, but that can be a tough call sometimes as they are all so big and epic!"
Pathfinder: Legends - Curse of the Crimson Throne - Crown of Fangs is out now on the Big Finish site, at £12.99 a download or £14.99 on CD. Each CD purchase of the app unlocks a digital copy, which works perfectly with the Big Finish app, available on iOS or Android.