For The Love Of StoriesBig Finish produce fantastic full-cast audio dramas for CD and download.
Out now - HG Wells' The Time Machine
5 September 2017
Based on the original story by HG Wells, The Time Machine - starring Ben Miles - is the latest in our popular Big Finish Classics range.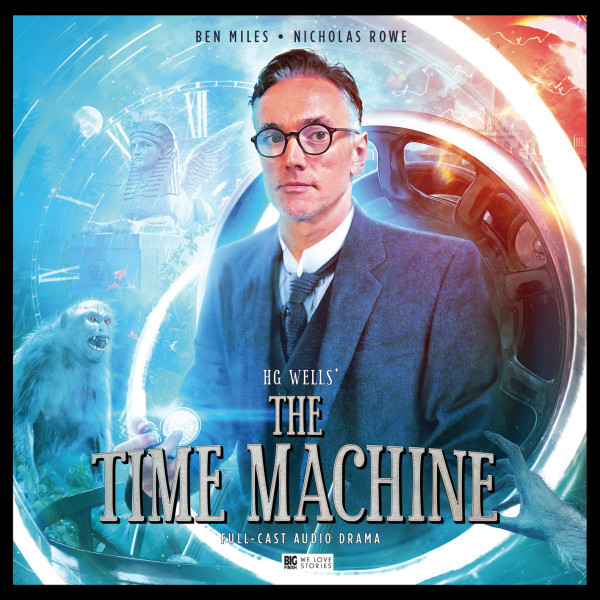 With a stellar ensemble cast including Nicholas Rowe (Sherlock Holmes), Anjella Mackintosh (The Littel Polar Bear), Nicholas Asbury (Doctor Who), James Joyce (Mortdecai, UNIT, Charlotte Polard), Hywel Morgan (Page 8), Christopher Naylor (The Woman in Black) and Ben Miles (Coupling, The Crown) as the Time Traveller, Big Finish takes you on a time-travel tale which is very different from a Doctor Who adventure!
†¨
Imagine a man who defies convention. A man prepared to risk everything to push science to its limits.
Imagine a far distant future where humanity has changed beyond recognition. Where peace may come at a terrible cost, and where violent creatures lurk beneath the surface of the Earth.
Imagine a leap into the unknown, into discovery and adventure.
Imagine a journey in… The Time Machine.
Originally written by HG Wells, this novel has been adapted for audio by Marc Platt who Big Finish Doctor Who fans will know for the Big Finish story Spare Parts (among many others), the Virgin New Adventure novel Lungbarrow and Doctor Who TV story Ghost Light. We talked to Marc about taking on this great classic.†¨†¨
Hi Marc! Thanks for chatting to us today. Did you feel any pressure in the adaptation with such a well-known and popular story and author?
Handle with care! Wells's book is such a sci-fi classic that I started off determined to be as faithful to the original as I could. There are a few tweaks, because what works as prose doesn't always translate into audio drama. The 'travel' sections of the book are written largely in first person narrative with precious little dialogue, so I introduced a narrator figure, Wells himself, to whom the Time Traveller relates his story. That aside, apart from shortening some of Wells's lengthy diatribes about communism, I've followed the book's structure as closely as possible.
What aspects do you enjoy most about the story?
I first read The Time Machine when I was about ten. It was thrilling then and it still is. Wells's plotting and his extraordinary world building are beautifully structured, slowly revealing the horror that our own world becomes. But the section I love best is what amounts to the coda section, where the Time Traveller heads deep into the future and sees Earth's fate. The descriptive writing is astonishing, bleak and magnificent.
What was it like writing a very different time travel story in comparison to Doctor Who?
It's not so different. It's easy to see where the imagination of early Doctor Who had its roots. Morlocks and Eloi, Daleks and Thals are not so far apart. The early Who stories have a matter of fact solidity that reflects back to Wells's Victorian Time Travelling explorer.
Why The Time Machine and why would you recommend it to a new listener?
It's a rollicking good story, but there's much more to it than that. The Time Traveller leads us into a startling future of beauty and darkness that seems as fresh, relevant and downright scary today as when Herbert Wells wrote it in 1895.
Pick up this latest tale of wonder for £14.99 on CD or £12.99 on download. Or save money in a bundle with our other HG Wells releases including The Invisible Man starring Sir John Hurt, and The Shape of Things To Come starring Nicola Walker and Sam Troughton. A bundle of all these HG Wells releases is £66 on download or £78 on CD.
There have been delays in production with the next in the HG Wells stories, The Martian Invasion of Earth, but we will keep Big Finishers updated with more information as soon as possible.
For more details on the Martian Invasion of Earth and other Big Finish Classics, keep checking the Big Finish website and follow our social channels – Facebook, Twitter and Instagram.