For The Love Of StoriesBig Finish produce fantastic full-cast audio dramas for CD and download.
Return to the Time Barrier!
15 March 2023
Timeslip is Back! Simon and Liz return for two final perilous full-cast audio adventures based on ITV's classic children's sci-fi series, due for release in July and August 2023.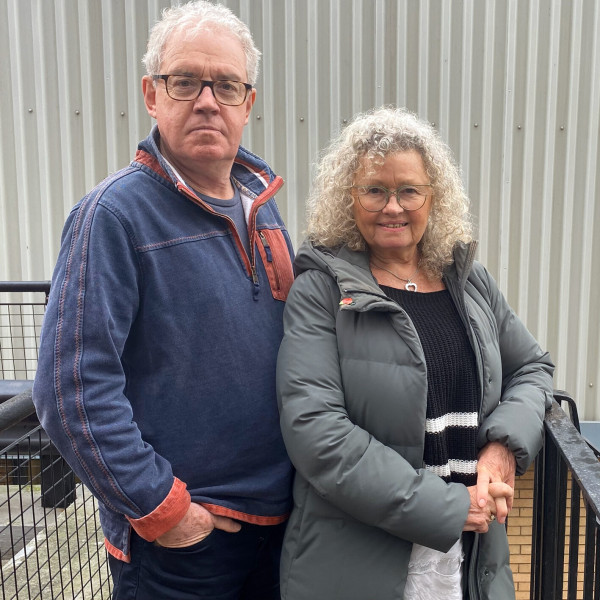 Originally airing in 1970, Timeslip centred on the teens Simon Randall and Liz Skinner who discovered a strange 'Time Barrier' that could transmit people into the past and future.
In 2020, Big Finish Productions marked the show's 50th anniversary with two audio stories in which the time-travelling duo, now adults, found the barrier once again mysteriously open...
Original TV leads Cheryl Burfield and Spencer Banks will soon reprise the iconic roles again in the final tales of the audio mini-series, Timeslip: A Life Never Lived (written by Roland Moore) and The Time of the Tipping Point (written by Helen Goldwyn).
Spencer Banks said: "Big Finish create such a fantastic experience in the studio. It's just like coming home, really. I'm absolutely delighted that Helen Goldwyn is directing the episodes again."
Cheryl Burfield added: "I am looking forward to coming back to the studio because I know what a lovely experience it was the last time."
Each title is available to pre-order as a collector's edition 2-disc CD box set (+ download for just £15.99) or as a digital download only (for just £12.99), exclusively here.
Alternatively, Big Finish listeners can save money by pre-ordering the releases together in a bundle for just £30 (collector's edition CD box set + download) or £25 (download only).
The third and fourth volume will also hear the return of Orlando Gibbs and Amanda Shodeko (as the 1980s youths Neil Riley and Jade Okafor). And Doctor Who star Sarah Sutton will also reprise the role of Charlotte Trent.
Producer David Richardson said: "We almost got underway with these episodes almost three years ago, but lockdown changed the world and at times it felt like we were living through a Timeslip story! At last, we've been able to lock in these two authentic Timeslip stories that bring this mini-series to a natural close.
"It's wonderful to be back with Spencer, Cheryl, Orlando, Amanda and Sarah, having fun in the studio while making some rather dark stories. Having loved this series since I first saw it in 1970, I feel so lucky to take it into a new era.
"The last time we saw Liz, Simon, Neil, Jade and Charlotte, they were trapped in an alternate timeline in the past. The Time Barrier was dead. How can they escape from a timeline they were never supposed to be part of?"
Big Finish listeners can catch up on Timeslip Volume 01: The Age of the Death Lottery and Volume 02: The War That Never Was by purchasing them in a bundle for just £44 (collector's edition CD box set + download) or £38 (download only).
Praise for Timeslip: Volume 1 and 2 from Big Finish:
"Another strong continuation of the classic series. 9/10"

– Sci-Fi Bulletin

"Banks and Burfield still work beautifully together after all this time, and it's fascinating to hear them as adults in a mentoring role to the youngsters who find themselves in the place which Simon and Liz once occupied."

– Set The Tape

"Tackles some chewy ethical issues – from climate change to eugenics – in a way that feels true to the spirit of the original."

– SFX

"A gritty tale that should sound a warning to us all, like the best dystopian fiction around."

– Glam Adelaide
All the above prices include the special pre-order discount and are subject to change after general release.
Big Finish is currently operating a digital-first release schedule. The mail-out of collector's edition CDs may be delayed due to factors beyond our control, but all purchases of this release unlock a digital copy that can be immediately downloaded or played on the Big Finish app from the release date.