For The Love Of StoriesBig Finish produce fantastic full-cast audio dramas for CD and download.
Shane Richie and Nina Wadia join Doctor Who on audio
20 October 2022
Two EastEnders stars will be travelling in time this December as Shane Richie and Nina Wadia join the cast of The Eighth Doctor Adventures audio dramas from Big Finish Productions.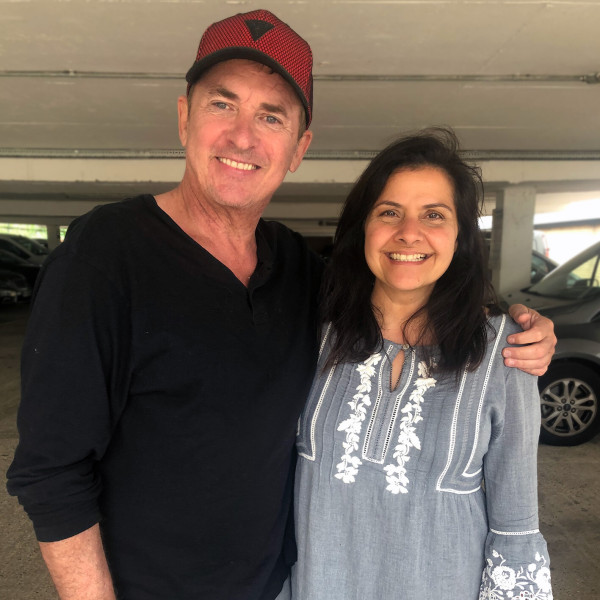 Paul McGann, Nicola Walker and Hattie Morahan return in a brand-new box set of full-cast audio adventures for the Eighth Doctor and his friends, Liv and Helen. The TARDIS trio face multiple threats, including a temporal assassin, invisible vampires and the terrifying Weeping Angels... but not before the Doctor meets an old acquaintance.
Shane Richie makes his Doctor Who debut as Time Lord wheeler-dealer, Drax – a role originated on television by Barry Jackson in the 1979 Tom Baker story, The Armageddon Factor.
The hour-long opening adventure – Here Lies Drax – also reunites the National Television Award winner with his former EastEnders co-star Nina Wadia OBE, who voices the glamorous widow, Mimi.
Doctor Who – The Eighth Doctor Adventures: Connections is available to pre-order for just £19.99 (collector's edition CD box set + download) or £16.99 (download only) exclusively here.
The Doctor, Liv and Helen are out in the universe, picking up missing pieces, and finding lost connections.
After a package entangles them with shifty Time Lord Drax, the TARDIS crew are haunted by past loves on a space station, before Helen encounters somebody she believed long gone…
The three action-packed adventures are as follows:
Here Lies Drax by John Dorney
The Doctor, Liv and Helen are surprised to get a letter delivered to the TARDIS from the Doctor's old school friend, Drax.
They're even more surprised when it's followed by a parcel also sent by the intergalactic con-man, asking them to keep its contents safe. Contents that seem to be a lot of worthless junk.
And their surprise gets even bigger when this parcel is itself followed by an invitation… to Drax's funeral.
And that's just where the surprises start.
The Love Vampires by James Kettle
Regret can follow people everywhere – even out into deep space, in the shadow of a dying star.
When the Doctor Liv and Helen meet the terrified crew of a space station, all are haunted by faces from the past. But these lost loves are more than mere memories – and they want to feed…
Albie's Angels by Roy Gill
When the Doctor and friends hunt down time anomalies in 2020s Soho, Helen steps into the past and meets the brother she thought she'd lost forever.
But there are Weeping Angels in London – and one of the stone assassins wants something from the Doctor and Liv…
Shane Richie said: "Who wouldn't want to do a job like this? It's the truest form of being an actor and I could do it every day. When I was approached, I moved heaven and earth so I could do it. Big Finish is synonymous with Doctor Who, so now I can tick Doctor Who off of my bucket list!
"Drax is a working man's Han Solo. Imagine a cross between Alfie Moon, Arthur Daley and a little bit of Ray Winstone. He's a lovely character and the script is so well-written. Playing in it is a great honour.
"I've bumped into some old friends who I've not seen in years like the lovely Nina Wadia. We had a lot of catching up to do and it's been a wonderful experience."
Nina Wadia added: "I thought the script was brilliant! It's always a lot of fun and what was nice about this particular one was reuniting with Shane Richie. He's always a good laugh and you know you're going to have a good time when he's on board. It's nice to be back in the studio with fellow actors – I've missed that."
Also joining the star-studded ensemble cast is Jeff Rawle (Harry Potter and the Goblet of Fire, Hollyoaks), Hugh Ross (Outlander, Patriot Games), and Jamie Zubairi (Cucumber).
Doctor Who – The Eighth Doctor Adventures: Connections is available to pre-order for just £19.99 (collector's edition CD box set + download) or £16.99 (download only).
Big Finish listeners can save money by purchasing this box set in a bundle with 2022's other Eighth Doctor Adventures box set, What Lies Inside, from just £33.
All the above prices include the special pre-order discount and are subject to change after general release. From November 2022, new prices will apply for unreleased box sets.