We love StoriesBig Finish produce great full-cast audio drama for CD and download, featuring many popular television fantasy series.
15 September 2018
There are just three days to go until Shilling & Sixpence Investigate is released, and before its launch we look at the splendid cast in the latest of our Big Finish Originals.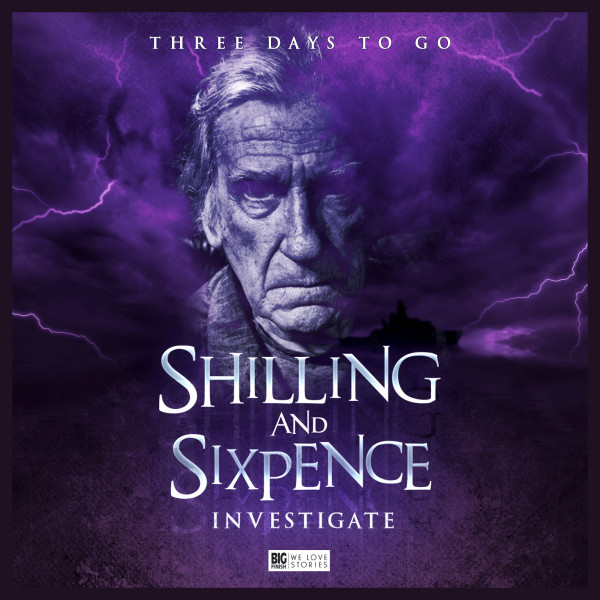 On the 18th of September, Shilling & Sixpence Investigate will be the latest release in our Big Finish Originals range, following ATA Girl, Cicero and Jeremiah Bourne in Time. Today we meet the cast behind this stellar new production from Big Finish.
February 1939. Desmund Shilling arrives in Morlington Hill, deep in the heart of Cornwall, having been given the post of Head of English at Morlington School for Girls by the hearty headmistress Lavinia Sixpence.
Not far away, at Boothby Hall, Inspector Cribbage and Sergeant Salt are investigating the horrific murder of Lord Pluck – who is to blame? His grieving widow, Lady Penelope? His impetuous son, Viscount Robert? The no-nonsense cook, or the handsome young school caretaker Joseph?
Miss Sixpence and Mr Shilling mount their own investigation, and very soon, horrible truths come to light…
Celia Imrie plays Miss Lavinia SIXPENCE, headmistress of Morlington School for Girls, located deep in the heart of Cornwall. Big Finish listeners will recognise Celia from her performances in The Prisoner Volume One, Counter-Measures Series 2, the Fourth Doctor tale Gallery of Ghouls, and as Clementina Quentinbloom in one of our other Big Finish Originals, Jeremiah Bourne in Time.
David Warner co-stars as Desmund SHILLING, Head of English at Morlington School for Girls. Many listeners will already know David, a favourite at Big Finish, from his starring roles in a whole variety of stories. David plays the current regeneration of the Doctor in the Unbound universe with Bernice Summerfield, has met the Fourth Doctor and Romana I, and played the titular role of King Lear, amongst many others.
Louise Jameson plays Sister Mary Benedicta (HALF A CROWN) and will also be a very familiar name to many Big Finish listeners from her part as Leela, the Fourth Doctor companion, who goes on to play a huge part in Gallifrey's history. We're also lucky to have had Louise back as Dr Anne Reynolds in The Omega Factor, and in her role as Jackie in Survivors. And don't forget that our first Big Finish Original, ATA Girl, was created by Louise.
Matthew Waterhouse plays Viscount Robert (FARTHING) who will also be familiar to Big Finish listeners from his role as Adric, the boy and mathematical genius from Alzarius who travelled with the Fifth Doctor (and will travel with the Fourth Doctor again in 2020).
Lisa Bowerman plays Phyllis Elliot (FLORIN), and, of course stars as Big Finish's first lady, Professor Bernice Summerfield. She also plays Ellie Higson, barmaid, in the Jago & Litefoot series and has directed countless productions for Big Finish.
Nigel Fairs, creater, producer and writer of Shilling & Sixpence Investigate, plays Inspector Cribbage (TEN SHILLING NOTE). Nigel has also directed many productions for Big Finish, including Sapphire & Steele (which starred David Warner) and the sadly discontinued Tomorrow People. Nigel has also written and starred in multiple ranges for Big Finish, including Doctor Who, Blake's 7 and Dark Shadows.
Samuel Clemens plays Lord Pluck (GUINEA) and is the director of Shilling & Sixpence Investigate. Sam also features in the first of our Sherlock audio releases which stars Nicholas Briggs as the famed detective.
And if that wasn't enough, the cast also includes Abi Harris (HALF PENNY), Max Day (PENNY), Rebecca Crinnion (THREE PENCE) and Radley Mason (POUND NOTE). Part of the regular cast of Nigel Fairs's murder mystery live show (which inspired Shilling & Sixpence Investigate), Nigel told us more in last month's Vortex magazine: "Part of my pitch was that I could use my regular theatre cast members – Abi, Max, Radley and Beckie – all of whom are very fine working actors and feel like family." These actors are all superb multi-role professionals, as Nigel confirms in an interview coming later this month. †¨†¨
Shilling & Sixpence Investigate is available as part of the Big Finish Originals range, a new wave of original drama launched to celebrate 20 years of award-winning audio publishing.
The eight-episode series will be available on download (only) from Big Finish on 18th September, at a pre-order price of £17. The complete Big Finish Originals range is also available in a pre-order Originals bundle for £135, as well as being available as individual downloads.
You can get a free extract of episode one "The Missing Year" by adding it to your shopping basket.