We love StoriesBig Finish produce great full-cast audio drama for CD and download, featuring many popular television fantasy series.
Six Days of Sixth Doctor Special Offers
13 October 2017
In celebration of the Sixth Doctor, Big Finish has a range of special offers of the Sixth Doctor's Main Range adventures.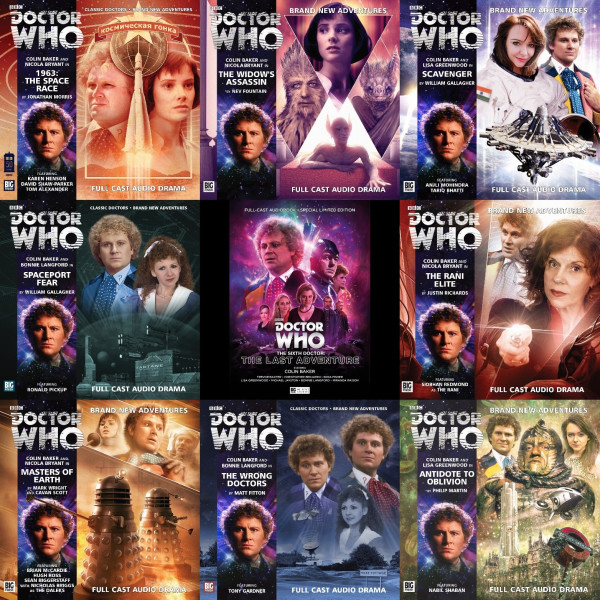 The Sixth Doctor (played by Colin Baker) has had a whole host of differing tales from his time at Big Finish, and a series of strong-willed companions. Hot on the heels from his latest adventure, The Behemoth, this weekend we have a range of offers from Colin's adventures in the Doctor Who Main Range with companions Mel, Peri and Flip all accounted for in the ranks. And some very familiar foes make a reappearance too…
As it's six days of Sixie, these exclusive special prices will end on Wednesday 18th October 2017 at midday (UK time), so don't miss out.
For fans of the Sixth Doctor versus the Daleks, we have Masters of Earth. The Doctor arrives ten years before the Dalek invasion of Earth is defeated, but the Doctor is powerless, unable to re-write history. You can try a free sample of this story here. And for further fans of Peri, there's The Widow's Assassin and a release that was part of Big Finish's 50 years of Doctor Who – 1963: The Space Race.
A variety of different adventures with the Sixth Doctor and Peri also feature in the collection Breaking Bubbles and Other Stories, which contains four tales all based on the theme of perception from popular writers LM Myles, Una McCormack, Nev Fountain and esteemed playwright Mark Ravenhill.
And for those who remember the Rani – the evil Time Lord scientist originally played by Kate O'Mara in The Mark of the Rani and Time of the Rani – you can catch the newly regenerated Rani played by Siobhan Redmond in The Rani Elite (and you can try a free sample of the story here).
Fans of Mel (played by Bonnie Langford), the companion plucked from time to stand as witness in Trial of a Time Lord back in 1986, can pick up her first (chronological) encounter with the Sixth Doctor in The Wrong Doctors.
With Evelyn gone, the Doctor sets course for his destiny... in the form of his first meeting with Miss Melanie Bush, a computer programmer from the village of Pease Pottage, currently busy rehearsing with the local Amateur Dramatic Society – and blissfully unaware that her future is on its way, in his TARDIS.
Make that two TARDISes. Because at that very moment, a slightly younger Doctor is flying into Pease Pottage, too - returning his future companion Melanie Bush to her rightful place and time, after they were flung together during the course of his Time Lord trial.
Time travel is a complicated business – the iguanadon terrorising Pease Pottage being a case in point. But how much more complicated could things possibly become, if the wrong Doctor were to bump into the wrong Mel?
Or try The Seeds of War or Spaceport Fear, both starring Colin Baker and Bonnie Langford.
And we have stories featuring one of Big Finish's homegrown companions, Flip Jackson. Several adventures including Antidote to Oblivion, The Brood of Erys and Scavenger are all on special offer.
All of the special offer releases detailed above are available at £6 on CD or £5 on download.
Or you can find out what happens to the Sixth Doctor in his final moments in a special release, The Last Adventure. Four hour-long episodes are connected by the presence of the Valeyard, the entity that exists between the Doctor's twelfth and final incarnations. Four adventures, four different companions, all in a special deluxe box set.
The Last Adventure is available at the special offer price of £30 on CD or £25 on download.
Don't forget, these offers will end on Wednesday 18th October 2017, midday UK time – so don't miss out!