231. The Behemoth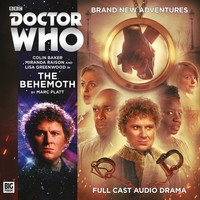 Released October


Prices
| | |
| --- | --- |
| CD | US $19.81 |
| Download | US $12.99 |
Synopsis
This title was released in October 2017. It will be exclusively available to buy from the BF website until November 30th 2017, and on general sale after this date.
"In what starts as a light-weight tale of balls and society life, dark ingredients slowly emerge as the dark truth underpinning much of the business success of the protagonists is explored." Cultbox
"10/10 An excellent script by Marc Platt encapsulating a dark part of English history, incredible performances throughout" Host Productions
"The piece starts out in a very fitting Sixth Doctor style bordering on Restoration comedy. It moves at a glacial pace for the first two parts and doesn't ramp up the drama until we get to second half. This, however, doesn't make the story any less enjoyable to consume and actually reflects the gentle pace of classic episodes like 'Black Orchid'." Blogtor Who
"10/10. Colin Baker has always been the star of Big Finish productions Doctor Who Main Range, and stories like this are proof positive that he deserves that position. A compelling drama from beginning to end and ever so slightly educational as well" - Planet Mondas
"9/10. Platt has woven an intricate and very enjoyable tale that takes in slavery, the foibles and fallacies of Georgian society – and even a spot of prestidigitation!" - Sci-Fi Bulletin
Bath, 1756 – and a very dashing gentleman known only as the Doctor is newly arrived in town, accompanied by his lady friends Mrs Clarke and Mrs Ramon. He's created a stir among the gentlefolk of Georgian high society – and a stir in the heart of merry widow Mrs Theodosia Middlemint, rumour has it.
They are not the only strangers from abroad causing tongues to wag, however. The mysterious Lady Clara, come from Amsterdam in the company of the noble Captain Van Der Meer, has the whole of Bath agog. Who is she, really? What is she, really?
But there's something terrible beneath the veneer of Georgian gentility. As awful a horror as the Doctor has ever exposed, hidden inside Balsam's Brassworks. Something that needs to be brought to light, for the sake of all humanity.
Written By: Marc Platt
Directed By: Jamie Anderson
Cast
Colin Baker (The Doctor), Lisa Greenwood (Flip Jackson), Miranda Raison (Mrs Constance Clarke), Glynn Sweet (Sir Geoffrey Balsam), Georgina Moon (Mrs Middlemint), Liam McKenna (Titus Craven), Wayne Forester (Rev Mr Philip Naylor), Giles New (Captain Douwemout Van Der Meer), Diveen Henry (Sarah), Ben Arogundade (Gorembe).
Other parts played by members of the cast.
Producer David Richardson
Script Editor Alan Barnes
Executive Producers Jason Haigh-Ellery and Nicholas Briggs