For The Love Of StoriesBig Finish produce fantastic full-cast audio dramas for CD and download.
Space 1999 – Earthbound has landed!
24 February 2022
Emotions are running high on Moonbase Alpha in the latest volume of Big Finish Productions' audio reimagining of Gerry Anderson's live-action ITV series, Space: 1999.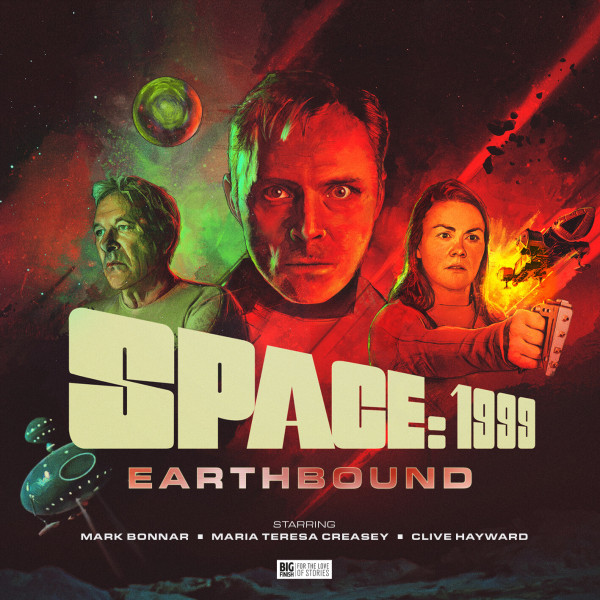 This brand-new set of three full-cast audio adventures, released today, features an entirely original story entitled Mooncatcher, and a two-part adaptation of the fan favourite TV episode Earthbound.
As the Moon continues its odyssey, hurtling through space, everyone on Alpha struggles to come to terms with the trauma of being torn away from Earth. There are alien threats, demons from past lives, and devastating consequences for some who desire a return to their home planet.
Tensions reach breaking point when the alien Captain Zantor (Barnaby Kay) crashes into Moonbase Alpha on a mission to find Earth. And Commander John Koenig (Mark Bonnar) is forced to confront his complex feelings for Dr Helena Russell (Maria Teresa Creasey).
Space: 1999 – Earthbound is now available to own as a collector's edition CD box set (+ download for just £19.99) or digital download only (for just £16.99), exclusively here.
These are dark times on Moonbase Alpha, and along comes an opportunity to return home to Earth. For one of the Alphans, this is the end of their journey...
Mooncatcher by Marc Platt
Strange alien messages are being beamed at Moonbase Alpha. Are they a welcome or a warning? No one can tell.
When a giant object appears on the long-range scanners, stir-crazy Alpha personnel are keen to investigate. But when Delta One's secrets begin to unfold, an unexpected and disturbing series of events is set in motion.
Earthbound by Iain Meadows
Is the Moon truly destined to roam the stars forever, or should the people of Alpha divert their efforts towards a return mission to Earth? Koenig knows in his heart that Earth is lost to them. But Commissioner Simmons is convinced returning home is a serious option.
Perhaps there's only one way to resolve the issue once and for all. But will an experiment in democracy tear Alpha apart, leaving it open to incoming alien dangers?
Journey's End by Nicholas Briggs
The Kaldosians have arrived. Can their advanced technology offer a solution to the Project Earthbound mission? Their leader, Zantor, makes an emotional connection. But will this only lead to heartbreak and death?
This release contains adult material and may not be suitable for younger listeners.
Reprising their roles from the first box set of the series are Tim Bentinck (Commissioner Simmons), Clive Hayward (Professor Victor Bergman), Glen McCready (Paul Morrow / pilot Alan Carter), Susan Hingley (scientist Sandra Benes) and Amaka Okafor (computer expert Dashka Kano), with Jane Slavin (Jeanette du Plessis / Compere) also joining the incredible cast.
Actor Mark Bonnar said: "This box set has everything you could want from a space drama. It has planets about to collide, gritty human drama, revolution, and the stalwart steady hand of John Koenig at the centre. When there's something more human cunningly weaved into sci-fi it's always more rewarding to act in and to listen to."
Nicholas Briggs, script editor, writer, and director added: "The canvas of Space: 1999 is the entirety of the cosmos and this lost moon travelling through space endlessly, aimlessly, and unpredictably. It's huge and vast. What Marc Platt has done [in Mooncatcher] is hone down on individual character's perspectives. I think it's always a smart thing to do with massive concepts to make things very personal. It's a brilliant juxtaposition.
"[Earthbound] has obvious resonances with recent UK politics, which I think was on Iain Meadows' mind when he wrote it. The enormous debate of going off into the unknown and hoping for the best versus trying to find a way to go back to what seemed secure, required more space to be expressed more truthfully and satisfyingly between the characters. Which is why I expanded the story into Journey's End as I thought it deserved a second episode."
Space: 1999 – Earthbound is now available to own from just £16.99, exclusively at the Big Finish website.
Big Finish listeners can save money by purchasing this box set and the previous release in the range, Space: 1999 – Volume 1, in a bundle for just £38 (collector's edition CD + download) or £33 (download only).
All the above prices include the special pre-order discount and are subject to change after general release
Big Finish is currently operating a digital-first release schedule. The mail-out of collector's edition CDs may be delayed due to factors beyond our control, but all purchases of this release unlock a digital copy that can be immediately downloaded or played on the Big Finish app from the release date.