For The Love Of StoriesBig Finish produce fantastic full-cast audio dramas for CD and download.
Space 1999 enters the Dragon's Domain
31 May 2023
BAFTA winner Mark Bonnar heads up the cast of Space: 1999 Dragon's Domain, a brand-new box set of audio dramas based on the 1970s ITV sci-fi series, out now from Big Finish Productions.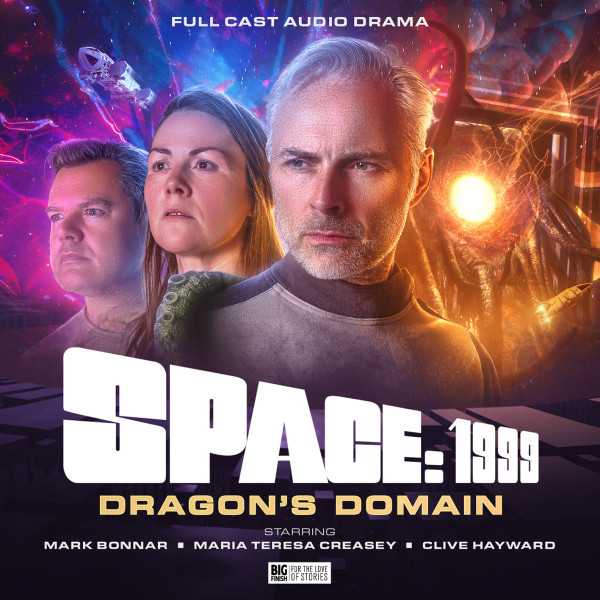 Commander Koenig (Mark Bonnar) leads the crew of Moonbase Alpha, torn from the safety of Earth's orbit and flung into the unknown depths of space.
Now he and Dr Helena Russell (Maria Teresa Creasey), Professor Victor Bergman (Clive Hayward), pilot Alan Carter (Glen McCready), scientist Sandra Benes (Susan Hingley) and computer expert Dashka Kano (Amaka Okafor) must survive new dangers if they have any chance of returning home.
Space: 1999 Dragon's Domain is now available to own as a 3-disc collector's edition CD box set (+ download for just £19.99) or as a digital download only (for just £16.99), exclusively here.

As the people of Moonbase Alpha continue their odyssey through space on their wandering Moon, the longterm influences of their recent alien encounters start to impact upon their course. But first, an infinity of possibilities opens up for them, with terrifying consequences.
The three new full-cast audio adventures based on Gerry and Sylvia Anderson's classic television series are:
Skull in the Sky by Marc Platt
There's a deluge upon the Moon that will change everything forever. The Alphans must adapt and relationships will change. Then, above them, a portent of doom arrives.
The Godhead Interrogative by Nicholas Briggs
Dashka Kano has been working on translating the alien script on Zantor's artefact. She's beginning to make progress when one hundred objects are detected, advancing towards the Moon. Dashka's skills will be tested to the limit by the force of an ancient civilisation.
Dragon's Domain by Nicholas Briggs
Dr Helena Russell relates a tale of hope, terror and tragedy. The Alphans discover a potential means to enact the will of their referendum and return to Earth. But the Ultra mission will be a journey into unimaginable horror.
Actor Mark Bonnar said: "I love doing audio work. I think the medium allows you to do anything you want. That's the beauty of it and especially for science fiction.
"With the wonderful soundscape that Big Finish always produces you can find yourself wholly transported. I think in some ways, it's the best medium."
Executive producer and director Nicholas Briggs added: "In terms of story, I wanted us to find ever more exciting things for the Alpha team and I wanted to continue to make Space: 1999 a very character-based series.
"We're very much creating something that has to be listened to in order."
All the above prices include the special pre-order discount and are subject to change after general release.
For a strictly limited time, The Siren Call, a 71-minute episode of Space: 1999 is completely free to download from the Big Finish website. This story can be unlocked by anyone who has registered for a Big Finish account (which is free to create) and played on the Big Finish listening app (which is free to install).
Plus, Big Finish listeners can get up to 50% off the previous releases in this range, including pilot episode Breakaway, and the two following box sets (each of which contain three episodes).
The free download and discount offers expire at 23:59 (UK time) on 04 June 2023.
Big Finish is currently operating a digital-first release schedule. The mail-out of collector's edition CDs may be delayed due to factors beyond our control, but all purchases of this release unlock a digital copy that can be immediately downloaded or played on the Big Finish app from the release date.