For The Love Of StoriesBig Finish produce fantastic full-cast audio dramas for CD and download.
Stephen Critchlow 1966-2021
20 September 2021
Everyone at Big Finish was heartbroken to learn that our dear colleague, Stephen Critchlow, has passed away at the age of 54.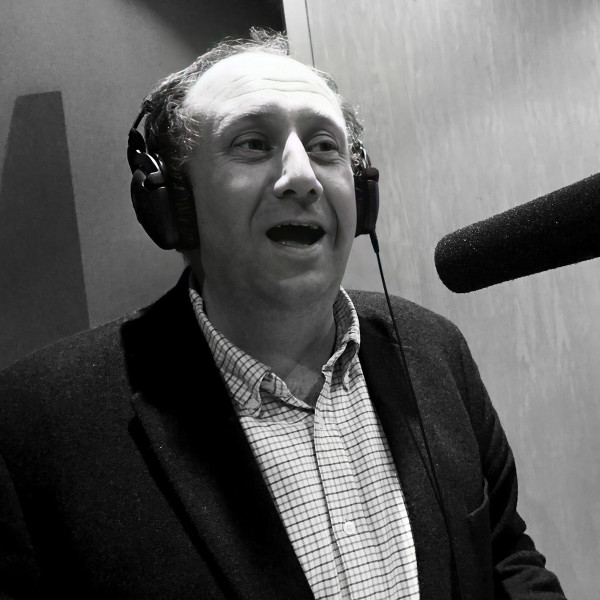 It is with great sadness that we report the death of Stephen Critchlow, or 'Critch' to his friends, who we were privileged to work with on dozens of Big Finish audio dramas over the years.
Born in Mansfield, Nottinghamshire, Stephen trained as an actor at Mountview Drama School in London and completed his studies in 1990. Alongside TV and theatre work (most notably, a stage production of the Alfred Hitchcock's The 39 Steps) he was also a very well respected voice actor for cartoons, video games and on radio. He acted in over 200 BBC radio drama productions during three spells with the BBC Radio Drama Company and, of course, he was a stalwart of the Big Finish studios.
Many tributes have been published on social media from friends and colleagues. Big Finish creative director, Nicholas Briggs said: "I shall always remember Stephen as a real powerhouse of versatility and joy. Such a lovely fellow, full of fun and devotion to his work. I count myself lucky to have worked with him."
Scott Handcock, who directed Stephen Critchlow in a number of Torchwood adventures, added: "He was such a talent – a chameleon behind the microphone – but also such a genuinely lovely, funny and generous human being. I think I got him in on almost every series as he was just such a delightful presence. The world will be a much, much sadder place without him."
But the last word must go to Ian Atkins, long time Big Finish producer, script editor and writer, who worked with Stephen on numerous occasions:
"I first met Stephen Critchlow in 2014 when he was recording for Big Finish on a Tom Baker Doctor Who story. Conversations in the Green Room showed us similar in age and in our experiences of being Doctor Who fans in our youth. (Who, of a certain age, doesn't remember going to WH Smiths and wondering what old, unfamiliar story had been issued in paperback that week?)
"It turned out we also had a very similar sense of humour regards old radio shows and even music hall influences, and the day flashed past with lots of laughter. That proved to be the case every time I met Stephen after that, and many have said over this past weekend that seeing 'Critch' (you rarely heard him called Stephen) on the cast sheet of a script meant you were in for a fun day.
"Having heard his range of voices on that first session, I'd quickly hired him to be the voice of the Subscriber Short Trips range, so at least once a year we met at the Ladbroke Audio studio to record stories often written by new writers to Big Finish. It wasn't uncommon to have emails from them when the release went out, asking me to forward thanks to Stephen for bringing their stories to such vivid life. In particular his impression of Tom Baker made any of the Fourth Doctor stories an instant trip back to childhood Saturdays.
"The late lunches after these sessions provided a wealth of experiences from Stephen's career, the one that always springs to mind being how he was attacked by Paul Darrow when a Macbeth swordfight went wrong! I remember his excitement in 2016 showing us some phone pictures of his upcoming role in Red Dwarf's episode, Office Rimmer, as he's sitting there with most of his head hidden under a mound of rubber as a 3D-printed ship's captain. In 2017 I saw him at the White Bear theatre, part of a team recreating some episodes of 1960s radio comedy, The Men From The Ministry. They couldn't have cast him better.
"In 2018, I finally realised an ambition of producing a story set in the 1950s world of comedy as TV grew and music hall died. Stephen was essentially behind all this, as one conversation years before had revealed the extensive research he'd done for a role as Tommy Cooper, only for the play to be canned before it ran. It planted the seed of having him as a similar entertainer, and eventually we recorded The Vardan Invasion of Mirth, with Peter Purves and Stephen as our heroes lost in Comedy. They tell it better.
"As ever, the day of recording was a blast. At the end, we needed a couple of minutes of comedy patter recorded for the background to a scene. I'd sketched out some ideas, but Stephen ran with it and ad-libbed his way through a comedy tour de force. It tapped into the love (and admiration) I have for those able to make people laugh and we all sat in the control room, tittering away (oh no, don't, it's wicked to mock...).
"We traded occasional emails after that, our birthdays close together making for mutual November congrats, hoping to meet up for a drink if not more work. The news in 2020 that he'd had a stroke came as a shock, but was also communicated to the world in a typical way – via the podcast, At the First Stroke, in which he talked of the incident and made much of the friends and medical staff who'd got him through it. He was recovering well, and looking forward to embracing more work.
"The Vardan Invasion of Mirth was the last time I recorded with Stephen but I closed the day by interviewing him and Peter about past stage jobs. We could have got a whole second story out of it, especially their memories of pantomime tours! I've gone back to the interview, and this is pretty much the closing line from Stephen when talking about laughter..."
It makes them happy. And I think there's a lot worse things you can do than make people happy... It's the best medicine. Unless you're asthmatic. Then it's Ventolin.