We love StoriesBig Finish produce great full-cast audio drama for CD and download, featuring many popular television fantasy series.
Summer Listening Recommendations!
5 August 2016
With summer with us (at last!), we ask some of the Big Finish team to recommend titles to go into your MP3 players or suitcases as you head off on holidays...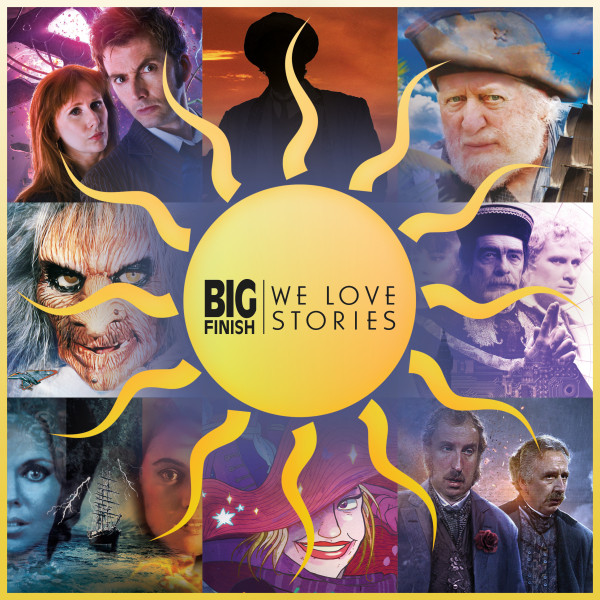 DOCTOR WHO – THE TENTH DOCTOR ADVENTURES
'Both leads step back into their roles so smoothly it's as if they've never been away, displaying the same chemistry and comic timing that made their TV episodes so memorable… This is unmissable stuff for any Tenth Doctor fans.' SFX Magazine
Big Finish's Commercial Affairs Manager Caroline Beggan has picked our hottest release of 2016 – Doctor Who – The Tenth Doctor Adventures – as the best way to lose yourself for an afternoon: "I've just listened to these again and loved them. I walked 14 miles enthralled!"
Vortex editor Kenny Smith recommends Joseph Lidster's very first adventure for Big Finish, The Rapture: "A Doctor Who story set in Ibiza, with clubbing and music as a background, isn't the obvious thing to do... which in turn makes it an obvious story to tell. For some listeners, this setting is as alien a world as Red Rocket Rising, Veln or Ruin, but give it a chance. This one is full of heart, character, friendship and family – and it's a very clever piece of writing."
BIG FINISH CLASSICS –TREASURE ISLAND
Sound Designer Martin Montague is making sure our dramatization of Treasure Island is in his suitcase: "It's such a classic tale, brilliantly adapted and directed by Barnaby Edwards, with a fantastic cast including narration from Nicholas Farrell, a man with such a smooth, rich voice - one of my favourite actors. And, of course, there's my childhood Doctor Who, Tom Baker, as Long John Silver - an inspired piece of casting. But most of all, I recommend it for how it all SOUNDS. Howard Carter's score is one of the most beautiful he's ever produced - and he's done a lot of damn fine work. The main motif is so catchy that it'll stay with you for days (or months!) afterwards."
Marketing guru Kris Griffin believes that Zelda of Guk makes the perfect holiday companion: "There's something about the summer where you can simply let entertainment wash over you without any feeling of guilt. There isn't a better Big Finish release that does this than Terrahawks. It's epic. It's hilarious. It has one of the best villains in all of science fiction. People will genuinely wonder what you are listening to as you chuckle, gasp and scream as you lie by the pool. Pass the pina-colada, stay on this channel, this is an emergency."
DOCTOR WHO – THE LOST STORIES – THE NIGHTMARE FAIR
Jamie Robertson opts for a destination rather closer to home, as the Sixth Doctor faces a old adversary in The Nightmare Fair by Graham Williams: "The Doctor and Peri in Blackpool... What more do you need?"
General Manager Sue Cowley would like to put any vacation disasters you might experience in perspective, as Jago and Litefoot embark on a cruise which proves to be anything but a relaxing break... "From the casinos of Monte Carlo to the hidden perils of a tropical island, our favourite infernal investigators leave London behind and experience some unexpectedly exotic challenges. All this, and Anthony Howell with a French accent as a special bonus!"
Producer and author Joseph Lidster might just be a weeny bit biased in his choice, but he would like you to consider the double delights of Blood and Fire: "It's a big old adventure movie on audio. A witch goes back in time to destroy a family but finds herself up against a Phoenix. It's got sexy pirates, stolen jewels, love affairs, death, zombies... What more could you want?"
Madcap adventures riding a time-travelling double-decker bus are just the ticket for producer, writer and director Scott Handcock. Wildthyme Reloaded is a great place to jump aboard, starting with a trip to Margate and a run-in with those terrifically troublesome Scorchies, and ending up in a London winebar for an emotional nightcap with a very familiar stranger...